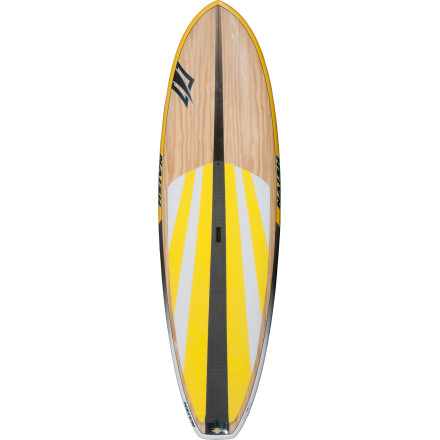 Crush a set and paddle to the next on the curl-hungry Naish Mana Series GT Wood Stand-Up Paddleboard. Designed to be the best all-around, small-to-medium wave SUP, the Mana's wide outline lays down surf-snagging stability for riders of all sizes and skill levels. The full nose places paddle enhancing volume toward the front helping pull the board through turns and get up on more waves. Exaggerated tail rocker and soft rails smooth out turns and provide unexpected response. Taking the 30+in wide craft from rail to rail may seem like a feat, but the V-concave's added lift not only boosts control but makes for buttery side-to-side action. A tri-fin setup, with included FCS side fins and a 6.5in US center fin, tracks straight on the flats and rips on the surf. GT construction uses a wood sandwich construction for natural load spread, energetic flex, and an au naturel look. Naish's attention to detail shows in its signature EVA deckpad and it's easy to hold on to the ledge handle grip. The Mana Series GT comes in two sizes to meet the wave-riding needs of any paddler:
The 10' model's extra volume and length make is an easy-to-surf beginner board, or a super-stable second board for SUPers over 215lbs.
The 9'5" is a great choice for smaller riders looking for a well rounded SUP that paddles smooth and crushes small to medium waves. This size is also perfect for bigger paddlers that want more surfing performance.
Hybrid shape with far forward volume
EPS / epoxy with wood sandwich construction
Progressive rocker
Tri-fin
Full slightly pointed nose
Wide squash tail
Flat to V concave