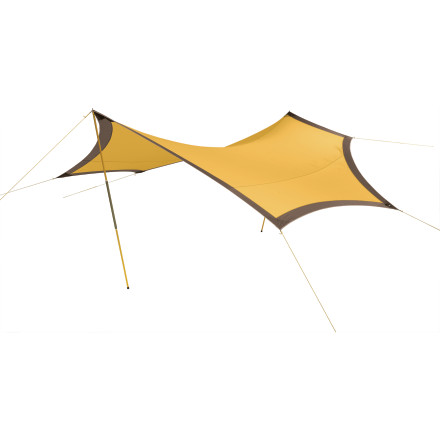 Description
The ideal tarp for when the weather throws you a zinger.
Whip out the MSR Zing Tarp for multi-night base-camping to shield the whole group from wind, rain, snow, and sun. Two aluminum poles give you an infinite number of possibilities to protect your group from whatever elements show up. Ultralight DuraShield-coated silnylon offers waterproof protection, and MSR's wing design stands up to high winds. This ultralight tarp provides 200 square feet of coverage in a lightweight, packable size.
The Zing is one of the most spacious tarps I've seen. Great quality and light weight, however make sure to spend a lot of time practicing how to set it up...especially if you are doing it by yourself. It definitely takes practice and a couple of attempts until you can set it up as easily as how it looks on the YouTube video. The true test came when I used it on the beach. Keep in mind that a huge tarp means a huge sail, so even a slight gust of wind will make setup a nightmare. A slight breeze required two of my friends to help hold poles as I setup the Zing. And I can't stress the importance of good sand anchors, as one of the anchors pulled out I would run to it before the whole tarp fell down. A challenge in high winds, but perfect for camping in the woods, and a joy to have. I will be using this thing for years to come.
A little slice of paradise.
If you have ever been Sea kayaking in the Pacific Northwest you know how bad it can be when it pisses rain for days on end. When it does you don't have to feel stuck in a tent or under tree waiting for it to stop. I love having my Zing set up and sitting under it while I watch others camped out getting shat on. The price on this thing is the big "Oh shit" you usually hear when they ask about it.
Don't get me wrong, this thing is awesome if you have good strong anchor points for the stakes, but on the beach you'll drive yourself crazy trying to pitch it and keep it in the ground
Pitching the Zing and Twing Shelters
Looking for something super lightweight? Check out our Zing and Twing shelters.

The Zing shelter is Ideal for multi-night basecamp endeavors, easily covering a large picnic table-sized area to shield you from sun, rain and even wind. Two included poles and the option to add a third leave you with numerous configuration possibilities ranging from maximum protection to maximum space.

The Twing comfortably accommodates two plus gear--ideal for ultralight trips from spring through fall. With near-ground coverage on three sides and an option for total closure on one end, its ultralight, waterproof silnylon canopy pitches easily with trekking poles to offer excellent protection and ventilation that won't slow you down.
The Zing is one of those pieces of gear that might take a minute to pull the trigger on, but once you have it you wonder how you ever went this long without one. Unless I'm on an actual multi-day backpacking trip, the Zing is with me. It's perfect to set up over the kitchen to keep the rain or sun off. We camp a lot in the desert and the Zing really makes a difference when escaping the sun isn't always easy. The zing also stands up to wind really well...a lot better than the 'ole cheap big box tarp tied to a tree method...plus, with the zing you don't even need trees to set it up. The only negative I can say is that I wish I would have bought one 20 years ago...