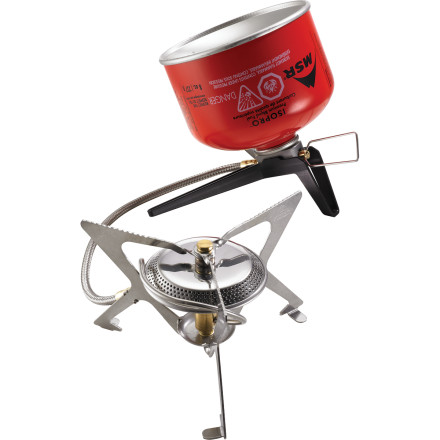 Community Images
Description
The lightest way to cook up gourmet camp grub.
The MSR Wind Pro II Stove is a dream-come-true the fast-and-light weight weenie crowd. The simple, durable Wind Pro II weighs and incredible 6.6 ounces, so you won't even know you're carrying it until it's dinner time.
Perfect stove for any meal.
Yummy. Who doesn't love popcorn?
The answer to the stove problem.
Familiarity:

I've put it through the wringer
I have used lots of gasoline stoves including Whisperlite and primus. I have used a couple of canister stoves that sit on top of the can. I like canister stoves, but until now they don't work worth a damn in cold weather. This stove is low (and more stable) so it is easy to make an Al foil wind screen. You can turn the canister upside down a minute or so after starting it and it runs on fluid heated in the heat exchanger so it works in cold conditions. I have used it in the snow (32 deg. F?) with good results. It is lighter than many other stoves and that is a plus. It is well made and has been fool proof for me. At least one of my friends was impressed and went out and purchased one. My other friends like the convenience of the Jet-Boil, but they pay the price in weight and my meals cook just as fast and taste just as good. Seems a little pricy, but you will be happy with it for years if you are like me.
sweet
Familiarity:

I've used it several times
This stove is really nice. I have the MSR Dragonfly and an alcohol stove but I believe this one will be my go to stove from now on. Its way easy to use, the simmering is fantastic, and its light. I bought a 775 ml stowaway pot and it fits inside it perfectly. On high this thing puts out the heat, just can't ask anymore from a stove. Its so nice to be so pleased with a purchase. Ken
Versatile Little Stove
Familiarity:

I've used it several times
I've used this stove several times now and have been very impressed with how well it works. It's relatively small and lightweight and includes a heat shield and windscreen that came in very handy on a windy night at over 12,000 ft.! I appreciate the boil-to-simmer flame control feature that allows you to do more than just boil water. I highly recommend this stove. I also give high marks to backcountry.com and their fantastic staff at their retail store in SLC for helping to get this product very quickly. Excellent service!
The One Stove to Rule Them All
Gender:

Male

Familiarity:

I've put it through the wringer
If I had to recommend someone purchase a single stove to cover the largest number of situations, it would be the MSR WindPro II. Hands down.



Need something that can actually simmer/cook food? Check.

Need something to boil water fast? Check.

Need something light-ish? Check.

Need something that can be effectively protected form the wind? Check.

Need something that can perform reasonably well in winter or colder weather, too? Check.

Need something that requires no maintenance and can keep going for years? Check.



This stove may not be the perfect choice for any single situation (I probably wouldn't bring it as my first choice on an expedition to Everest or as my super ultralight choice), but it does better than most in many circumstances and can cover just about any situation needed; and do it well.
The best stove for backpacking.
Gender:

Male

Familiarity:

I've put it through the wringer
My title says it all, my original windpro still works (got it in '05) & this is an improvement on the best stove for backpacking (e.g. inverted canister holder).



You buy now, great emergency preparedness stove just to have around also (this, a fuel bottle, water and some mountain houses or something make a great 72 hour survival kit).
I live in Fairbanks, Alaska, and have used the original WindPro at -30F with no problems. Lit right up and boiled water without any pressure or cold-weather canister related issues. This is THE lightweight cold weather stove. Full flame control, too!
Our Scout troop purchased 3 of these stoves from BC for a week's hiking trip to the Appalachians. All 3 crews were impressed with the light weight and ease of operation as compared to our older white gas stoves.
What could be easier than screwing on the canister, turn the gas on and light...you're cooking. Also, we like the safety factor.

Backcountry also deserves 5 stars as they were very fast and accomodating with our purchase. Thanks BC!
How adjustable is the flame on the MSR...
How adjustable is the flame on the MSR WindPro II? Most backpack stoves are fine for boiling water but dismal at real cooking because of a lack of adjustablity of their heat /flame level. I'm looking for something that will cook and am willing to make some sacrifice of "boil time" to get this.
The level is adjustable in a wide range of slow to fast burn time...no prob on actually cooking with high heat (and obviously burning more fuel & faster is the cost which you noted but the stove can get it done for you).



Sorry this went unanswered...cheers!
WP2 is a great little stove
I got my WP2 stove a couple of months ago from a local retailer. It will never replace a white gas stove in very cold weather, but with MSR or Snowpeak fuel canisters it will work at 27deg. or a little less. Coleman canisters are only good above 50 deg. If you like to cook meals on the trail, this is just about the best stove out there.
Introducing the New MSR? WindPro II
The incredible efficiency and versatility of the original WindPro stove, adapted to burn inverted canisters for liquid-feed. The results are increased cold weather performance, faster boil times and a more consistent output over the life of every canister. Inverted canister stand included.
another great MSR product
I purchased this stove from a competitor simply because it was out of stock and have been impressed with it so far. It's an improved version of the windpro with a longer fuel line and a swivel that allows it to run with the canister inverted in a liquid feed mode. Supposedly this helps with cold weather performance. I ran it against my other MSR stoves to try to get a comparison of cold weather performance before i take it out with the scouts in the snow. I put each stove and fuel bottle in the freezer (0F) for 2 hours and timed the boil on a full nalgene of cold tap water in a 1.8liter GSI pinnacle dualist pot
wind pro 2 8:50
whisperlite international 3:45
dragonfly 4:50
pocket rocket 11 minutes
Of course the white gas stoves were by far the fastest but i was still impressed with the butane canisters. The liquid feed mode of the WP2 seemed to make a significant difference with a cold canister and the flame was noticeably stronger once inverted. I expected the dragonfly to do better compared to the whisperlite but i suspect its simply a matter of more effective flame dispersion over the narrow pot being used and the pot being closer to the flame on the whisperlite. Results may be different with the MSR alpine set.

For the weight and packability advantage as well as ease of use I'll be trying out the windpro 2 in colder weather this year. Certainly not the best winter stove i own but it's peaked my interest for sure.

Great stuff from MSR. I know they have their detractors but i've had nothing but good luck with all of their products and the WP2 looks to be no exception.