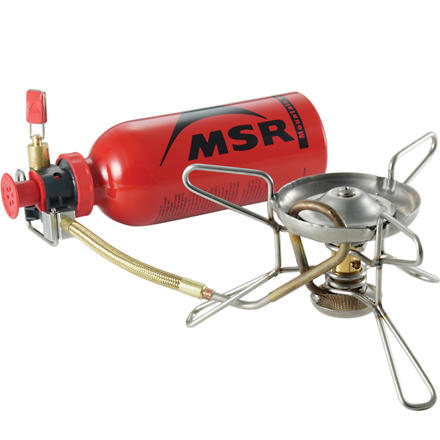 Community Images
To keep up with globetrotting adventurers who want to get around unencumbered, MSR made a multi-fuel burning version of the WhisperLite International Stove. Go ahead, use white gas, kerosene, or unleaded auto fuel—this stove burns all. MSR added a large-diameter fuel line just in case poor quality fuel is your only option. Shaker Jet technology ensures that the stove jet cleans easily with a simple shake. The 15.5oz WhisperLite International Stove fits into a 1.5L MSR pot, so you'll hardly know it's in your pack.
Don't leave home without it!
Been using the MSR International stoves for a decade plus. Just got a new one cause I like them so much. This is the go anywhere do anything stove. I take it every time I head to the woods, backpacking and dump camping. With some patience and finesse, you can even scramble eggs with this bad boy! Can't wait to take mine across the pond one day, Ireland here I come!
I'm looking for a pot, ideally with a...
I'm looking for a pot, ideally with a locking lid, that will hold the whisperlite international. Can anyone advise what the smallest pot they use that will still fit the whisperlite international (minus the fuel bottle of course) in it?
Why should I buy this from Back country?...
Why should I buy this from Back country? I had the order filled out and noticed that you were charging me sales tax. I went to Amazon.com and they had it on sale ($68.79), with free shipping and no sales tax. My state, Arkansas, does not at this time, charges sales tax on internet purchases, who gets it?
Hey Don, sales tax is only charged to UT shipping addresses... if you think there is a problem you can always hit up the 24/7 chat... in my opinion the unlimited warranty from BC.com justifies any small difference in savings from another site...
by law you have to charge sales tax where the company has a presence. in 2011 BC had an Arkansas presence through Competitive Cyclist.
Taxes they suck but what are we talking about a rat assed few bucks, pay up shut up and have a great day out there. I would be changing my thoughts if shipping was not on the dealer.
Does the Whisperlite Intnat'l. simmer as...
Does the Whisperlite Intnat'l. simmer as low as the Simmerlite or Dragonfly?
You could maybe get it close, but you'd have to have a lower pressure (i.e. fewer pumps) in the fuel bottle. The Dragonfly and then the simmerlite will work much better.
Works well for cooking off a lot of different fuels. The modification is easy and can be done in low light with included tools.
You do need to be diligent and attentive when priming. It seems to go from empty to full instantly. It'll push gas out quickly and set you up for an inferno pretty quick if you miss that "happy medium."
The wind screen and foil reflector are splendid.

I found it adjust nicely but simmer flame was pretty hard to achieve.
It goes from boil fast to boil slow easily, but the avoid boil setting is tough to find.

Finally, it gets dirty as all get out with a dirty fuel. This is a consequence of a dirt fuel.... But just be ready for a mess.
What is the difference between this stove...
What is the difference between this stove and the XGK? - besides the price. and is the fuel hose flexible?
I don't know the difference between the two stoves. But the fuel hose is flexible on the whisperlite. I own the whisperlite and love it.
XGK has more fuel options, it almost burns anything that has a petroleum base. Whisperlite is lighter, quiter and has a more adjustable flame. If you travel abroad and do cold weather camping XGK is unbeatable, for general use whisperlite international is better.
i just lit mine after 2 months short of being in storage for 22 years -(early Aug '11) nada problem - mind you i did store the tank w/ a load of amoco unleaded premium - just dumped that into my grill for an evening meal (and my storage bucket for old fuel) - fillled it back w some knockdown Colemans i bought a couple few years ago (oh it pains me - they had 33 g cans at 1.99 each and i was too cheap to buy it all.)
the little guy fired right up and no problems for 4 days for 3 of us - and we do like to eat and drink coffee- stationery campsite fishing.
Good piece of kit and MSR is outstanding in their customer service!
the same time we were going on this trip i pulled out the dromedary that we bought back in 89 - we packed some beverage into our campsite and had to throw the potatoe juice away -bad taste - MSR replaced - no questions asked!! after 22 years.
you cannot get any better than that!!
outstanding product back-up
and we have 2 river bags that we bought when we were going 'way up N back in 88/89 and used them on this trip and they are still supple and waterproof!
I could not recommend MSR more highly.
they might be from up there in the liberal tight corner of the country - but their products and especially their customer service are second to none - good old fashioned do it the right way!!
but that will never compensate for someone who doesn't get that O-rings dry out if they are stored dry - you can't compensate for that....course they could send a bottle nipple; some dry enfamil; and a couple o-rings with some silicone grease in the zip-lock... or maybe some RPJ - that might give a hint...wish i could have been in that guys' trash bin - ohhh - sorry his recycle bin. You just cannot compensate for ignorance ( sorry for insulting you - but this is supposed to be - i trust - a fair review of products and the companies that supply them - without apologizing to the users: - this has been my experience - great company and fine products) gee whiz i forgot - you need to add the water to the enfamil to the guy who trashed two from being wore out from storing.
Whisperlite always Reliable
This has been a reliable stove for me for a decade of packing and trekking. The whisperlite is quiet and has an adjustable flame. I often use the foil shield to keep the fuel economy at its highest by protecting the flame from the wind.
When priming the bowl be aware of how much fuel you had emptied into it before you add spark, you can have quite the little flame burst if your not paying attention (think nylon melting flair). I have run this stove through any fuel I have come across while traveling and she keeps making hot food.
At higher elevations this stove is a must and kicks my canisters stove arse where I cannot get a full canister to burn and burns weakly. At elevation the whisperlite rules. A couple of large bottles and you can cook for a week.
does the Optimus Fuel Bottle fit this...
does the Optimus Fuel Bottle fit this stove?
Best Answer
Nope - MSR only.
Yeah, thread pitch is just different enough that it'll leak.
Whether you are new to backpacking or a seasoned veteran this is the stove for you. This stove my be a few ounces heavier than some, but it will NEVER let you down. Don't get caught up in those jetboil type fuel canister stoves, they will fail on you when you need them the most. This stove follows the K.I.S.S. (Keep it simple stupid) mantra, making it the most reliable stove in the world. If you have a flammable liquid, you can now cook your dinner. This stove comes complete with two jet nozzles. One for thin liquids such as white gas, alcohol, or paint thinner. One nozzle for thicker fuels such as diesel or kerosene. The international also has a wick in the primer cup for the harder to light fuels such as diesel that makes lighting this stove a breeze. This stove is excellent at boiling water in a hurry, but is capable of doing more delicate "fancy cooking" with a little practice and a little know how. This is the last stove you will ever buy.
Keeps going...and going...
I bought one of these sixteen years ago, and several years later rescued a non-working one from an outdoor ed program for spare parts. Well, of course the one I bought was stolen off of a beach in Panama. I rebuilt the old one and have used that for the last nine years without a hitch. It is crusty and old and fires up every time.

It is often noted that these don't simmer well, but I have found that if you turn down the heat and then babysit the pressure by pumping (carefully!) every once in a while, it simmers like a champ.

I'm considering buying a new one just in case MSR ever stops making them, but it's hard to justify when this one still works so well.
Tried and True - A Classic
This stove burns jut about anything flammable, although burning non-stove specific fuels are likely to increase carbon buildup. Luckily with the shaker-jet, a few shakes should do the trick to clean it out. This stove requires some practice and a little finesse to master. Poor technique as a teenager left me with singed eye brows. That being said, I currently use these as part of a school outdoor ed. program and our students are quickly able to master the stove. The stove boils water pretty quickly and it is relatively easy to control the intensity of the burn. In the days of cartridge stoves carrying liquid fuel may seem cumbersome, but this stove's easy of use and maintenance makes it worth it
After searching and reading reviews of several pocket stoves, I finally decided for this one.

This stove is AMAZING! It boils water in just minutes, and the priming time is just minimal. I have use it at El Yunque Rain forest, at the beach, and at home :-)

As others have said, it burns several fuel types as this is a must for me, since we don`t always have camp fuel in stores (only in Walmart).

So don`t think twice on buying it. You won`t regret it.
I've used this many times and every time I light it the entire stove catches on fire and then after about a minute it settles down into the little blue flames. It might be me not knowing how to use the stove properly(I am not a cook at all). Other than that it is a great little stove. It nests nicely with the MSR Blacklite pots.
Like a desperate hippy this stove will burn anything. I was just up in the arctic using it for 10 days and it operated great. I don't speak Norwegian, but when we saw the picture of a lawnmower on what appeared to be a fuel bottle we knew it would work. Another nice part about this stove is that it has an adjustable flame. You can simmer or turn it into a flame thrower unlike the XGK which only has full thrust. Nice and quiet like the name subtly implies so you can discuss how awesome it is that you are someplace cool camping in a tent.

I recommend building your own stove board (see attached photo) to insulate and hold the bottle and stove together as one. It's a bit of a pain to move them around as separate pieces. I used some closed cell foam, a piece of plastic and wrapped it in heat resistant tape. I then used some wire to secure the stove and bottle.
I love this stove. You can use it for big and small cooking endeavors alike. Easy to bring to a boil and once you get a little practice you can even bake on it. I love how small and light it is- no issues with it in a huge backpack on multi-day trips.

My favorite thing about it is the cleaning mechanism. You know when you get frustrated with your phone/ipod/camera/whatever and just want to shake it? With the Whisperlite you do! Just shake it and it comes back to life. So awesome!