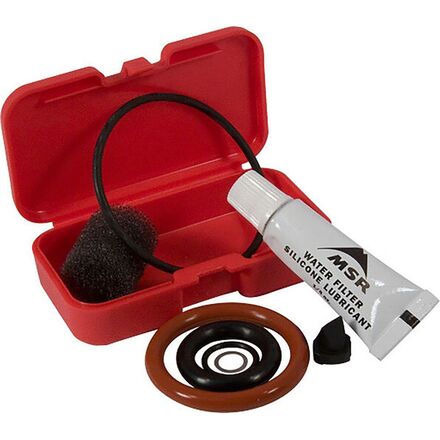 Description
Keep your MiniWorks or WaterWorks Water Filter working properly with the MSR Water Filter Maintenance Kit.
The MSR Water Filter Maintenance Kit gives you the necessary extra parts to fix your MiniWorks or WaterWorks Water Filters out in the field. This MSR maintenance kit includes extra O-rings, stoppers, instructions, and a carry case.
Good but no umbrella valve
Gender:

Male

Familiarity:

I've used it once or twice and have initial impressions
After using my Miniworks filter for over 5 years the only part that needs to be replaced is the umbrella valve. As others have mentioned, it really seems the umbrella valve should be included in this kit, but it isn't. I found replacement umbrella valves at casanovasadventures.com. 3 pack for $6.
Does Not Contain the Umbrella Flap
The kit is fine. It has a lot of needed o-rings and stuff. I'm just sad because it didn't have the ONE piece that I need to fix my filter: the umbrella valve. Mine has been worn and damaged by sand. But no, the comprehensive maintenance kit does not contain the umbrella flap. Now what? I guess I need to contact MSR.
MSR maintenance kit Mini/Water works
The kit is straight forward replacement parts for the water filter. It contains the 'O' rings for the filter. What the kit does not contain is the umbrella valve for the 'Mini Works' filter. I called MSR about the missing valve. The reason the valve is not in the kit is because the umbrella valve is not replaced very often. This is a good thing! Although, I did call and was sent the valve just in case if it were to go bad in the backcountry.
I have had my filter for 5 years and use it occasionally. No complaints. Keep the 'O' rings well greased to ensure proper seal.

The kit is a must have in order to maintain your filter. If you spend the money for the filter you might as well buy the kit. You'll need it sooner or later. to quote a movie 'It's better to have it and not need it, then to need it and not have it.' This is for you WATER!
You don't need any filter if you don't mind boiling all your water. How fun would that be going hiking and stopping every few hours to boil water?
5 stars
Water Works Maintenance Kit
Seems like the kit should contain the umbrella valve, hmmmm