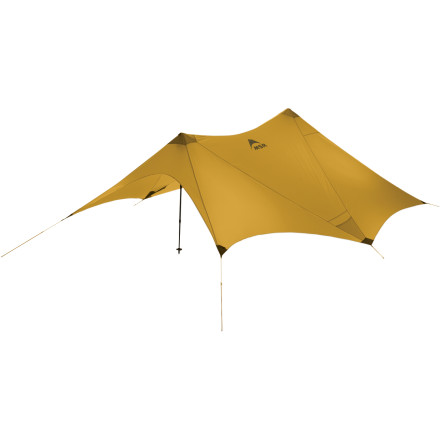 Detail Images

Community Images
Description
An ultralight room for two that won't stifle you while you sleep.
Split between two ultralight backpackers, the MSR TWing Tarp weighs less than 1lb per person, sets up with lightning speed, and offers well-ventilated shelter from the elements. An overall floor area of 68 square feet easily provides coverage for a pair of sleeping bags with room to spread out. At one end, the TWing tapers closer to the ground, while the other end remains slightly higher, allowing for cross-ventilation. Hiking poles create the support for the two main peaks of this tarp, and even heavy rain rolls right off the tough, coated nylon body fabric.
I wasn't sure whether or not I should get this (mostly because it's 3 rimes more expensive than any tarp I've ever gotten) but I wound up really liking it! It reminds me of a 4 season tent's shell without the floor or poles. You can even lower the "door" (of which there is only one by the way) if the wind picks up and you start to get a bit chilly. It sets up in about 5 minutes and I've noticed that time decreasing as I get used to it. It also stood up to 25-30mph winds with no problem; just make sure the guylines are tight. It's light enough that I would be more than willing to take it on solo trips, yet I can easily fit in it along with 2 of my friends and all of our gear (I'm 6'10" 210lbs and one of my buddies is 6'4" 320lbs so this is not a common ability for us in a light backpacking tent). It's surprisingly warm inside which is kind of a double edged sword. In the mountains where it stays mostly cool and in areas where there is a high chance of rain, this is the best tarp I've ever used. Combined with a good ground cloth I would even consider using this for winter camping. If you are hiking in an area where it's going to be hot 24/7, not a high chance of moisture and shade is a premium concern, go with a more traditional tarp that allows a better breeze to get through.

It comes with MSR Mini Ground Hog stakes (or at least mine did) which work pretty good but I would look at getting the Standard Ground Hogs as they add extra security if the wind picks up. I sometimes inter mix them with the standard size being used by the door, where the wind can catch the hardest and the Minis everywhere else. Over all, it hurts to put this kind of money down for a tarp but after words the benefits are well worth it.
Pitching the Zing and Twing Shelters
Looking for something super lightweight? Check out our Zing and Twing shelters.

The Zing shelter is Ideal for multi-night basecamp endeavors, easily covering a large picnic table-sized area to shield you from sun, rain and even wind. Two included poles and the option to add a third leave you with numerous configuration possibilities ranging from maximum protection to maximum space.

The Twing comfortably accommodates two plus gear--ideal for ultralight trips from spring through fall. With near-ground coverage on three sides and an option for total closure on one end, its ultralight, waterproof silnylon canopy pitches easily with trekking poles to offer excellent protection and ventilation that won't slow you down.
This is a terrific tarp with a couple of minor annoyances. First, it's light, stable, durable, and easy to setup with no slop due to the cut of the ridgeline. I've set this up and used it in the middle of some serious downpours and I've never been disappointed. Sure you're going to get some residual splash back and the occasional spray during those conditions, but it's a tarp and that's part of it.

Inside is very roomy, but you do lose some usable space due to the design. I guess you have to factor some tradeoffs when using trekking poles as interior supports, but at least you can save weight by not having to bring along additional poles for it. Other than that, having the interior pockets is a nice touch and really helps with camp organization.

When there's no threat of bugs, this is my go to shelter for three season backpacking.