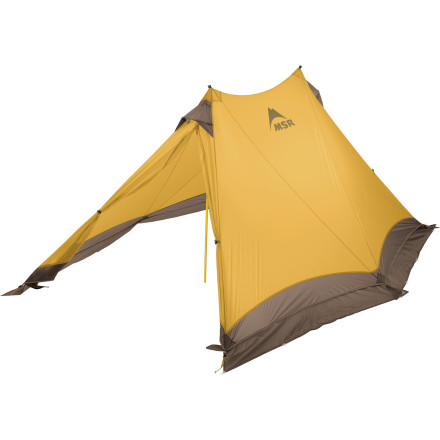 Detail Images
Description
Year-round shelter for a pair of minimalist backpackers.
With its minimalist design and extra interior space, the MSR Twin Sisters Shelter offers ample room for two plus gear without weighing down your pack. Pitch the Twin using the two included lightweight poles, or save even more weight by using your own trekking poles to support the twin-peak roof. A steep roof pitch sheds snow, and flaps at the base block out whipping winds and spindrift.
DuraShield coating on the canopy repels rain, snow, and precipitation when the weather turns foul
Front and back access flap doors roll open to aid ventilation and make loading gear inside of this tent easy as pie
A pair of peak vents allow for cross-ventilation at the top of each door so hot air can rise inside and then escape outside
Six-point pitch sets up quickly by staking into the ground securely
Reinforced guy points provide additional points to set up lines when vicious winds hammer your camping spot
Floorless construction saves weight and, if you're using adjustable trekking poles for support, lets you tinker with the pitch angle
Compatible MSR footprint sold separately
I purchased this shelter in March, 2015 from the backcountry storefront in Eugene. I was able to set up several in the store and this seemed to have the best features vs price. I have used it in 2 times now, once in the Boulder Creek Wilderness and once on Prince of Wales island in Alaska. Both times I used my trekking poles instead of the included poles. I also cut my own tyvek floor, which is able to fit in the same stuff sack as the tent. I do like the snow skirts, but I feel like the shelter could definitely use a few more guy points for high winds. The tent can comfortable fit 2 adults, and one small child between the the poles!
Ski touring.... here we go!
Familiarity:

I've put it through the wringer
I got this since 2010 (former model), and I've used it on many ski touring trips in the Chilean Central Andes. Weather here is not as cold as it can be up north, but winds can be just as strong, and snow density is quite heavier even as it falls (yes we are jealous). I have used the Twin Sisters in overnight and two night trips mainly. I feel very comfortable with the lightweight design with a tough fabric. I haven't used a tent since I own this. Besides planned camp trips and because I find it so light, I eventually take it on long daytrips as a safety backup, when I feel a quick shelter might help.



I feel very comfortable to go out with just the tarp and the guylines. We use skis, axes, buried stuff and ski poles to set it up, and it's really solid under high winds and heavy snowfall. It can be hot and condensate a lot in springtime, but I guess this would improve a bit with that extra door and if we didn't cook inside.



I usually dig a deep tub-like space in the snow under the tarp. This makes for a higher roof and a wider head room, and it allows you to use the space close to the walls. In this way the shelter becomes roomier than any mountaineering tent I've come to know, and if you set it up right you may even get to rest your back against the snow wall (didn't anyone dream of a back rest out there?). Iced condensation also becomes almost irrelevant since you are less prone to touch the fabric. This tub arrangement though is more demanding on how you set your flaps if you're expecting for the worse.



All in all this is a great snow tent, far better than I thought when I first got it. And for what it's worth, I never felt I needed a footprint, as far as my preferences go.


Trustworthy.
Familiarity:

I've put it through the wringer
This tarp tent is everything I hoped for. I have used it in all four seasons, mostly in Wyoming and Montana. It is light, packs easily, and is super durable. I like that I can adjust the height of the ceiling/skirt in order to increase ventilation or anchor the walls with rocks or snow as I see fit. I also have a Sierra Designs free standing 2 man, and the popular Black Diamond Megamid, but I prefer the Twin Sisters in almost all conditions. The Megamid is definitely more roomy, so nicer when snow camping, but the Twin Sisters is adequate for 2 + dog + gear. Others complained that this tent is difficult to set up in light snow- that is only true if you don't prep your tent pad properly- which you should do for any winter camping. I don't use the bug screen or footprint, but this tent actually does suprisingly well for me in moderately buggy conditions. Recently we weathered significant thunderstorm above treeline in the Twin Sisters. It handled 60 + mph winds and heavy hail with no problems whatsoever. In my opinion, tarp tents tend to cost a lot for what you get, but in this case I would definitely buy again.
I'd taker back to the Arctic!
Familiarity:

I've put it through the wringer
I took the Twin sisters alone this past february on my Arctic Ocean Expedition and was more than impressed! The shelter was easy up, easy down, even in high winds. We got caught in a bad storm that dropped temps below -30F with harsh winds and heavy snows. The shelter shredded snow well and ventilated well, even in those conditions frost build up inside the shelter was minimal. I purchased (6) Ice screws to anchor the shelter while on the river and sea ice with that addition the shelter was never a worry! As well i purchased a set of the Sierra Designs Grip clips to add 4 more guy out points for the harsh winds, not only did those help the shelter in the weather but made the interior much more roomy (see photo)! All around a great shelter!
Well executed
Gender:

Male

Familiarity:

I've put it through the wringer
This is of the standard MSR caliber, superb. As an A-frame tent it does about as well as can be executed and it does everything it claims. A word of advice though, if you are getting this simply because it is an inexpensive light four-season tent, make sure you know what a floorless non-freestanding tent entails. I got it for the above reasons prior to a weeklong snowshoe trip in the Rockies and discovered it was not ideal for those circumstances. In deep fluffy snow, even with fancy snow stakes, a non-freestanding tent is a nightmare to set up. Even with the footprint you are exposed to dirt/snow at the edges. Though the max height seems high, remember it has steep walls, so the wall/roof is only inches above your outer shoulder. And the poles pitched in the middle means it is not "couples conducive."

Do not let these comment deter you if you know you need an A-frame, or just an ultralight. It is perfectly designed and constructed, and super durable. The material appears thin and flimsy, but it is super waterproof and tear/ abrasion resistant. The zippers are amazing, and once you've set it up a few times, it only takes a few minutes. Condensation (to a certain degree) is unavoidable, but a tent like this makes it so quick and easy to dry the interior. It has become my go to, and I cherish it.
I bought this tent earlier this season,...
I bought this tent earlier this season, love it. I've been using a small tyvek ground sheet but I'm thinking about the msr version. Does the MSR Twin Sisters ground sheet have grommet holes in it so my hiking poles don't tear up the sheet?
It doesn't have grommet holes, but the ground sheet does have an extra layer of material where the poles rest. If you have a good system with your current ground sheet , save your money, the footprint probably isn't much of an improvement.
Old Ideas are New Again...
I like this minimalist shelter. I also own the older brothers to the current Twin Sisters, the 2003 and 2007 models of the Twin Peaks, also manufactured by MSR. Years ago, while camping in hot weather along the Appalachian Trail, I thought to myself (while sitting in my Chinchilla-colored 2003 MSR Twin Peaks), this is a great shelter -- if only there were a back door and another vent in it.

Wouldn't you know it? Great minds came to the same conclusion, and they also added a snow/wind skirt on it as well (also found on the blaze orange original Twin Sisters). I must admit that although I'm impressed with this current Twin Sisters (now produced in a mustard yellow color), I really wish that MSR would go back to the Chinchilla (Tan) color, which would help me to "stealth camp" more easily.

I also love the two poles they now add to this shelter. This allows the user to carry them or to leave them at home and to use trekking poles (as was common practice until this year's model). The poles weigh about a pound, so decide whether you need your trekking poles to go for water or to do blue-blazing into town, or whether you'd rather save the additional weight.

This shelter is not for the novice, however, since your lifestyle must help to prevent condensation (venting, bagging of wet clothing, etc.) and placement of this floorless shelter requires well-drained ground. I have never personally set this up in deep snow as a ski shelter, but that requires another set of skills as well.

I personally produce and carry my own TYVEK floor, sewn into a two-inch high bathtub. This system is superior to the optional MSR footprint and costs less as well. The ultimate modification would be a skirt of no-see-um netting for hot summer/buggy use, but perhaps this will be found on next year's model.
anyone got info on this product? how well...
anyone got info on this product? how well does it handle rain with and/or without the foot print? it can be setup with trek poles right? how much does the fabric weigh alone by itself?
Best Answer
Hi. Yes, you can leave the two poles behind and then your shelter will weigh a little over two pounds. This design is a modification of the 2003 MSR Twin Peaks (I've used this while backpacking for years). I like the additional door and the additional vent in this model. Remember though, that this is a minimalist shelter. Rain presents a problem because when you open either door, driving rain and wind come right in with you. This shelter is best when set-up on well-drained ground - or you'll probably experience puddles and streams of rainwater - with or without the footprint. In sunny and hot weather, you can unzip both doors and raise one side as an awning. Remember that when set-up low to the ground and with both doors shut, there will be condensation - especially if you sleep two people and your dog inside of it.