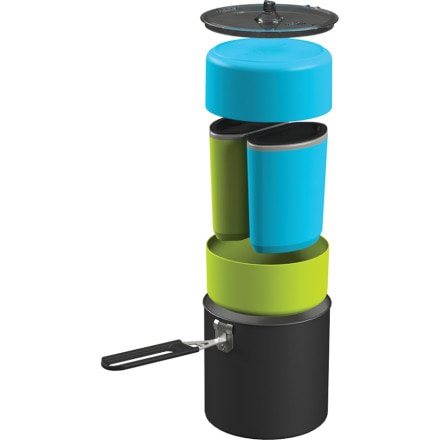 Colors
If packing light and eating well are both priorities, make sure the MSR Trail Lite Duo System has a place in your pack. The two-liter aluminum pot holds enough grub for two hungry hikers, and the non-stick surface makes for easy cooking and cleaning. Add in the DeepDish bowls, insulated mugs, and the combined ultralight trail weight, and you have a kit that is destined to impress palates all across the backcountry.
Set includes a two-liter non-stick aluminum pot with a strainer lid, two insulated mugs, and two DeepDish bowls
Entire kit fits inside of the pot for compact packing
Entire set weighs in at under a pound and a half
Share your thoughts
What do you think of the
MSR Trail Lite Duo System
? Share a...
Awesome Buy
Member since
Posted on
Gender: Male
Familiarity: I've used it several times
Just like Gowski says its a great buy. I picked one up and it works great I'm not having any of the issues that the first reviewer had.
Works great!
Member since
Posted on
Gender: Male
Familiarity: I've used it several times
I really like this set as it can be very customizable for what you are using for. I've used it on a half dozen trips now and it never fails. For solo trips I take out one of the plates and one of cups, and doing this allows me to fit a gas canister where the second cup usually is. My MSR Microrocket stove, igniter and a lighter all fits in one cup, and utensils, teas, sugar, napkins and MSR canister- stand all fit in the pot. The fact that all these things fit is great!

I'm not sure what the previous reviewer is talking about with the pot holder...mine is tight and hasn't failed once. Strains perfectly, Click over the top perfectly, and the MSR coffee strainer works perfectly. I haven't seen a reason to take the handle off and I really don't think you are supposed to, which is prob why theres' is getting loose. I do agree the mug lids are tight, but not annoyingly tight. They kinda click on, and will prob loosen up after more use. See my vid below on how I use this set.

Good cooking system, terrible pot holder
Member since
Posted on
Familiarity: I've used it several times
Have to admit that this pot/bowl set was an impulsive purchase when browsing the local outdoor retailer. While the set is acceptable, I should have spent a little more to get a better system. Problems with the Trail Lite Duo:
1. The pot holder is a snap-on design, basically a T stick that is held by an U attachment. However it is very easy to pull the stick out of the attachment if you are not careful or don't know how the joint works and try to force the matter. The problem with this thing is that it also works as the retainer of the lid. So basically you have to take it on and off at least twice when you use the pot. Once the stick is off, it is a pain to stick it back in.With only one weekend of use, the attachment is already coming loose. I can't imagine it last a year. MSR's Quick and Alpinist pots use a different mechanism that may work better.

2. The lid of the mug is difficult to use. It is not easy to open (which can be a good thing). When it opens, it keeps falling into the mug. I was doing this in summer without a glove one. It is most-likely not going to work well in winter.