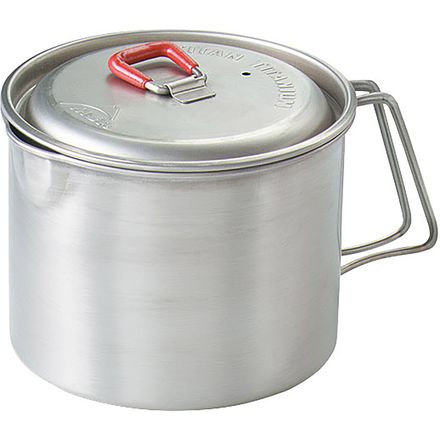 Community Images
Description
MSR's Titan Kettle acts as lightweight, bare-minimum solo cookware for your fast and light adventures. Well, you might want a spoon, too.
Use the MSR Titan Kettle as a pot, mug or bowl on your bare-minimum camping treks, or add this .85-liter kettle to your Titan Cookset. With a tight-fitting lid and a drip-free spout, you can heat and pour water for tea or instant soup without spilling. MSR fortified the 28 fluid ounce Titan Kettle with lightweight, strong titanium material, so this cookware stands up to seasons of camping and only adds 4.2 ounces to your pack.
Disappointing design flaw
Familiarity:

I've used it several times
I recently used this kettle for the first time on a week long backpacking trip. I don't understand why they would insulate the top handle, but neglect to insulate the larger kettle handle on the side... Those handles get hot! Way too hot to handle with bare hands. I noticed this flaw before I bought it, but I assumed such an established and respected company would have done something to reduce the heat flow into the handles; I was sadly mistaken.

On my trip, I used the kettle approximately 20 times and the handles only got noticeably hot half of the time. I am assuming this may have to do with the amount of water heated up or the amount of time I left it on the stove after boiling was achieved. When hot, I just used a small towel as a pot holder; easy fix, but annoying for a $45 pot.

Aside from that glaring design flaw, I love the kettle! Its light, it fits my titan cup and stove inside, and the lid stays on when pouring.
What is the diameter of the pot?
Diameter: 4.75". Height: 3.5
perfect size and better in weight
Familiarity:

I've used it several times
this works great for a solo hiker. I used this on my recent Teton crest trail trip. I pack light!!! Dry base weight is now around 8 1/2 to 9 LBs. When you travel far, weight matters.
I rather like the lid.
Familiarity:

I've put it through the wringer
I use the Titan in northern Idaho from 2500-6000'. It works well with a soda can alcohol stove and a windscreen, I can get a 2cup boil in 4.5min in summer, 7min when snowshoeing. I recently started using a Kovea Spider remote canister stove. I made a Caldera cone out of aluminum flashing. I haven't timed it yet but I think even my 3cup boils were in the 5min range. My 1st test with the Spider was in the winter, no windscreen, and it took 13min for 3cups - a windscreen or cone is essential.

Perfect for solo cooking. I do 3cups & put 1/2 in a MountainHouse and use the other 1/2 for coffee. There are no graduation lines so I did my own inside the pot in sharpie - they've held up well.

The lid fit really tightly when I bought it but I think it's loosened up a bit. The handle on the lid will stand up & then the lid comes off fairly easily. My faux Caldera comes up to the lip of the pot & keeps the pot firmly on the stove so it's definitely a non-issue now. I always seat the lid with the vent opposite the spout. When steam rolls out of the vent, it's boiling. There's really no need to take the lid off to check, the Titan pumps steam like a cartoon kettle when boiling.

The Kovea Spider, a 110gm fuel can, and a lighter nest nicely in the MSR Titan. The Spider can't be hooked to the fuel canister when packed into the kettle. I like the fit, it's not too tight but nothing wiggles around either - I don't worry that the stove will be harmed when nested in this fashion.

Mostly I boil for freeze-dried meals but I've cooked oatmeal and soup in the Titan. I've yet to try frying any meat in it but given it's shape, I can't imagine that would go well. The handles are floppy and do get hot, I turned mine upside down so the long bit is farther from the heat & that helps.

The Titan cools quickly so I don't like it as a mug. I pack an old-style 16oz Nalgene in a neoprene sleeve - keeps the coffee hot and portable.

Great kettle, I can't imagine going out with something else.
Really, just buy it
Familiarity:

I've used it several times
It's unreal, that's all you need to know
Go-to pot for melting snow on ski traverses and climbs. Packs tiny and light with a fuel can. Can't ask for any more. As mentioned below, small handles get hot but that is the price of lightweight gear. Lid fits tight but if you set it gently on the top it works fine. The way to go to stay hydrated or make dehydrated meals. Not my first choice for proper cooking but there are better tools for that.
This kettle is super light and works well if you eat freeze-dried food. One kettle perfectly fills one freeze-dried meal. A propane canister fits in very well. The lid is solid too. I haven't had a big problem with the handles as other people consider "too short", but they are shorter than ideal. But the issue is overblown.

I would recommend this for low-altitude backpacking, not alpine pursuits-look for a bigger pot to melt snow.
Does anyone know whether an MSR Whisperlite...
Does anyone know whether an MSR Whisperlite internationale will fit in the kettle?
No the stove will not fit inside this kettle. The kettle is designed to hold a pocket rocket and a 4oz fuel can.
My only gripp is it doesn't was it's self. Get on that MSR. Buy one today.
High hopes, but rather disappointed
Gender:

Male

Familiarity:

I've put it through the wringer
I bought this as a light weight option for my back packing trips, as well as a 2012 attempt at the AT. Several flaws I encountered...

1. The lid is very tight (and more so when using, due to expansion of the metal during heating). Found you have to leave lid partially off so you don't spill dinner in process of just trying to check to see if your dehydrated dinner is boiling, as Tired and Frustrated found. I was only at 4000 to 6000 feet and that hindered boiling a lot. Can't imagine trying to melt snow at 13,000!

2. The handles ARE NOT LONG ENOUGH. When I started my pot a'boilin' the flames on my soda can stove were very close to handles, and they became very hot (natch). Used one of my gloves that I brought as a pot holder and burned my hand on flames trying to get pot off stove, and my glove melted to handle. That was a mess, while hungry!

3. The pot handles look good in the photo. They fold in on sides nice and neat and compact looking. HOWEVER they flop around, and while not a huge deal would think for $60 bucks they'd look and feel a little more secure, especially in your hand when you are removing your dinner from the stove and its as hot as the sun!



Bottom line: I thought this would be a nice light weight pot for long distance backpacking. What I got was a light weight pot for $60 bucks that is awkward to use.



****UPDATE*****

I change my mind on this. I used this pot the entire time on the AT and it worked great. Nice and light and after a little use the handles and lid were fine. I will say that I wish the pot handles were a little longer , as even with the wind screen, they heat up from the flames of my alcohol stove. To combat this I brought a small pot holder that I had cut in half and stitched the cut end so it wouldn't fall apart. worked just fine.
This is the reference standard as far as solo titanium pots go. I've had one for years and it's held up to plenty of use and abuse. Minor gripes would include a lid that fits a bit too tightly which is exacerbated by the fact that the handles get very hot in use. For me, this is made up for by its weight, durability, and form factor. I don't anticipate ever needing to replace it.
I brought MSR Titan Titanium Kettle and the Snow Peak LiteMax Stove. They cost a little more, but weigh less and in my opion worth the money. A gas canister fits inside for the perfect light weight, duralbe, complete cooking system. Its all you need for 1 or 2 people.
I'm not sure if they could put the rubber grip on the handles that they have on the lid, but that's the only improvement that I can pinpoint. Great kettle.