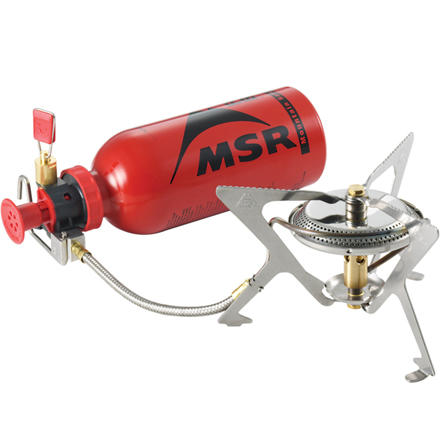 Community Images
Weighing a mere 8.5 ounces, MSR's SimmerLite Stove gives you a super-compact, lightweight stove for all your alpine climbing, backpacking, and paddling adventures. The SimmerLite Stove fits nicely in a 1L pot, and its excellent flame adjustability is great for simmering sauces and melting snow. MSR's shaker jet technology cleans the SimmerLite Stove with a simple shake. *Fuel and fuel bottles sold separately.
My stove lites OK but will only burn for...
My stove lites OK but will only burn for about 3 minutes then goes out. what am I doing wrong?
My best guess is that you're letting in enough gas to ignite it, but then turning it down too quickly. Let it burn for a while, then turn it down slowly, a little at a time.
Oh, another possibility: you aren't getting enough pressure in the fuel bottle. Check that the little rubber gasket isn't damaged and all seals are air tight, and give it ~30 or so good pumps.
Thomas, thanks, but I had it turned up full, as I was trying to perk coffee.
Get this stove while you can!
MSR has discontinued this liquid fuel burning stove and now only make the canister burning version (WindPro). If you prefer liquid fuel stoves, this is a great stove. Simple. Lightweight. Easy to maintain. East to light.
BTW - as SOON as you see fuel in the burner when you are priming, turn the fuel OFF. Then light. You won't get a ball of flame.
super light wate eze to set up and very derable i droped mine about 30 feet still works grate
one of the comments state that this burner...
one of the comments state that this burner is for med-lrg pots, and maybe too big for solo cooksets...is this true? would a snow peak 600 not sit well on this stove?
Its not so much that it wouldn't sit correctly, but more that the shape of the burner would direct heat around the outside edge of a smaller pot, causing the loss of precious heat/fuel. A stove with a smaller burner (Soto regulator or MSR pocket rocket are just two examples), would direct more of the heat towards the center of the pot.
The worst pot made for efficiency and boiling water is a tall, small diameter titanium pot. Why do manufacturers make them? Because they're small, lightweight and easy to pack. The Snow Peak 600 Pot was designed, first, to accommodate one of their canisters and a stove inside the pot. Efficiency and boil time weren't considered as it's primary functions. Many stoves, such as the MSR PocketRocket, are perfect for these types of pots, like the Snow Peak 600, because they center the flame directly in the middle of the pot. Titanium also has poor heat conductivity so the only water being effected by the heat is on or near the bottom of the pot closest to the flame.

The Simmerlite (and WindPro which is very similar) are optimum for 1L pots and larger that have larger circumferences, but shallower profiles. A good example of this type of pot for a solo backpacker is the MSR Quick Solo. It is made from aerospace aluminum that's been hard anodized. But it's the shape that makes the most difference. You will find water will boil much faster with less fuel than the Snow Peak 600 pot.

The Snow Peak 600 pot will work with the Simmerlite, but it isn't optimum. I would recommend the canister SnowPeak stoves or the MSR Pocket Rocket. Unfortunately there isn't a liquid fuel (non-canister) stove that will work optimally with this type of pot currently.
The best "Fast and Light" white gass stove you can buy. Verry compact yet stable.
Simple, well-designed, light and compact. This is a goog all around stove. I've used it in all conditions except the very coldest. This is a very quiet stove also (contrary to the DragonFly). I can't simmer with it very well so it is kind of a poorly named product. Much more stable than the Whisperlites I've used, not quite as stable as the DragonFly. Are the specs wrong? When I bought this stove it came with a windscreen, heat reflector, and parts kit. If you like the quiet get this one, if you don't mind the sound of a train while you cook, I'd recommend the DragonFly.
This is a very nice easy to use light weight stove. My wife and I love it. Whatever the adventure we are on you can bet that we have this with us.
I have a lot of experience with the MSR whisperlite stove, and think the simmerlite is as a slightly improved design. It's a much tighter and rigid design - the legs don't get bent out of shape as easily and the slightly serrated teeth seem to offer a little more grip too. Like the whisperlite, this stove is really easy to service and repair in the field - a must for any extended trip. The burner is a little more complicated, but offers a more even burn IMHO. My only complaint is pretty universal for this type of stove: you cant reliable simmer anything on it, it's really either on or off. Overall it's a solid and reliable little stove that will last for years of adventures.
Will the TSA let you fly (in packed luggage)...
Will the TSA let you fly (in packed luggage) with the fuel bottles? I'm thinking of getting this stove for camping that is ~75% local and ~25% travel. In the past I've always either gone with friends that had their stoves or with guided trips, so I've never had to worry about flying with this stuff and therefore don't know how it'll work out.
Thanks!
Best Answer
Absolutely no way unless the bottle has never been used, or is so clean that no fuel residue or smell can be detected at all. Same goes for the stoves themselves. Even then, leave off the cap and be absolutely sure to disclose that the items are in your luggage when you check them. Another way to do it, if possible, is to ship them to your destination ahead of time, but the same rules apply to shipping companies regarding fuel and vapors.

*I'll add: It's an incredibly subjective call on the part of the screener, and the odds are, if they have any question at all, they'll confiscate it.
I need a new stove, and although it isn't...
I need a new stove, and although it isn't winter, I want one that works up here (Quebec) when I camp in the winter (commonly -15C).
My last stove was white gas and worked like a beauty. Can I safely assume that all white gas stove will do under these conditions? Or is there some reason I need the bulkier XGK-EX?
This would do just fine for you needs! I couldn't recommend the bulkier XGK-EX unless you were planning on a longer time period, high elevations and a great number of people.
There are a couple of things to keep in mind when considering both stoves:
1. Simmerlite - this stove was designed for lightweight, cold weather backpacking. If you have access to white gas (which is the case in Quebec) then this stove will be adequate for any winter conditions, no matter the temp. It isn't as bomber as the XGK-EX or has hot burning, but is easy to prime, self-cleaning, light weight (8.5 ounces (not including fuel bottle)), and is more capable of simmering than the XGK-EX (not as good as the DragonFly however). The Simmerlite is also less expensive and very quiet while in use.

2. XGK-EX - This stove is the best performing winter stove on the planet. It was intended for high-altitude mountaineering, but with the new updates, is actually fairly light and easy to use (only 2 ounces lighter than the Whisperlite). It's best features include it's pot supports that will support a 10L pot if needed, a very stable base, burns incredibly hot (for boiling snow), is an easy stove to field maintain (important if your life depends on it), the best multi-fuel stove on the market (can burn almost anything liquid and flammable in a pinch), will be the last stove you buy (super durable), and is fairly light (14 oz. not including fuel bottle). It's not-so-good features include it being super noisy, hard to simmer, heavier than the Simmerlite (but lighter than the DragonFly), can be too hot if not melting snow or boiling water, it's a fuel hog, and may be overkill for an overnight trip (although I know many who use this as their only stove).

The old XGK was one I seldom recommended unless your plans included high elevations and melting snow. However, the new XGK-EX is a whole different animal. I would recommend it to anyone who wants a stove that they can absolutely rely on, will last them several decades, and doesn't mind the noise. It is truly an awesome stove!

It's important to note that the XGK-EX is not compatible with canister fuels. Multi-fuel means that it can burn diesel, gasoline, kerosine, white gas, or other liquid fuels (not alcohol fuels however). Canisters are not compatible with the XGK-EX!
Best Answer
The reason why the engineers at Cascade Designs (parent company of MSR) chose not to make any of their liquid stoves burn both canister and liquid fuels is based on performance. I can tell you it's been attempted, studied, tested, engineered, thought about, discussed and argued more than any other topic around CDI's production facilities. What they have found is that you either have a stove that performs near flawlessly in extreme weather (like you would find in the Himalayas at their worst) or one that is 'ok' at doing everything. They have come to the conclusion that canister stoves need to burn canister fuel only and liquid fuel stoves need to burn liquid fuel only.

The reasons are many. Liquid fuel stoves, in the opinion of the MSR engineer, should be as reliable as possible. The more 'features' you add to the liquid fuel stove, the more opportunity for failure when it's needed most. Often liquid fuels are dirty, contaminated, not suited for using in a lightweight backpacking stove, and, in some cases, barely burn. MSR believes their liquid fuel stoves must work with these types of fuels. Even if you're talking about white gas only, there are a million different ways white gas can be contaminated. The overall weight of the stove must also be taken into consideration and the stoves that burn every fuel, including canister fuel, are generally much heavier.

Canister fuels are generally contamination free. However, the fuel is much different than one would expect from a liquid fuel. What is not known when manufacturing stoves is that valving, the size of the jet hole, the distance between the burner head and the bottom of the pot, the length of the fuel line, the flame adjuster, etc. are all different on canister stoves vs. liquid fuel stoves if you want optimum performance. What the MSR engineers have not been able to find is the obtaining of optimum field performance from one stove that burns every type of fuel available.

I've had the opportunity to try out most stoves available today in the field and my conclusion is the same as those of the MSR engineers...either you get excellent performance from stoves that are specific to a fuel type, or you get mediocre results from a stove that attempts to be everything for everybody (multi-liquid fuel, canister, lightweight, packable, excellent pot supports, easy to use, stable, wind resistant, etc, etc,). This is currently the status at MSR. However, things might change as new technology and discoveries are made.
I am having a tough time lighting this...
I am having a tough time lighting this guy.

After a few tries, we got the fuel lit, then after about 30 seconds it all went out. We also didn't get anything close to a soccer ball size flame - the thing barely lit. Any ideas about what I am doing wrong?
Best Answer
Is it new? If so, make sure there is enough pressure and the initial amount of fuel in the bottom priming cup burns long enough to heat the fuel line and vaporize the liquid fuel.

If its not, then trying taking it apart and cleaning everything; msrgear.com has some great illustrated instructions. Its also possible some items need to be replaced, like the o-ring or jet.
I have the same issue... the fuel squirts into the rim when priming, not into the cup as it should. That said, I let the fuel burn most of the way, then open the valve again. The fuel is still liquid, but burning a little extra eventually vaporizes the line.
i was looking at other sites and saw that...
i was looking at other sites and saw that this stove came with a windscreen and heat reflector, whereas at backcountry it says it does not. can anyone confirm what comes with this stove from BC?
Best Answer
The only way MSR ships their liquid fuel stoves is with a heat reflector & windscreen. Fuel bottles & larger parts kits are always sold separately. Every once in awhile they might include a fuel bottle as a promo.
This stove does come with the wind screen and heat reflector. Also a small tool kit which contains a small multi-wrench tool, a tube of oil for the pump and a replacement o-ring, as well as the canister pump to pressurize the fuel in the fuel canister and a small carrying bag. Fuel canister is a separate item.
Bought this for an upcoming excursion. Very compact and light weight. Bought some Coleman fuel to test it out before we hit the trail and wouldn't light. Thought there might be a problem with stove, or maybe didn't pump up can enough. Fuel started to overflow out of overflow cup on bottom of stove, but still wouldn't light. Decided to try and light fuel that had spilled on cement, but had to hold lighter there for about a minute before fuel would even slightly start to burn (hey, isn't this stuff supposed to be highly combustible?). Took back fuel and went to another store and bought a replacement can of Coleman fuel. That worked first try! Note to self: Do NOT buy fuel from Wally World! Anyway, great stove and easy to use, if your fuel hasn't gone bad.
So if I buy the stove will I need to buy...
So if I buy the stove will I need to buy some fuel canisters as well or does it come with a fuel canister? And can the canisters be filled with coleman fuel stove or another fuel like that?
Yeah, you'll need to purchase them separately (as with most stoves of this type). You can fill it with coleman fuel or the MSR stuff...I'd guess they're about the same, but the MSR stuff is probably gonna burn a little cleaner/longer. Personally, I'd get a medium sized fuel canister if you're doing anything less than a week. Enjoy.
Make sure you are looking at fuel "bottles" not canisters. The 20oz size is pretty useful if only bigger than I need for most trips.

This stove really only runs on white gas, of which coleman fuel is.
Best Answer
The 20oz size fuel bottle will last seven days using your stove four times a day. If you need more fuel, a 30oz size is available. I've found that all brands of white gas work equally as well however I prefer to use Crown brand when I can find it. It is available @ most R.E.I. stores.
Simmers almost as well as the Dragonfly but it packs to ~ half the size and is much lighter; it's also better than a whisperlite since it's both lighter and simmers much better. If you want a compact, lightweight white gas stove with the ability to simmer, this is it.
This stove is amazing! It lights fast and is very reliable. I have yet to clog it. It is a little hard to get a simmer out of it. If you choose this stove you will not be disappointed!