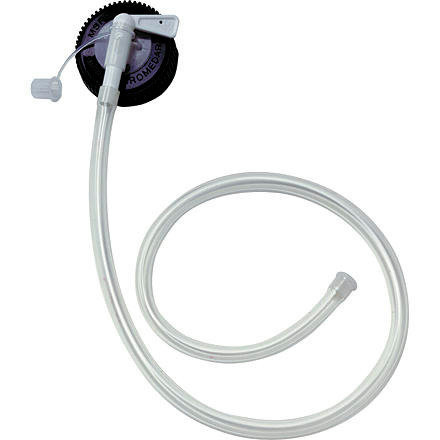 Combine MSR's 10-liter Dromedary Bag with the shower kit and you've got an easy-to-use, solar camp shower. Includes a Spigot Cap, a 3-foot flexible hose and shower nozzle. Your friends will thank you.
Share your thoughts
What do you think of the
MSR
Shower Kit for Dromedary
? Share a...
Great product
Familiarity:

I've put it through the wringer
I replace the standard cap of the MSR Dromedary Bags with this one for camping purpose. I used it for cooking, washing and any way you would imagine for camping. The soft tube does bring a lot of convenience. Pay attention that the outlet of the tube is a spray, but I have no problem with it.

The only complain is that the valve leaks a little bit some times even when it is at the closed position. This shouldn't happen in a product of this cost.
Does anyone know what size is the inner...
Does anyone know what size is the inner diameter of the tubing? does the msr hydration kit have the same size tubing? I want to buy quick disconnects in the right size for both. Thanks
It is a standard size. The same that Camelbak and Platypus and MSR use. You can hook up quick disconnects to this.
Does the shower kit actually have the same size tubing inner diameter as the msr hydration kit? It is hard to believe that the spigot on the shower only has a 1/4" opening to fit the 1/4" tubing. That wouldn't seem to put out a heavy flow. I too would like to get quick disconnects for my dromedary setup.
Without using calipers to measure, it looks like these have an inner diameter of 7/16in.
The description for this item indicates...
The description for this item indicates this accessory is to be combined with the 10 Liter Dromedary Bag. Is this accessory incompatible with smaller Dromedaries?
Best Answer
It should be, but a 1 l shower would be quick. Pretty standard size
Thank you. I figured the 10L was relatively standard size for a shower. But I've got a 6L Dromedary, and I'm considering this accessory if not to have for a full normal bathing shower, just to cool off quickly after a hot hike.
I'M LOOKING FOR A SHOWER SYSTEM FROM...
I'M LOOKING FOR A SHOWER SYSTEM FROM COLEMAN, IT WAS BATTERY OPERATED, ANY IDEAS?
Best Answer
The best option, in my opinion, is the Zodi Shower which is propane powered that creates hot water instantly and fits in a super small package operated by a battery pump. Here's the link: http://www.zodi.com/web-content/The MSR PackShower is also a good option if you want simplicity. Because the bag is black, the sun warms up the water and with it's 30 Gallon capacity will give you a 10 minute shower. It's super tough, easy to fill, without worrying about batteries. Here's the link: http://www.backcountry.com/store/CAS0345/MSR-Packshower.html?