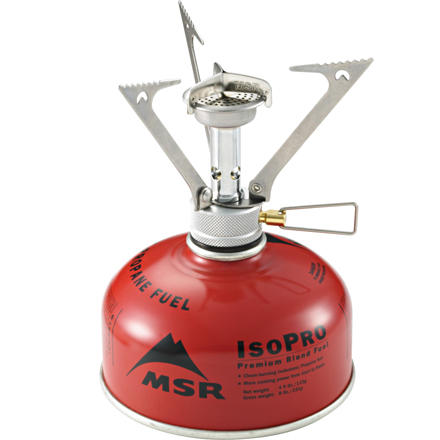 Community Images
The MSR 3-ounce PocketRocket defines ultralight for all you gram-counting backpackers. Its compact stature does not eliminate functional controls, as there is no preheating, priming, or pressurizing required. Just twist the glove-friendly control valve and light. The PocketRocket stove quickly delivers a steady, hot flame that backcountry chefs can adjust to a simmer or boil without taking off their mitts. It excels on any trip where low weight and a hot meal are optimal; fast-and-light climbs and multiday ascents included.
Compact size allows this stove to fit inside the MSR Insulated Mug (sold separately)
Reinforced pot supports provide superior stability over similar compact stove designs
Focused burner head pushes a strong, consistent flame that resists interference from wind
Note: freezing temps can reduce the performance of a canister stoves, so you may want to go with a liquid fuel stove for wintertime trips
Note: fuel canister sold separately
Can't beat it for the price
Familiarity:

I've put it through the wringer
Now this may not be an all in one stove, but for those who have access to canister stoves and aren't consistently in below freezing conditions, this stove is tough to beat for backpacking. While not as field serviceable as the whisperlite, this little thing takes less than 2 seconds to set up and is boiling water under 5 mins. May not be your only stove, but definitely a great 3 season stove.
It's the Standard
Familiarity:

I've used it several times
What else is there to say. After trying to deal with Primus Classic Trail and a few other stoves in this range, I don't think I'll pack anything other than this. Lightweight and definitely packs down the smallest. Quick boil time and good canister life, and works in all four seasons. It all packs down into my pot and weighs next to nothing.
The Lightweight Staple
Familiarity:

I've put it through the wringer
I love the PocketRocket. The only issue clear with the stove actually has nothing to do with the stove itself - the included piezo lighter falls apart near instantly. Carrying a lighter will solve this problem and offer far more use.

Light, easily folded, quickly cooled, and hearty, it's a sure mate for your ultralight or extended trips. I've used it in the dead of the Colorado winter, at the top of 14000 peaks, and across multi-day trips, and have never had it fail. Your fuel will let you down first.
Perfect for backpacking or camping
Familiarity:

I've put it through the wringer
I bought this one as it was recommended to me, and it's perfect for what I need. Packs down super small, it's lightweight enough, and setup is super easy. You do have to be careful with what you balance on it - frying pans are difficult, but small pots fit great. The only trouble I have is when it's windy - it doesn't come with anything to block the wind, but a little foil fixes that just fine. Easy to turn the flame up for a boil or down for a slow simmer. I have a friend who has this and one of the 3 arms broke and has trouble staying closed, but still works fine to hold things - just be careful with how you treat it and it'll be reasonably durable.
Simply Works
Familiarity:

I've used it several times
This will be a fairly short review, in that there is not much to say here besides it works. This is a great lightweight backpacking stove for most all backpackers (may not be suitable for really high altitude endeavors). I've never had a problem with it lighting, even in 20 degree weather when I was ice fishing. I use it pretty much just for mountain house type meals so I can't really comment on its simmering abilities but for what use it for, it works perfectly. My GSI soloist pot fits perfectly on the supports. I haven't used any other cookware on it so I can't comment on other pots and pans but I am sure any reasonably sized cookware would be just fine. I also find that the JetBoil fuel will light best in lower temperatures. I don't usually need it in super cold temps but I like that I would be able to if needed.
Fast & Easy
Familiarity:

I've used it several times
I love this thing for backpacking trips - I use the whisperlite for car camping, but the pocket rocket is better for when I'm watching my weight. :)
perfect little stove
Familiarity:

I've put it through the wringer
great little stove for backpacking! its super light, compact, and works every time!
I've only used a whisperlite MSR before and honestly found it a bit more complicated and the bag not reliable for protecting the stove. This is so tiny, comes in a tiny hard plastic box and works beautifully. I highly recommend this. Used out in Desolation Wilderness on a backpacking trip with light wind. Had zero problems. Worked like a dream.
Tried and true
Familiarity:

I've put it through the wringer
The MSR Pocket Rocket Stove is fantastic. I have had it for ten years and used it hundreds of times. It always works, is super light weight, super small, and has decent cook temperature settings. The stove does not do well when air temperatures drop much below freezing, but that is the case with all such canister stoves. If you are on a budget, and do not need a specialized stove, purchasing this one is a no brainer.
Love it
Familiarity:

I've put it through the wringer
I love this little guy. He's great for backpacking and camping, although if you're trying to make some big time meal, maybe get a 2 burner camping stove. I bought a little cup/bowl that I can heat my food in, and eat straight from that, and it sits perfectly on this - although I do use larger pots that fit as well. You do have to be careful of balance - keep it away from anywhere that it may get kicked/knocked over - and if it's windy, try to create a shield (duh). I've had this now for about 4 years and it's been great to me. Packs light and small, real easy to set up.
Light, fast, and efficient. At $40 what more could you ask for? I guess its not the best for gourmet cooking, but for boiling water for oatmeal or dehydrated foods this is as good as it gets. No priming or messing around like liquid stoves, just a cannister and a fast meal. Boil times are excellent too. Pick up a cannister stand because it can be a little unstable on uneven ground. You will absolutely not regret getting one of these.
My favorite stove
Familiarity:

I've put it through the wringer
The MSR pocket rocket is what I imagine when someone says "backpacking stove." It's a quality piece of gear made by a trustworthy manufacturer. Its wonderfully simplistic and priced fairly. The price as well as its size make something you could buy two of without any guilt. If you're one who likes to push a little farther down the trail before setting up camp you'll appreciate it. Assembly stops once it's screwed on to your fuel canister. Minimal amount of plumbing assures it will likely never foul on you in the field. Ultimately the name says it all, if you just can't get your mind around a bulky cook system this is the stove for you.
one of the best stoves out here!
Familiarity:

I've used it several times
love this little rocket engine! burns clean and consistently unlike most stoves. cant be beat for the price really.
Light and does the job
Familiarity:

I've put it through the wringer
Using it for a year now and it does a great job. No complains.

Hope MSR would have a same model with piezo built in.
Jet engine! 2 min boil.
Familiarity:

I've put it through the wringer
I've waited 2 years to write this review so I would have ample time to put it through the wringer. This is a great product. Although it's small it's diameter is actually bigger than most models. The non- slip teeth hold the pots as well as something as small a soup can.

It sounds ferocious when you turn up the flame. MSR should patent the sound because it's BA. Really does boil 8-12oz in 2 min.

Has not lost any of it's tension so the arms don't flop around.

My brother bought a rip-off on the internet. We put the same amount of water on each and started them simultaneously. I had already boiled my water, mixed my hot cocoa and finished it before his first bubble broke surface in his pot.

It's really light, compact. Can't go wrong.

My only beef is that it doesn't have a piezo starter!!!

I had to pack a mini- bic lighter in its case to light it. I then bought a mini MSR piezo stick that I slide into the container with the rocket. It would have been easier to integrate it into the model.

I hope a similar model comes out with the piezo built in.
Simple & reliable
Familiarity:

I've put it through the wringer


Simple & reliable



ive bean using this lil guy for 4-5 years now, its small simple and reliable. I love that it fits into it little plastic case and I dont have to worry about it getting broken or snagging and of the gear in my pack. simply unfold screw it on your tank and your boiling. im temped with these new all in one systems and ill probubly get one at some point but it'd hard to switch from something thats so dependable...


Ive used this stove for five years on everything from month long backpacking trips to car camping to picnics. I can say with no hesitation whatsoever that this piece of gear does its job perfectly day in, day out, for years. Its light, durable, and easy to use.



The ONLY downside to this is its dependency on disposable gas canisters. Those things are awkward shapes and not ideal for ultra light packers. Not really my thing so I dont mind, but something to consider.


For the money this can't be beat
Familiarity:

I've put it through the wringer
The MSR Pocket Rocket is lightweight, small and super reliable. No it doesn't have the fancy ignition switch but a lighter or matches are really not that hard to use to get it lit.



You can buy the fuel canisters at any sporting goods store for $5-8. This stove uses IsoButane and not propane.



Expect your water to boil in about 2-3 mins with this bad boy. It's a little longer than a Jetboil but you still get about 10 books per fuel canister which is great for a multi-day trip like the Trans-Catalina Trail.



See my full review at: http://www.outdoor-discovery-school.com/blog/gear-review-msr-pocket-rocket
150 five star reviews can't be wrong...
Familiarity:

I've put it through the wringer
150 five star reviews can't be wrong - and they aren't. I just bought my second. No, the first one did not die on me, but I use these so much I just need one to have in my car at all times. Just recognize this is really a one (or two) person stove and not meant to be used for serving up group meals. The stove itself is awesome - compact and gives a hot flame that quickly boils a couple of cups of water. I use it everywhere. It will serve all your purposes on a minimal gear trip. On bigger trips where gear is not a problem, its great for the early riser to have a pocket rocket to whip up a quick cup of tea or coffee before the gang gets up. I think it is the most convenient stove out there. the simple design makes it essentially maintenance free, IMO. On top of that it's really cool! The only thing I don't like is the use of non-refillable gas cartridges. But the convenience outweighs that.