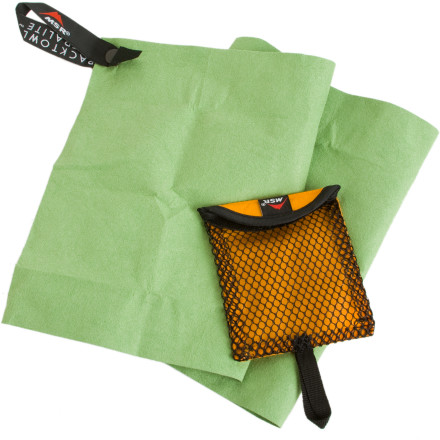 Community Images
You don't need to settle for a towel the size of a postage stamp to save weight in your pack; the MSR Packtowl UltraLite absorbs as much as a full-size bath towel (and then some) and weighs next to nothing. Made from a supple non-woven nylon and polyester microfiber, this Packtowl is extremely lightweight, ridiculously supple, and super absorbent. In fact, it can soak up twice its weight and then wring out almost completely dry. A convenient snap loop lets you hang the Packtowl UltraLite when it's not in use, and when you're on the go, it travels in its own protective sealable pouch.
Towel weights: [S] .5oz; [M] .8oz; [L] 1.8oz; [XL] 3.1oz
Machine wash, air or tumble dry low
Good towel, although it wasn't as soft as some of the other non ultralight versions.
I got the small one last year and took it to the Dominican Republic. Used it to keep the sweat off of me and loved it. I washed it every night and it was dry by the morning. The loop is a must to attach to your pack. I would give it five stars, but after five days of use, the loop ripped from the towel. Do not get this size to use as a bath towel. Go with something bigger.
I don't know about this one...It came all frayed out and the stuff sack velcro is all ripped. What a piece of crap.
its a towel. it functions as such. attached stuff sack is nice. it absorbs more than you would think. i like the loop...allows you to hang it to dry without worrying about it blowing away or having to weigh it down. i havent had it for a long time, so i can not attest to its durability, but i like MSR and i dont think i will have any problems. i got this one in medium. i also use the MSR personal packtowl in medium.
I love this towel. My brother loves it so much he doesn't own real towels. Very absorbent and soft they're great.
My wife and I have enjoyed our two extra large MSR Packtowls. We used them recently during travel, and they take up a minimum space! The only down side that I saw is the obvious lack of texture that every house towel has. Because of the lack of texture, it feels weird the first couple of times we used the towels. Nonetheless, the towels are soft and do dry in a considerable amount of time.
Light, cool and work. the more you wash it the more it work. dry very fast