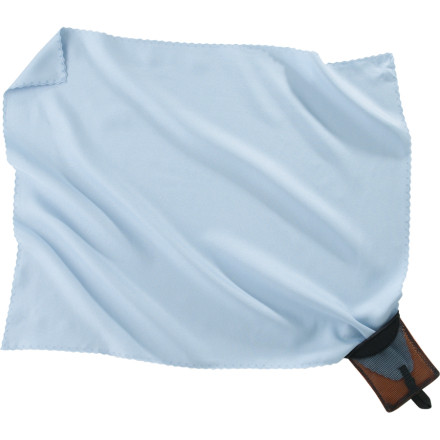 Community Images
A bulky towel isn't an option when you're on the move, which is why you need the MSR Packtowel Nano Lite. For less than an ounce added to your load, you get a towel that absorbs twice its weight in water and wrings out completely dry, over and over again. Whether you need a dish towel in basecamp or a shower towel in a foreign hostel, the ultralight Nano does the trick.
Wash cloth, dish towel, whatever
Best decision I made on my last hike was to soak this down, stuff it back in its tiny bag and carry it.The temperatures were > 80 and I was making big elevation changes and big miles. It served as an excellent cooling wipe each time the sweat got unbearable.

The towel is really handy. It'll work for your dishes, your face or whatever. It weights nothing (2 oz) and is worth both of them. Getting clean after a day of hiking has made a difference in my sleeping. I can wipe down with the soft synthetic, getting the grime of the day off before crawling into my sleeping bag. The psychological benefits are tremendous.

Stains lift out easily in the wash.

Finally, the little disconnect is very convenient - especially for washing the thing without ruining it.
Ultralight, packs small, and dries fast. Use it for anything and everything.
Use it for your bod, or to dry the dishes. Just throw it in the wash when you get home.

It's super small and light. Highly recommended.
This is a highly recommended towel. Dries fast, soaks LOTS. Buy it.
This is a great towel for the backcountry, small, practically takes up no space at all.
I have used this backpacking through Central America. For weight and size it is perfect. It weighs nothing and will fit in the absolute smallest cranny in your pack. If you have long hair it will not get it anywhere near dry, but that is what the sun is for. For drying your body it is great. You will have to wring it out a few times, but even when it feels like it is soaked it will keep picking up water.
This towel is very small and lightweight and does a great job of absorbing moisture. I use it mostly as a dish towel to keep my cookware clean and dry.
Pretty small to serve for anything other than a quick towel-dry after a swim or shower, but then again that is what you're looking for in a nano-lite towel, right? It dries very quickly. The pouch is the best part, perfect for snapping onto your toiletry bag for trips to the campground bathroom.
I used this as my main towel for 2 months while on a bike trip. I would wipe down once, wring it out, then wipe down again and I was good to go. I also had short hair so i would just rub my head with out the towel to flick off all the water. It also dried really quickly even in the humid cloud covered air of California's coast in the spring.
Super light, absorbent, drys quickly, great price- just what a Lite Packtowel should be!
, ☃bcs_badge_alumni_label☃
Size Medium
Packed size: 4 x 3 x 1 inches
For less than .5 ounce it's a pretty good towel
This "towel" weighs practically nothing and drys quickly. It takes a couple of wring-outs if your using it as a bath towel, but I was pleasantly surprised that I was dry after using it (except for my hair, would take a lot more effort with this to get your hair dry). For less than .5 ounce it's a pretty good towel.
this item absorbs 2x its weight as opposed to MSR's "ultralite" which absorbs 7x a comparable mass (the pack towel original absorbs 9x its weight while weighing substantially more per square inch); the nano is, however, offered at the lowest price and lowest weight of MSR packtowels