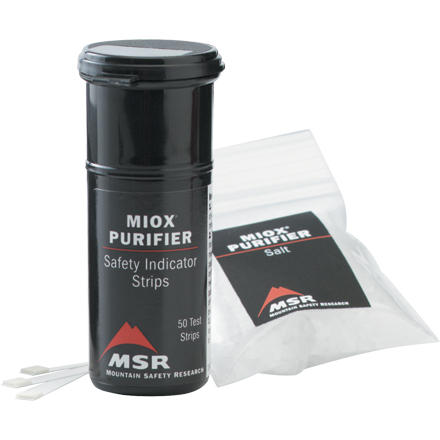 Community Images
When you run out of test strips and salt for your MSR MIOX Purifier, grab the MSR MIOX Purifier Replacement Test Strips/Salt. This MSR kit comes with 50 test strips, salt, and an instruction booklet.
What do you think about this product?
Have questions about this product?
Miox Purifier at work on the Baltoro glacier in Pakistan
photo: Kristoffer Erickson
Is the test strips used to test the...
Is the test strips used to test the perificaton of water taken from a river or stream. I have a purifyer to use when i go fly fishing and just want to make sure after purifying the water is safe to drink.
The test strips test the level of chlorine in the treated water. It is based on the chlorine level and the amount of time the chlorine is given to kill the bad stuff in the water. The strips only work with the chlorine treated water to check that the levels are correct for the amount being treated.
how do you test salt to see if it's...
how do you test salt to see if it's salt?
Best Answer
Make a solution of water & your substance/salt. Pass a 12 volt electrical current through the solution. Using an atomic spectrometer, determine the color of sodium & chloride by eliminating the colors of hydrogen & oxygen which will also appear. The results will reveal themselves only after each element has reached a certain temperature. You can also determine individual elements if you can recognize or know their crystalline structure.
Jeff that was hillarious!! Great answer.