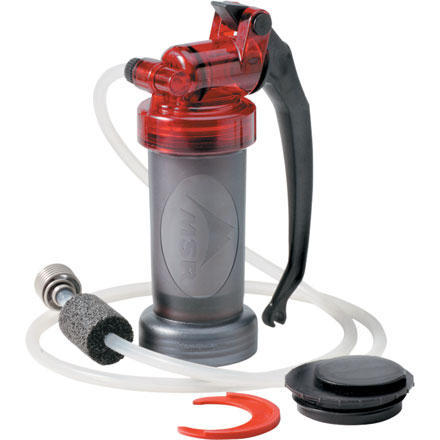 Videos

Community Images
Description
Keep your water clean for years.
Filter your water year after year with the MSR MiniWorks Ex Water Filter. Clean this lightweight, compact filter back to like-new condition, without any disassembly tools. The MiniWorks ceramic element ensures long-lasting protection against bacteria, protozoa (including crypto and giardia), and particulate, and the carbon core removes yucky tastes. MSR's little wonder (7.5 x 2.75in) can filter up to 1 liter per minute. As a bonus, the MiniWorks Ex Water Filter screws onto a standard Nalgene bottle or any MSR dromedary bag. *Kit includes stuff sack, hose float, scrub pad, and instructions.
Share your thoughts
What do you think of the
MSR
MiniWorks EX Water Filter
? Share a...
Practical and appears dependable!!!
First, I must mention I have not field tested the MSR MiniWorks. I did quite a bit of research, and wanted a water filter that I could rely on and did not require gravity, much pumping or other mechanisms. MSR has been a quality brand for me (I.e., their Dromedary water bladders, etc). Will revisit this review when I have tested this puppy!!!
Exactly what you need
Familiarity:

I've put it through the wringer
This pump is the tried and true basic! It is not the fastest, and it isnt the lightest, but it is simple. Simple is good. You can easily clean this guy, and he is easy to understand. It is small and fits nicely in any pack you are carrying. Murky water be ware! We still can drink you!
Slow but functional
Familiarity:

I've put it through the wringer
The MiniWorks EX is super easy to use and maintain in the field which is why it is in my pack. It does pump slow but just make sure you win Ro Sham Bo when it is time to get water and it is not an issue.
SLOW!!!
Familiarity:

I've used it several times
The water filter works great, but you get a arm work out and sit for a long time when filling your bottle. I prefer the mini sawyer. We brought this on the JMT to use between two of us. Each time we needed water, we needed to set aside 30 min to fill up all water bottles. Next time I will be leaving this one at home.
Slow but gets the job done
Familiarity:

I've put it through the wringer
The pump is pretty slow at filtering water but it gets the job done. I've used it on several backpacking trips and have had no issues with it. The pump easily screws onto a nalgene bottle which makes it much easier to filter. I would recommend cleaning the filter out after several uses. We didn't clean it after several days of use and it slowly stopped filtering water. As soon as we cleaned it, it pumped with no problems.
Great filter for groups
Familiarity:

I've put it through the wringer
I have had this filter for years. It's a great little workhorse of a filer. Screws on to nalgene bottles which is nice. It slows down a bit after a few uses, but if you carry along the green scrub with it, you can give a light scrub and it filters just like it's new out of the box!

Only thing is, in comparison to some other options out there it's kind of slow. It's great for multiple people when you need to filter large quantities of water but if you're going solo it's a bit heavy and there are better options.
Best filter for the price

After reading the reviews, I'm convinced this is a high quality, durable filter. I first encountered this filter when hiking in Nepal with some Finnish friends. They used the filter, then used a UV filter on that water. I didn't exactly understand why; something about the MSR being able to filter out something, and the UV being able to filter out something else.
I would like to ask you guys if this MSR filter is sufficient for pretty nasty water that may have giardia inducing parasites, etc.? Or do you typically use this filter COMBINED with another purifying device like UV or drops?
I understand that it probably depends on the water source, but thanks for any help.
Best Answer
Hey Max,

So this is a great filter. I've had this filter since around 2008 and as long as I clean the filter and store it properly after each use, it will continue to last me for years to come.

It has an inner charcoal filter (for tastes and odors) and an other ceramic filter that filters out particles above 0.2 microns in size. So that is almost everything. The one thing this does not filter out are viruses. This is why you saw those people using the UV light (most likely a SteriPen) as a final step to kill any viruses that could be in the water source. Personally I'm not a huge fan on the UV pens as they do not kill everything in the water as there are certain parts of the water that do not come in contact with the UV light.

An alternative to the UV lights (SteriPens) are tablets such as (Item # CAS0775). The tablets meet EPA purifier standards for the neutralization of viruses, protozoa, bacteria and giardia cysts. So those will work great for treating your water. Only down fall is there is a 30 minute wait time after putting the tablets in the water and then there can be a bit of an odd taste to the water.

Shoot me an email if you have any questions at all!

Jared D.
Expert Gearhead
801.736.4336
jdowns@backcountry.com
a workhorse
Familiarity:

I've put it through the wringer
Built solid, this thing is definitely designed with durability in mind. And even if something were to break, it can be taken apart in the field without tools. Literally every moving part is easily accessible. I feel like the only thing that could potentially break, the pin that makes the lever hinge, can be easily replaced with almost anything.

The flowrate is pretty good, it's definitely not as fast or easy as a gravity system. But my understanding is that this filter is more effective anyways. Screwing the nalgene bottle to the bottom makes filling up a breeze. It takes about 2 minutes to fill a nalgene.

Not bad for something that I bought over 10 years ago! Just makes sure you keep the ceramic clean, and grease up the o-rings (make sure it's food safe of course) and this thing will last a really long time.
Reliable and field friendly
Familiarity:

I've put it through the wringer
This is a great reliable water filter that's easy to use and easy to clean while on the trail.
Unanswered Question
I bought one of these a while back and struggled to get it to pump any water through. Not sure if there is a manufactured defect or if I failed to prime it correctly. The priming instructions that come with it are a bit vague. Any tips/more detailed instructions on how to go about priming it correctly and what I should be looking for to determine if I primed it correctly? Thanks.
Germaphobe love
Familiarity:

I've used it several times
water. The ceramic filter is replaceable which is nice. and the 2 micron size filter will take 99.9 % of everything out aside from viruses (just use the purifier drops) It is simply a reliable work horse. I love it. I even use it at home sometimes just because!!
So far I like it
Familiarity:

I've used it once or twice and have initial impressions
Used the MSR on a 3 day hike in a Gorge (plenty of flowing water) In the past I was skeptical of tablets so this caught my interest. i also plan to use it for having drinking water for off grid purposes. It's very convenient to use and I found it weighs slightly over 1 lb by about two ounces.
Just great!
Familiarity:

I've used it several times
Easy to use, and fits a wide mouth Nalgene bottle, as well as the MSR hydration bladders.
My favorite
Familiarity:

I've put it through the wringer
I've owned the three different water filters and this one is my favorite. I like the ergonomics with how it pumps water and I like the fact that it screws to a nalgene bottle. Whatever model of water filter you get, try to avoid getting one that pumps up-and-down because it will eventually become a burden.
MSR Miniworks EX overview
Great and still going strong
Familiarity:

I've put it through the wringer
I've had this filter for about 3 years now and it's still working strong for me. It's simple to use, easy to clean in the field, and works quickly. I appreciate that it screws onto a Nalgene bottle.

This filter is just what you want for a long trip or even just a long day trek.
Impressive in the field
Familiarity:

I've used it once or twice and have initial impressions
Took this pump with me and two buddies to Vermont for backcountry, mountain backpacking.

Pros: Easy to disassemble for maintenance, water quality after treatment is fantastic, ceramic filter can be replaced.
Cons: Lighter options exist, must be cleaned and dried daily - it will clog if not taken care of.

Only three stars because if you can't clean it (Buddy #1 lost the cleaning pad) it will clog, and you will be super glad that you brought some Aquamira.
Great Overall Filter
Familiarity:

I've used it several times
After using this pump on a few trips I have come to love it. The ceramic filter does a great job of filtering out everything. The carbon core does a great job of making the water tasteless. I have come to love the ability to screw you wide mouth Nalgene or Camelbak bottle onto the bottom of the pump. My only grip so far has to be there pump speed. It doesn't filter water very quickly; however, it seems to be a trade off for the durable ceramic filter. This pump is super easy to maintain in the field. It is easy to clean the filter to restore your pump rate. It is also easy to take apart and maintain with no tools required. All in all this is a solid pump for multiple day trips into the backcountry. Another solid product from MSR.