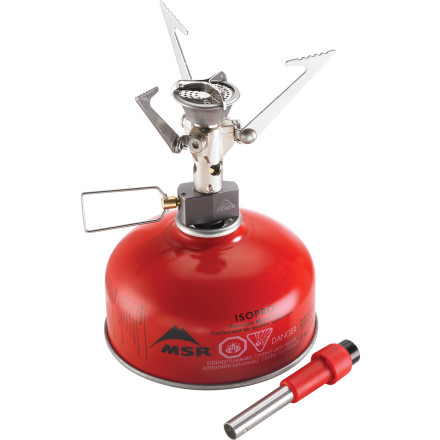 Detail Images

Community Images
Attention gram-counters and fast-packers: the MSR Micro Rocket Stove is here to deliver you all the cooking power you need in a 2.6-ounce package. Designed to work with MSR's IsoPro canisters, this stove folds up small to fit in the palm of your hand, offers an adjustable flame, and easily holds large pots full of snow or water. Reach for the Micro Rocket when storage room is limited and you need fast, efficient heat in your cook space.
Compact size allows this stove to fit inside the MSR Insulated Mug (sold separately)
Reinforced pot supports provide superior stability over similar compact stove designs
Focused burner head pushes a strong, consistent flame that resists interference from wind
Includes a hand-held Piezo igniter to make lighting this stove quick, easy, and mess-free
Note: freezing temps can reduce the performance of a canister stoves, so you may want to go with a liquid fuel stove for wintertime trips
Note: fuel canister sold separately
Incredible
Familiarity:

I've put it through the wringer
I have always been a fan of my WhisperLite (13 yrs) and never really tried out smaller canister stoves but oh man am I glad I bought this stove! Amazing, dependable, brilliant design. There's not much to say...it's super compact/light and can handle my 1.3 L MSR pot no problem. I have used it in below freezing temps and high winds and have not had any issues. I highly recommend this awesome stove!
WORKS GREAT
Gender:

Male

Familiarity:

I've used it several times
I tried the pocket rocket and this is lighter, smaller and works just as well. I returned my Primus stove which also worked well but was larger and heavier. I used it on an overnight after xmas and it was great. Fits inside my MSR Minimalist cup with a small canister of fuel. Lots of people saying it is unstable and you cant use a wind screen. Not sure why they say that. I made a light weight wind screen and it works great. Very stable also. No issues with tipping over and I use it with a 4 and 6 year old. Boils just as fast as my friends bulky heavy jet boil. He is buying one now.
I like it
Familiarity:

I've put it through the wringer
I use it for camping... I use the JetBoil SOL for alpine climbing. This is tiny and takes almost no room. Only down fall is you can't use a wind screen. That said, it has never been blown out.
Perfect lightweight stove
Familiarity:

I've put it through the wringer
This stove is amazing. It's light weight, compact, and easy to light. Flame won't blow out and it can put out some serious heat. I've read a lot of complaints/comments mentioning that it sits rather precariously when you're using it (due to it's small size) but I have never had an issue with it falling/tipping over. Great stove!
Just what I needed
Familiarity:

I've used it once or twice and have initial impressions
I wanted a lightweight, easy to start stove that was extremely lightweight and packable. I bought this one over Snow Peak's because I preferred the way it folds. I'm happy I went with this stove as it does exactly what I needed and still fits inside my Snow Peak mug so I don't worry about the space it takes up.
Micro rocket indeed!
Familiarity:

I've used it several times
It's a tiny reliable stove that heats up quickly and includes a great lighter. What more could you ask for? (FYI: I was able to simmer pasta easily with this stove which some stoves don't do well.)
Great stove
Familiarity:

I've put it through the wringer
Perfect warm weather stove it lights easily boils water quickly and is perfectly light. Stove, igniter and fuel pack in ti 750 mug. Cannot ask for much more.
Awesome little stove
Familiarity:

I've put it through the wringer
Have had this stove for years. Works very well.
Lightweight and Compact
Familiarity:

I've used it several times
Awesome little stove, no issues thus far..
Does exactly what you need, nothing more
Familiarity:

I've put it through the wringer
Bought this stove to use on the PCT. After using this stove for several weeks I am impressed with this bad boy. It excels at everything that you need it to do. This is not to say that the micro rocket it perfect, it has a certain amount of limitations, but all in all if you are looking for a light stove to cook camp food I would recommend buying the MSR micro rocket stove.
Quality stove, for the most part
Familiarity:

I've put it through the wringer
Bought this bad boy after deciding I needed to shed some lbs from my base weight after beginning a thru-hike of the PCT, and overall, have been pleased with my decision.

I started out with a JetBoil Flash system, but soon realized that the system, when used with JetBoil's 1.5L cooking pot, was bulky and on the heavier side of things when trying to hike 20+ miles every day. Soon after beginning, I decided to send the JetBoil home and pick up this little firemaker.

It produces a solid 1 1/2 -2 in flame, boils relatively quickly (but nowhere near as fast as the JetBoil, obviously), collapses to a size smaller than most snack bars, and regarding weight, meager ounces.

However, from the day that I got it, one qualm I had from the get-go was that the divider on the burner head was never fully clamped on, and, not having access to any pliers, I had to deal with making sure I kept an eye on it when it wasn't hot; otherwise, I would find myself frantically searching when it flew off the stove and onto the ground, blending it splendidly.

I have now used it on the PCT for a number of months, and one of the other things that has caught my attention is the tension on one of the arms has loosened - certainly a trivial aspect, but worthy of noting.

All in all though, great little stove, would definitely recommend to anyone looking to shave a little weight off of their cooking system if trying to travel light or ultralight.
Nice littlecooker
Familiarity:

I've put it through the wringer
Perfect little cooker for the minimalist. Boils water fast and the Stryker is awesome, if it breaks you can get a new one instead of a new stove with integrated spark. Great stove
This stove is a winner.
Familiarity:

I've used it several times
Ok so there are lots of stoves to choose from, and they all do the same thing.... but they all are not reliable, durable, nor compact. The msr micro-rocket is all of those things. It packs up super tiny and can fit in most mug/bowl/pot configurations. The design, in my opinion, is a great improvement over the pocket rocket(msr). The hinges are more durable and it folds down much nicer. No complaints about this stove. The piezo lighter is nice but also one of the bulkier parts of this stove and not a sure light in windy conditions. Some may choose to ditch the lighter for something such as matches or another ignition device. All in all... this stove rocks. I picked mine up for the same price as the pocket rocket and never looked back.
Perfect
Familiarity:

I've put it through the wringer
Really great design, very compact and light. Lights up with the igniter with one click and boiled water in my Trail LIte Duo pot in 2 minutes
I was looking at this and the pocket rocket...
I was looking at this and the pocket rocket and they look almost identical, besides the ignitor which I really don't care about. Does anyone know what the difference between the two is besides the ignitor?
Best Answer
The MicroRocket is intended to compete with higher-end lightweight stove systems, whereas the PocketRocket is more of an 'econo-stove'. The differences are slight though - MR weighs .5 ounces less, but it is supposed to be more durable and more compact.

This pic shows how it folds differently than the PR.
The video posted above describes the difference. It's basically a bit smaller/lighter than the pocket rocket
0.4 ounces & $20 seem to be the biggest differences between the two.
The MSR Microrocket is the best canister stove I've had the pleasure to use. I primarily use it for boiling water for pre-made dehydrated meals, and it boils two liters typically under 3 minutes. When the temps drop, that time rises, but that's to be expected with a canister stove. I had my doubts about the stability of this stove (anyone who's used the pocketrocket knows what I'm talking about), but I've never had any problems losing meals due to the pot slipping off. If you are looking for ultralight, I would recommend alcohol stoves before this one.



Bottom Line: Miles above the pocketrocket. Love this stove for my lightweight trips.
To any ultralighters out there, does the...
To any ultralighters out there, does the 2.4oz listed weight include the lighter?
Best Answer
Nope. the 2.4 oz only refers to the stove. MSR lists the packed weight at 4.2 oz which would be the stove and igniter in the case.