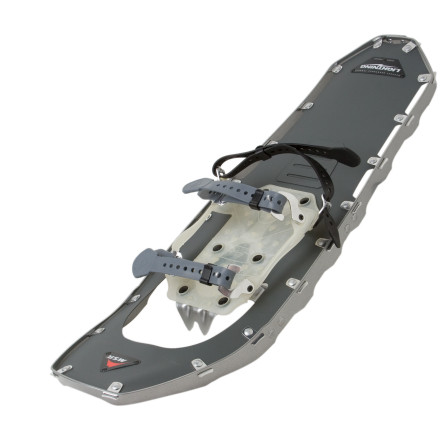 Detail Images
I got the 22 in, I'm160lbs and I even sank in pretty hard snow conditions. The group I was traveling with had people with the same size snowshoes and heavier people, but didn't even sink. I don't recommend this snowshoe.
Write your question here...My man has a...
Write your question here...My man has a size 15 foot. Will these work for him?
I wouldn't recommend these MSR snowshoes for a size 15 due to the binding rod's inability to rock unimpeded. When he has his boots on, he'll have @ least a 16.5" span. Also remember to add an additional 10 to 20 lbs. for pack weight when determining size. I recommend these snowshoes instead:

http://www.bigfootsnowshoes.com/products/shoes/adventure_sport/bigfoot_adv-34/
Great, always stays in place
Super light, float nice. I bought these to walk my dog across an open field. I tried atlas before buying these and the MSR's are miles above. They grip nice and stay on. I had problems with the altas's falling off. My only advice is to get the Ascents if you ever plan to climb up some hills. The bar is only a little bit of extra weight and will pay off in the long run. I give it 4 out of 5 because the size of the foot hole is a little small and my boots rub the side.
Fantastic backcountry snowshoe
I have been snowshoeing for more than four decades, beginning with wood and leather snowshoes, then aluminum tubular-frame snowshoes with a variety of deck materials and bindings. I recently bought some MSR Lightning 22" shoes (two-strap model without the Ascent heel support) and would like to report that they are by far the best snowshoes I have ever used.
I weigh 165 lbs., and by the time I'm outfitted with my day pack and gear the total weight is probably about 185 lbs. I live in Colorado and regularly hike a steep trail, usually untracked, and the snow can vary from a few inches deep to a few feet deep over the ~1500 foot climb. The Lightning snowshoes were extremely stable on flat areas, steep slopes (up, down and sideways), crusty snow, powder, packed, powder over crust, rocks, uneven slopes, tree roots, ice, you name it. With the vertical outer rim the Lightning shoes are so much less prone to slipping and sliding than the tubular-frame shoes, the difference is like night and day. They even were decent in deep snow, although the 25" model would have been better under those conditions, and 30" would be better yet for a large person with pack.
If a person were cruising in relatively flat terrain (5% grade or less) with deep snow and a heavy pack, a more conventional snowshoe would probably be as good a choice. Once the terrain and snow becomes more steep and varied, though, these snowshoes really shine.
I would recommend these snowshoes highly. The bindings are simple to use and secure. The 22" shoes are very light weight so they are barely noticeable when strapped to my pack. If I were in deep snow more frequently I would prefer the 25" model, but everything is a compromise and what would be gained in flotation with the longer shoes would be offset by less maneuverability and more weight (on your feet or on your pack). Plus, the short shoes also have the advantage that my dogs are less likely to step on the tails!
Please help me narrow down alterntives.I...
Please help me narrow down alterntives.I am 200lb. 6' 3".My shoe size is at least a 13, sometimes 14.I won't be on establish trails, and though I won't be just hiking, I will want features that support gaining elevation.
You need the lightning accent------------I would also recommend the Lightning Ascent based on the more durable materials, three straps on the fore foot rather than two for more stability, more aggressive frame traction, and the famous climbing bar which allows more of the muscles in your legs to climb up steep terrain. As far as the size goes, I try to get away with the smallest snowshoe I can. The reasons being a smaller snowshoe is lighter, easier to maneuver in, less likely to be stepped on, easier to get up if I fall, less effort dragging them through the snow, etc. I would, therefore, recommend the MSR Lightning Ascent 25s for you. However, if you find yourself in deep snow often and you don't mind a bigger shoe, the 30 inchers might be a better option. They will give you slightly more loft (meaning keep you more on top of the snow) and the Lightning Ascent series snowshoes are the same width throughout the line meaning that they are all pretty easy to get around in (some snowshoes increase their width the larger they get making it more difficult to walk). Both sizes will accommodate men's feet up to size 15.To balance your advice here, when hiking trailless and trail breaking, you should go with the biggest snowshoe you can handle, not the smallest. Smallest is for broken trail and very firm conditions only. The definition of snowshoeing seems to be forgotten after high tech snowshoeing came along. There is still only one way to stay up on soft snow and that is to use a large snowshoe. Unfortunately, the manufacturers make very few large snowshoes. I really don't know why customers don't demand bigger ones myself.
Love 'em, but not the redesign
Great snowshoes for just about any condition. I've got the 25" which work great for most snow I've encountered, except for the 6' of crap snow I tried to slog through for 4 days in Santa Fe. However, I'm wicked glad I bought them when they first came out, as I don't like the new 3-strap binding over the 4-strap, and I'm not at all stoked that MSR reduced the aggressiveness of the perimeter crampons
Looking at purchasing a pair i'm 5'6,165...
Looking at purchasing a pair i'm 5'6,165lb,mostly going to walk trails we ride our dirtbikes on in the summer.What size do you recommended?Will be mostly powder.
get the 25" pair. Always think bigger snowshoe more surface area, more floatation. Base your fit on your body weight plus whatever gear. Figure clothing & a day pack at around 10-12 added lbs.If you're looking to do any off trail stuff, a larger shoe may be nice for the deep white stuff.I weigh 165 also and am 6'1. I would recommend a 30 inch minimum snowshoe for you for powder.
These are light, have effective crampons, and still float. I actually like the binding system... It is simple so harder to break. The straping system is the same way... I wear mountaineering boots with these so i can pretty much just tighten these as tight as i want em....