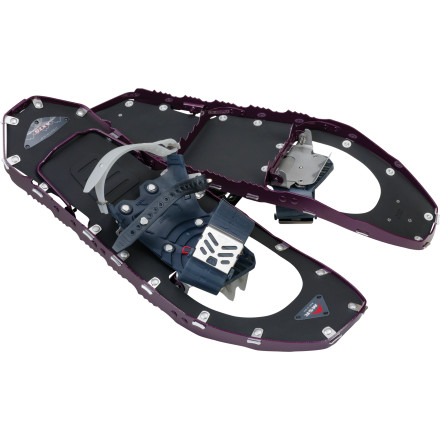 Detail Images

Videos
Strap the lightweight MSR Women's Lightning Axis Snowshoe to your foot and you'll forget it's there until you are floating on top of the snow as if by magic. The lightning Axis includes MSR's Axis Gait Efficiency System, which adjusts to your wacky foot position to make walking in this snowshoe feel as natural as strolling through the park in your flip-flops.
Bilateral binding adjustment neutralizes variances in foot positions to give you the most natural-feeling stride possible
360-degree traction frames for added support and stability in varied terrain
Designed for a woman's narrow gait
Glove-friendly SpeedLock bindings offer a set-it-and-forget-it fit and an optional strap for extra security on challenging terrain
Modular flotation tails (sold separately) allow you to use the shorter snowshoe alone for maneuverability or attach the tails when added flotation is necessary
Climbing wires come standard and can be activated with a flick of your pole
The binding ripped the decking
Familiarity:

I've used it several times
There are a lot of great things about these snowshoes: they work well in various snow conditions, the frame looks sturdy, and they're very comfortable. But the combination of the "axis gait," which lets you rotate your foot and the speedlock binding, which is heavy ridged plastic doesn't work. On my size 10.5 winter hiking boot, with the angle of my foot, the binding rubs against the decking on one side and after only about 5 hours has torn it. Very disappointing. Might work fine if you have smaller feet/less rotation.
MSR Lightning Axis Snowshoe
Write your question here...I'm looking for...
Write your question here...I'm looking for snowshoes for my daughter, but she wears size 3 shoes. Any resource for small women snowshoes? Most kids snowshoes not up to snuff.
The MSR Shift snowshoes might be a good choice. They're technically meant for older kids/youth, but have nice features (good bindings, pivoting foot plate, metal crampons on the bottom). They'd probably fit that size foot - my daughter is currently in size 5 and they fit her.
http://www.backcountry.com/msr-shift-snowshoe-kids
Hi, I need snowshoes for snowboarding in...
Hi, I need snowshoes for snowboarding in the backcountry but not sure what size would be better 22" or 25". if anyone with experience could give me some advice I would appreciate it greatly, thank you
Best Answer
well the size depends on two factors your weight you will have( you, your gear) and your height. A longer shoe will keep you up in lighter powder, but a smaller show will make it easy to move. Check the sizing chart, but do not forget to add your pack weight
Dwayne provided a good answer (it depends on weight and snow conditions). If you're on the lighter side, but want flexibility, go with the 22" and then get the 5" flotation tails for the best of both worlds.
One critical factor not mentioned above is the snow conditions in your area. Snow in the Rockies is much different from snow in the Cascades. Know your local snow conditions. That said, in general I'll go a bit shorter if on the border and opt for manuverability over floatation. In general, if you are with others only the lead really needs to be concerned with floatation and swapping leads really makes the need for big shoes unnecessary - you may have to work a bit harder with less floatation, but only during leading. The trade-off is worth it. If doing any steep climbing, go with a shorter (and lighter) shoe. Just my two cents...