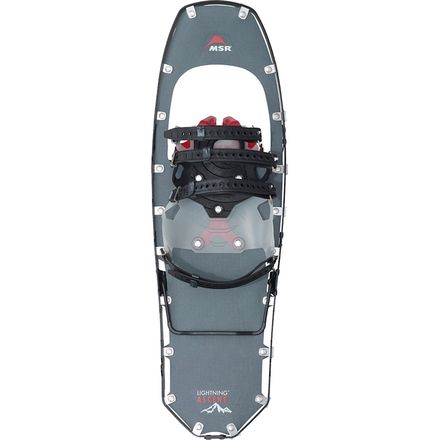 Detail Images

Community Images
When you need to get somewhere in the backcountry and you need to get there safely and securely, trust the Men's Lightning Ascent Snowshoes from MSR. The Lightning Ascents feature decking made from ballistic nylon that can withstand whatever you can throw at it. 360-degree traction frames provide grip on whatever terrain you find yourself on, regardless of topography and conditions. The PosiLock AT bindings combine with Torsion2 crampons for excellent support and traction. Heel-risers ensure that you won't suffer from undue fatigue.
Ballistic nylon decks
360-degree traction frames
Torsion2 crampons
PosiLock AT bindings
Ergo Televator heel-risers
Modular flotation tail compatible (flotation tails sold separately)
I weigh probably 180 pounds with all the winter gear on. So that means I could use the 22 inch snow shoes. And then if I carry a pack and add the tails I could add an extra 70 pounds and still be within the 250 pound weight limit that the 22 inch snow shoes plus the tails are capable of supporting. Is this true?
You're better off getting size 25, it'll save you money and you don't have to deal w/ tails. Few oz difference as far as the weight.
Peter,



You could go with the 22" +tails but the 25" would definitely be the better option. Always better to be in the middle of a weight range than at the top or bottom end.



Let me know if you've got other questions!



Jared D.

Expert Gearhead

801.736.4336

jdowns@backcountry.com
which size would be right? Being 5'9, 150lbs+30lb pack, I'm split right on 22in and 25in. thanks in advance,
It depends on what you plan one using them for most. If you plan on breaking trail at all or adventuring off trail at all I would go with the 25in.
BikeAnoxia,



If you're always going to have a pack on you then definitely the 25" shoes.



If you plan on occasionally having a pack then the 22" will give you more mobility.



Another big aspect is if you're always in deep powder of a heavy snow. If always in a deep powder then the 25" snowshoes.



Shoot me an email anytime you have questions!



Jared D.

Expert Gearhead

801.736.4336

jdowns@backcountry.com
My Preferred Snowshoe
Familiarity:

I've put it through the wringer
If you've got any questions about MSR snowshoes or any other pairs; definitely contact me and I'd love to help you find the right pair for your size, intended use, and region.

I've used the Lightning Ascents for years now and they've never failed me. When other struggle on ice or bad terrain, I'm able to forge on and have no issues. And the float on these is great in deep snow.

Sizing:
Shoot me an email or call and we can size up a pair for you!

Shoot me an email anytime you have questions about snowshoes or any other gear!

Jared D.
Expert Gearhead
801.736.4336
jdowns@backcountry.com
Just Awesome
Familiarity:

I've put it through the wringer
I use these for any and all winter hiking. They're incredibly light for how beastly they are. I've stomped through powder in these and walked straight up a couple 14ers (like walking up a staircase with the heel-risers up).

I don't have a splitboard, so these have also allowed me to get into backcounty riding. I just strap them to my backpack when I'm ready to descend. I don't even notice the weight on my pack because they're so light, and also a lot lighter than the snowboard I had been carrying haha.
Best steep terrain snowshoes I've used.
Gender:

Male

Familiarity:

I've put it through the wringer
I bought my Lightning Ascents a year ago for steep terrain and packed snow in which my Tubbs Mountaineers weren't quite as good as I'd hoped. They were everything I'd hoped for and then some. Thanks to the 360 Degree Traction frame, 3 traction bars, and large toe crampons, the traction you get with these things is incredible - steep ascents and descents, side slopes, even greasy mashed potatoes, these snowshoes grab hold and don't let go.

Due to a knee injury last year that caused a lot of pain when I'd kneel to attach the Tubbs Mountaineer 36s I'd been using in powder, I began using the Lightning Ascents instead this season and found that I like them better in the soft stuff, too. I sink a little deeper because of the smaller surface area, but that also means I have less snowshoe to lift out of the snow. So they've now become my go-to snowshoes for all terrain and types of snow. Their narrow width and shorter length makes them ideal for narrow trails and dense woods, and the Ergo Televator and 3 traction bars under the deck allow you to go straight up and down the steepest hills with little more than a kick step or firmly stomping your feet on ascents. I haven't found a descent yet that's too steep for me to just walk down.

The 4-strap bindings are super secure, and allow you to customize the fit for whatever kind of boot you're wearing. My Sorel Conquests fit just as well as my Asolo Fugitive GTX, and there's plenty of strap left for bigger boots. They're super easy to attach and detach while wearing gloves, and even if the straps come out of the retaining clips or the clips break the straps won't loosen up.

I've stepped on a lot of rocks and sticks and haven't had any puncture the decking. Certain boots, such as my Sorels, can cause the foremost buckle to nick the decking, MSR says the nicks will only go so far and then stop but I trimmed mine with a razor blade and sealed the edges with a lighter. No more nicks. It was never a problem with my uninsulated GTX hikers.

These are the ultimate severe service, all terrain snowshoes, and I can't see myself going back to tube framed models for anything but trail walking - and I just recently bought a pair of Lightning Trails for that. MSR snowshoes rock!
Is there a distinguishable difference between the men's and the women's lightning ascent snowshoe? I ask, because as a female, I prefer the silver color of the men's to the color options of the women's, but don't want to have any issues if these are only suited for men. For reference, I am 5'8", 120lbs. Thank you!
The women's models are 3/4" narrower than the men's models (7.25" vs 8"), per the MSR website. Women's bindings are also smaller, and depending on your shoe size the Ergo Televators may not be under your heel when raised.
No Regrets!!!
Gender:

Male

Familiarity:

I've put it through the wringer
These things are top notch! I put them to the test this weekend and was not disappointed. Went through all kinds of snow conditions: on ice, over rock and exposed logs and roots. Held like glue on some seriously steep ice. Highly recommend. (pic of summit ascent on Mt Colden, NY)
Great Snowshoes but not for NorthEast
Familiarity:

I've used it several times
Bought these to do NYS 46ers and the rest of the 4000'+ peaks in the NE. Awesome design weight and use of materials. except for using aluminum for the traction system. The nature of our trails means lots of exposed rocks even in the dead of winter and because of this it really takes its toll on the aluminum teeth. used for maybe 3 peaks and decided to sell them off befor there was nothing left. went back to using the Good ol MSR Denali accents. heavier but more durable, a true 5 star snow shoe..