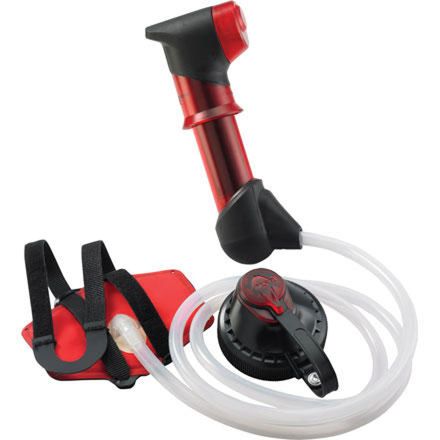 Community Images
Description
The Hyperflow skimps on size and weight while maximizing efficiency and convenience.
Why did MSR's Hyperflow Microfilter win the 08 Backpacker Editor's Choice Award? It's super small (7 x 3.5in), super light (7.4oz), and it pumps three liters per minute. That means you can pack quick-filtering power without sacrificing weight or space on your fast-pace backpacking trips. The Hyperflow Microfilter's float end stays face-down in the lake or stream and won't clog up as you pump, and an included Quick Connect Bottle Adapter connects to MSR, Nalgene, and other bottles with 63mm threaded openings. No tools are needed to disassemble the Hyperflow Microfileter for on-the-go cleaning.
Share your thoughts
What do you think of the
MSR
HyperFlow Microfilter
? Share a...
I see people talking about back flushing but uuhhh I've used it about 3 trips and haven't back flushed. Works just like the day I used it hahaha. I must be around some really clean water or just got lucky?
light, small, fills nalgene <10pumps
Familiarity:

I've put it through the wringer
carry less water if there are sources, fast action, efficient, lightweight, easy to use, packs small, nalgene adapter is great. I take one filled bottle and a collapsible for camp when out backpacking. Only used in PNW.
So far, so good
Familiarity:

I've used it once or twice and have initial impressions
I haven't used this filter enough to have had any real problems with it, but so far, it's exactly what I was looking for. Small, lightweight, and incredibly fast. As long as regular maintenance keeps it running reasonably like it does now, I will continue to be very happy with my decision. If size and weight are a priority, I recommend it.
Is there any product information available...
Is there any product information available that describes the frequency of changing the filters?
Best Answer
Cartridge life is 1,000 Liters. http://www.cascadedesigns.com/msr/water/treatment/hyperflow-microfilter/product
High maintenance
Familiarity:

I've used it several times
I got this last year and used it once with great success. When I went out recently for a four night trip, it was extremely difficult and slow. It maybe put out about 1/4 L/min. Backflushing helped the speed slightly but I was not impressed. I had a Sweetwater for years until the handle broke, and would go back if I could.

Pros: Very fast, lightweight, compact
Cons: High maintenance, low filter life
not worth the frustration
Familiarity:

I've put it through the wringer
Initially planned to use this for a PCT thru-hike and I'm SO glad I didn't. Just normal use on weekend trips makes me swear with frustration in trying to backflush at home in my kitchen, let alone outside. WHY would a company make a product that is so finicky?! You have to get the backflush just right or it won't work and the directions in the package are poor so you have to remember how to do it EXACTLY. I was successfully able to back flush with a lot of fiddling for the first few months, and now it's randomly stopped working. I have followed along with the maintenance video, no luck. Also, notice that in the video the pump is fully extended when he puts it back together in prep for backflush, tells you not to pump, and then the next shot is the pump being extended back out. Frustrating. I also don't take this on long trips because I hate bladder systems and nalgene, and there's no way easy way to back flush without one. It is fast, and compact, and makes great tasting water, but it's easy to loose the lid--it really needs a strap to hold on to it. The stupid prefilter also CONSTANTLY flips upside down making it almost impossible to get water. I either have to tuck it under a branch or stone or hold it in the stream just right. Overall, not worth the hassle.
I love the speed of these filters, but...
I love the speed of these filters, but they say do not freeze them. How could you set this up for below freezing weather? Do you simply take it apart and shake out the filter?
Best Answer
You need to be very careful with almost any filter when you are heading into freezing temps, but the precautions are fairly simple. You will want to disassemble the filter every night (or whenever you are going into freezing temps) and dry out component parts and filter as well as possible. Some latent water should not be an issue, but you want to avoid any large amounts. Then pack the filter away in a bag and keep it in the tent with you (I know some people who keep it in the foot of their sleeping bag. All of this may be a little excessive depending on how severe the conditions are, but having a cracked fliter will ruin an otherwise pleasent trip.
MSR Hyperflaw
Familiarity:

I've put it through the wringer
As advertised, MSR's Hyperflow pumps water fast and it cuts weight, but design flaws such as the filters need for constant back flushing creates more problems than it solves.

Out of the box this thing pumps water like nobodies business. It's lightweight and easy to use, but upon closer inspection you will find some some features that seem extraneous or just plan wrong.

Such as the float end that supposedly keeps the suction side of the hose face down when pumping water, which would be great except it always seemed to do the opposite and roll belly up pumping air into the filter.

The guide suggests you back flush after every 8 litres. On average I consume 3 litres a day on the trail, and I found back flushing every three days to be a real pain, especially after spending a long day in my boots.

Be warned: when you don't back flush this filter, it will punish you. With drastically slower pump rates and higher amount of force required to operate the pump mechanism.

On the flip side, if you're a weekend warrior this might be the perfect filter for you. Backflushing in the sink at home is a breeze, and when this filter is properly maintained it does filter water incredibly fast.

Bottom line: Lightweight and fast pumping, but design flaws keep this filter from living up to its potential on trips lasting more than four days. I returned mine for a Katadyn Hiker Pro.
No problems with this filter
Familiarity:

I've put it through the wringer
I've used this on several multi-day trips, and countless overnighters over the past few years and it has performed quite admirably.

I've never replaced the filter, only backflushed a few times when it started to slow down, and it continues to fill a 2 liter water bottle in less than 5 minutes. I've noticed some people claim the filters have a much shorter life than I've observed, all I can say to that is I am always very careful about where I filter water from

It's light and packs up nicely, but the price of replacement filters (which I fear I'm close to requiring) is unfortunate
I saw this pump in action this weekend while backpacking at Pictured Rocks in MI. The pump is actually a lot faster than I had originally thought, and packs very small. If I am going to look for a pump in the future, and for some reason cant use the platy, I think I will pick this system up.
Repost of Maintenance video
Just reposting the video that shows proper maintenance of the pump. Do this often and the pump will be a beauty!
Great, Don't Forget Maintenance
Familiarity:

I've put it through the wringer
Alright, to sum up everything below, I will and I will give you my opinion.
This is a really great little pump, I have used it multiple times over and over again and had to replace a filter a couple times and do some routine maintenance. I love it, it is lightweight and small and useful. Now do not forget that if your water is really bad you will need to double filter this: aka if your water is really ashy or lots of dirt filter that through like a sock or something so your not sending that right into your pump. Also don't forget that this will need routine maintenance to keep it running at a good rate, so check it before every adventure and if its a long one bring a spare filter. It does take some time to filter with this so be patient but it is worth clean water. Over all this is very adequate you just cant forget your maintenance and have some patience with it! I love it!
Good lightweight filter - no complaints
Familiarity:

I've used it several times
I've had this filter since late spring ('12) and have used it several times over the summer on weekend backpacking trips. I haven't had any clogging/ freezing issues that were noted when this filter first came out, and the weight saving vs. some of the other filters on the market is great. Like just about every MSR product I've used, this comes apart into about 6 pieces so servicing it in the field isn't that much of a chore. When using this on a 1-2 night backpacking trip, I generally won't bother with backflushing it until I get home, unless the water is particularly dirty or I'm with a larger group. It is a little more needy than some of the other more bulky filters on the market, but I haven't had to put enough effort into keeping it going to outweigh the benefits.

One other nice touch - the outlet for fresh water fits exactly with the end of a Camelbak hose with the bite valve removed. This is great for a mid-day water break because I can refill my Camelbak without taking it out of my pack. It also reduces the likelihood of spilling water when pumping in camp.
I've got a couple other reviews and comments from throughout the last few years here somewhere, but here's the latest- I am so done with this filter! I owned one of the very first of these sold to the public and it's been a constant mix of really good and really bad ever since. Worked fine at times, but it was always something- filter issues, back flushing issues, cartridge replacements long before they were due (even pumping from pristine sources), dropping and chasing small and numerous parts in creeks issues, pumping problems like vacuum locks and low flow rates... and finally, on our last trip, four strokes and failure (piston froze up almost completely)...my Hyperflow was dead weight that never left my pack again. We would have been totally screwed without another system or boiling. Totally pointless at that moment. I was pissed and irritated for the last time. Now, I do love my MSR Autoflow (the last trip's savior), and when that's not enough, I use and invariably rely on my Katadyn Hiker Pro. I wanted to like this, but the little problems that I was initially willing to overlook just got to be more than I was willing to deal with anymore. We have to trust our filters, and this gets too sketchy sometimes.
If you're looking for something to use one weekend a year for one person, you're in luck. If you plan to use this more than once in a blue moon, forget it.

I bought this last year while hiking the Appalachian Trail. It pumped Great for the first day or 3, filtering about 3 to 4 Liters of water, once a day.

By the end of the 6th day, it was Very difficiult to use. By the end of day 9, it was straight up trash! It is impossible to backwash!

MAYBE you can backwash it if you saved the stupid Nalgene adapter & actually carry a heavy Nalgene bottle (sorry, 99% of thru-hikers drop these way before the 1/2 way point).

I wouldn't recommend this to anyone.
Light weight, no Issues here.
Great filter if you need a pump, but when you don't... consider a Sawyer squeeze filter ;). Even lighter and a MUCH longer cartridge life!
Small, simple, does the job. Yes.
MSR? HyperFlow? Microfilter Maintenance
Our lightest, smallest, and fastest-pumping filter. The best choice for fast and light backcountry use.
MSR? HyperFlow? Microfilter Overview
Our lightest, smallest, and fastest-pumping filter. The best choice for fast and light backcountry use.