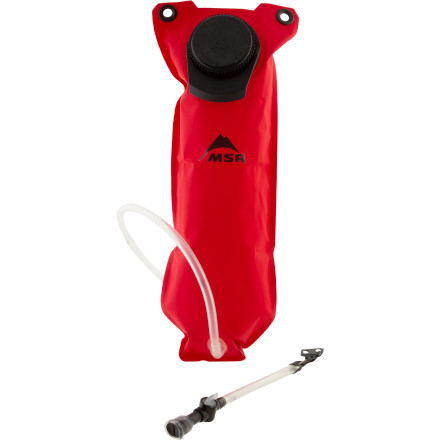 Colors

Community Images
Description
Turn water into liquid gold for your dehydrated body with MSR Hydromedary Hydration Bags.
The newly-designed Hydromedary Bags are MSR's most durable hydration systems. MSR built the Hydromedary Bag out of tough 200D cordura to take the abuse of the trail. These Hydromedary Bags come complete with a drink tube, a high-flow no-leak bite valve, and a low-profile easy-fill handle. Slip a Hydromedary Bag in your backpack for an instant hands-free hydration system.
Unanswered Question
Is this material BPA-free?
Unanswered Question
I'm looking for a hydration bladder as part of my gravity set up with a sawyer mini. I'm hoping the tube fits on the sawyer intake nozzle..anyone have experience with these bladders (or others) with sawyer products?
Great bag, hose needs work
Familiarity:

I've used it several times
I've taken this bladder on a few trips, most recently to the Timberline Trail in OR. The bladder slipped easily into my Lowe Alpine backpack with the built in bladder holder. I haven't experienced any leaks, and as with their filter bags, MSR has made what appears to be an almost indestructible bag. The bag is heavy duty without adding excess weight. If I had any complaints it would be primarily with the hose. The hose is very short compared to Camelbak and other similar bladders. I'm about 5'10" and consistently tug on the hose to get enough slack to drink. Further, it would be nice if the cap stayed attached to the bag. It's not a big issue and can be remedied but I'd like to see MSR redesign on the new model.
What version will fit the moutain hardware fluid 24 daypack?
Any of the available versions would work great in your MH Fluid 24!
Perfect
Familiarity:

I've used it several times
Been taking this bladder (3L) with me on climbing trips almost every weekend and to the gym 3 times a week for the past few months. No problems with leaks at all or any bad taste.

When I'm not using it I throw it in the freezer to prevent and bacteria from growing.
Going backpacking at Philmont Scout Ranch this summer. Our trek has two dry camps and we need something to carry extra water. Two years ago we used collapsible plastic water jugs. They were no fun and hard to carry. Any sugestions?
Hey Bill! Take a look at the MSR Dromedary or Dromlite bags. They aren't cheap, but they are what I would rather have carried when we had to hump our extra H2O up Mt. Phillips back in the day. Have fun!
What happened to the 90 degree elbow bite valve version? Did it get discontinued? Is the straight valve the new version?
Best Answer
Just got a response from MSR - they said the 90 degree elbow bite valve is the older version, and they updated to the straight bite valve about a year ago...
Great Bladder
Familiarity:

I've used it several times
Very well made. Fits well inside almost any back pack. Durable and easy to use. This is a very light weight and necessary addition to anyone's pack. It will stand up to the rigors of the trail

Great bladder
Familiarity:

I've used it several times
I run these in my Mystery Ranch and love them. Never had a leak.



I hang them, leave the cap off, fill them and drop some Alka Seltzer in them to kill the factory funk.



The cap needs a dummy cord, but that is easily done after purchase.
bought two MSR Hydromedary Hydration Bag. one had a faulty molded cap. requested a new bag. cap good on that one but bag leaked. between the two systems ended up with one good bag. caps difficult to screw on. `easy to cross thread. price keeps going up, quality down.
STRONG Odor!
Familiarity:

I returned this product before using it
Rinsed with warm water before using. Couldn"t stand the odor when I poured out the rinse water. The bag still smells. Reminded me of an old Dromedary I have from many years ago, thought MSR would have figured out hydration bags like so many other mfg's. Returning.
Sick of leaky Hydration systems
Familiarity:

I've put it through the wringer
After problems with Osprey Hydraulics compatibility and leaking camelbaks, I decided it was time for a new brand. This bladder has done great so far. It is made of much tougher material than others, and its valve is very straight forward. The bag itself is very easy to store. I would trust this Hydration system to hold out for 5+ day backpacking trips.
This bag has it all.
Familiarity:

I've used it once or twice and have initial impressions
I bought the 2.5L and have used it for practice hikes getting ready for two three-night trips in Utah this May. Right out of the package it was easy to fill and easy to get situated in my pack. It is the most durable bag I looked at and even lighter than most of the CamelBak and Platypus bags I compared it to. Weight is a big concern for me for overnight trips and am impressed at the durability of this bladder for how lightweight it is.
I have managed to get a tiny, tiny hole...
I have managed to get a tiny, tiny hole in my bag. It is not even visible to the naked eye but obviously still big enough for water to slowly seep out. Do you know if it is possible to repair it somehow? I tried a bicycle tube patch but it didn't work.



Thank you!
Best Answer
As long as you know where the hole is located, specifically, what I would recommend is this:

Make sure the bag is completely drained of water, then take an alcohol swap/prep pad to clean the area of all dirt and grime (scrub this thoroughly), then take a Tenacious Tape patch (http://www.mcnett.com/gearaid/repair-patches#10710) and place that hole in the center of the patch, press firmly to confirm it seals completely, then test.

TT is pretty bombproof, I would definitely try that before you throw duct tape or something on it and get that adhesive all over it.
A Sleeping pad patch would probably work relatively well. Many pads are a similar material on the outside so the adhesive/patches should be compatible.
I'd suggest the same solution used for similar leaks on thermarest pads:



Identify location,



Clean the area,



Gently rub contact/rubber cement, seam grip, or other sealant (you may want to look into something non-toxic as this is for drinking water, though contact will be minimal) into the fabric,



Let dry completely before testing.
Durable & Well Built
Familiarity:

I've put it through the wringer
This is the best hydration bag I've purchased, by far. Super light, but well built, and I never worry about it puncturing or leaking. The Nalgene style lid is also a plus, as it allows easy access for adding water, attaching a filter, or drying it out. I had the older model (clear, more plastic-like) which lasted 4 or so years before leaking, but I've not encountered that problem with this bag.
Best personal dromedary bag out there.
Familiarity:

I've put it through the wringer
I have been through a few of the hydration bags and the things that tend to fail is the mouth piece or the bag itself. Well the MSR hydromedary bag has stood the test. It came with me to Patagonia, Chile for a month long kayak expedition and came out unscathed. It came with me on a month long mountaineering expedition also in Patagonia, Chile and survived without a problem. It has since come with me on extreme adventure races and week-long paddling expeditions in Florida on coastal waters and inland rivers. I use it to hydrate obviously, but also to cook and clean. Granted I am not negligent of my gear and don't leave a vital item like this lying on the ground to be stepped on and punctured, but I do take it on trips to places that put an essential piece of gear like this to the test in all the elements.
RUGGED HYDRO SYSTEM!
Familiarity:

I've put it through the wringer
The material they used for this hydro bag is sick! i strap it to my back with paracord and never worry about it getting ripped or caught on anything and leaking. bottom line, buy it !
My NEVER-FAIL, go to hydration system.
Familiarity:

I've put it through the wringer
This is my third MSR Hydromedary. My third you ask? It is because I gave away the first two to folks who came out into them-there-mountains with other Brand-Name" bladders only to have them fail resulting in backpacks full of wet clothing, tents, sleeping bags, etc. I have backpacked and hiked throughout Colorado and California and most recently with a bunch of guys on an annual hike into the Indian Peaks Wilderness Area. During each trip, without exception, someone has had their bladder of choice blow-out. Not me. There are I suppose only a few things that can go wrong with a bladder, but when they do, one is in a world of hurt. The materials (very durable) and workmanship are exemplary and the service from Backcounty.com is equal to the product. Since I go through water rather quickly, the 3L is a great size and I do not notice the added weight nor have I every worried about running out. I have not noticed any taste imparted by the bladder and it NEVER has leaked. NEVER. If you cannot guess, I highly recommend the MSR Hydromedary and Backcountry.com.
Is the one on the left, the shortest,...
Is the one on the left, the shortest, fattest one, the 2.5L or the 2.0L? MSRs website says the 2.5L length (14.5") is shorter than the 2.0L (17"). ?



http://cascadedesigns.com/msr/water-treatment-and-hydration/basecamp-water-treatment-and-hydration/hydromedary-hydration-system/product



Trying to determine which size will fit well in my marmot pack. Thanks!
The one on the left is the shorter 2.0L (17")
Best Answer
According to the MSR website, the one on the far left (shorter, wider) is the 2.5L, the middle one is the 2L, and the far right is 3 L.
Heavy duty construction. Takes a beating with no problem. The 3L fit great into my North Face Big Shot daypack as well as my Osprey Atmos 65 backpack. Got smashed in the car, tossed on granite slabs, and suffered through freezing weather without a problem. The small snap tube clip was a joke but replaced that with a chest strap magnet and no issues.