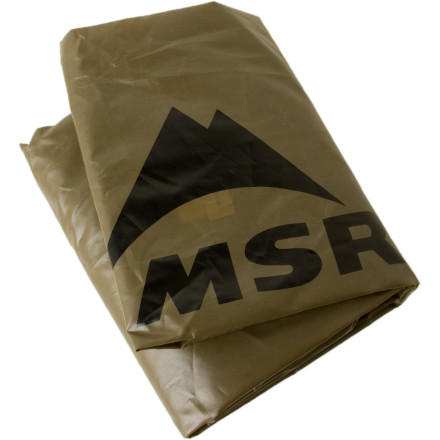 Pack the lightweight Hubba and Hubba HP footprint when you're going camping in a wet place, or use it as a ground sheet when you want to set your tent up using the fast-pitch option. This footprint provides custom-fit protection from rocks and pointy sticks, as well as increases the water resistance of your tent.
Does this hook onto the hubba 1-person...
Does this hook onto the hubba 1-person tent frame freestanding, or do you need/recommend stakes? Does it come with stakes? Thanks.

(First time buying a tent/footprint; always camped with just a sleeping bag)
Best Answer
Hey there,

The footprint goes underneath the tent. All you have to do is assemble the tent, on top of this. Then the ends of the tent poles correspond with the grommets on the footprint. It's a perfect fit. You don't need any more stakes than the ones they give you (for the footprint). If you wanted, you could buy more substantial stakes, because the Hubba comes with very narrow spike stakes, which are meant for light weight travel. They do the job, but I opt for beefier stakes in case of high wind. Hope this answers your question.
Thank you Alexander, that answers my question and more.
I've used the 2010 version of this footprint everywhere and it's protected the bottom of my Hubba very well. Including last year at the Grand Canyon there were tiny rocks everywhere and I was worried about my floor. Nope this did the trick. Not even one puncture. Great job MSR


I have a 10x10 tent and would like to know...
I have a 10x10 tent and would like to know which MSR Hubba Footprint is large enough to place under this tent. Thank you for your help.
This footprint is design to cover the floor of the MSR Hubba tent which. The dimensions of that tent's floor are 86 x 26 in. This foot print really works best with the tent it was designed for.
I practically live in my Hubba in the summer, and this footprint sees a lot of use on bare, abrasive granite. It still looks brand new. Sure, you could just buy some Tyvek and save a couple ounces, and do without the clip-in grommets, but I'll stick with this till I wear it out... which should be, oh, another several decades.
I like how this clips into the pole system with the body and fly of the tent. It is compact and easy to pack up with the rest of the tent without adding weight or bulk. It might be cheaper to cut your own plastic tarp but it makes up for the price in how light weight/compact it is.
Greetings. Does this fit the Hubba Solo?...
Greetings. Does this fit the Hubba Solo? Thx
Yes these will fit your solo tent!!