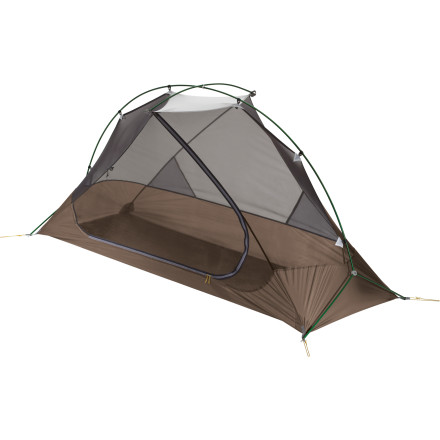 Detail Images

Community Images
Many solo tents are little more than a bivy with poles, but the freestanding MSR Hubba 1-person tent gives you a full vestibule for storing your pack and boots as well as 40 inches of interior height so you can sit out a storm comfortably. The lightweight materials and a highly packable design make setting up and tearing down camp a cinch.
Pole-hub system allows all the pole sections to connect easily and securely from the start, making setup quick and easy
DuraShield-coated fly, bathtub floor with taped seams, and rugged structural geometry shrug off light snow, wind, and whipping rain
Mesh canopy allows for extra air circulation and views
Side-opening door offers maximum space for packing and unpacking under your vestibule
Multiple guy line points offer the option of adding extra tie-downs for truly brutal wind and weather
Hit the trail with only the fly and footprint (footprint sold separately) for truly fast-and-light backpacking
Light, quick-set up
Gender:

Female

Familiarity:

I've used it several times
Unfortunately this fantastic solo tent has been discontinued. It is lightweight and packs into a small sleeve. Set-up is quick and easy, even in high winds on Lake Powell (though tricky). Rainfly is quiet enough in breezy conditions, but the zippers are not quiet. I am a 5'5" female and with my Big Agnes Lithia bag, there is almost a foot of space at my feet for extra storage. I wish it had a small window near the ground, and that it had another, maybe small, door on the other side so I can reach stuff I stashed on the short side. The top pole is difficult to dismantle but the construction is so light. I love this tent!
great light weight shelter
great, the only complaint is that the top pole can be difficult to set up. sturdy structure, light. well built, good quality
Such an easy set up. Literally done and staked out in less than 3 minutes. Awesome tent
Does this then have any vents in the rain...
Does this then have any vents in the rain fly?
Best Answer
No, there aren't any vents on the rain fly. I usually just leave one side open on the door. Even still however, I've been in it during severe rainstorms with everything closed and it still vents well.


Absolutely Flawless!
Gender:

Male

Familiarity:

I've used it several times
I've used this tent a couple times and I love it, it's so light and super easy to set up. The fact that the tent is free standing comes in handy often. The rain fly works like a charm and allows just enough space outside your tent to shield your pack and other assorted gear from the rain . All in all I would recommend this to anybody and gladly buy another one if given the option. Also zero condensation problems!


I usually don't review items I like until I've had them for awhile. And I've had this tent for over 2 years now and it's seen a lot of use and several different conditions. It is a one person tent so if you're camped in bad weather, hopefully you have a book because otherwise you're going to be pretty bored. I don't feel that's a strike for the tent because you should already know what you're getting into. It does have a very spacious ceiling where I can sit up fully and change comfortably which is great.

The inside if spacious for me (5'6") and it leaves me about a foot or so to store gear inside with me. The vestibule on the door side is big enough for my Gregory z65 to fit along with other miscellanous gear that I want protected from the rain. I've also been very impressed with the toughness of the tent. At first I wasn't so sure it would be able to handle high winds due to the high ceiling and rectangular shape, however it has seen me through plenty of windy nights, torrential downpours, and surprise snow storms of 3 -4 inches. It has never leaked once in heavy rains and once guyed out it can withstand a full night of 40 mile per hour gusts with no issues. It's not an ultralight, but I'll happily pack the extra ounces knowing that I'm going to stay dry. Great Job MSR. I love this tent!
I'll preface this review with my cut and paste statement that I work as a backcountry backpacking guide in Yosemite National Park. Nearly all of the products I take the time to review have seen at least a half a season, if not more, of use... and I'm committed to not bothering to write a review until I feel like I've really gotten to know a product. I never thought I'd bother to write reviews, but I've recently decided that since I've spent so much time over these last many years reading reviews, and finding a tremendous amount of value in articulate and well-informed opinions, that I wanted to give back to the community. So, with that being said, here we go...

This tent truly is my home away from home. Since I practically live in Yosemite over the summer this tent sees a lot of use. Its been through a lot of rain, some hail, and some snow. It deals with weather incredibly well... and even in high wind, if staked properly, its a real trooper. If the weather is nice but the bugs are bad, just keep it freestanding, don't bother with staking it.

I'm 6'2" and this tent is just the right size. There's enough room to sit up straight and change, which is really nice on rainy days. Sure, its a small tent, and it would be a bit tiresome to be trapped in it for a week on a rainy trip, but no tent is going to make that very fun.

I've had absolutely no issues with durability. Its built like a tank, but still very light, and packs down very small... I keep mine in a small compression sacks that packs it down to a size of a two liter bottle. I just keep the poles in the small sack that they come in in an outer pocket of my pack. It takes about 90 seconds to set up.

Also, a real bonus is that a large Thermarest NeoAir (25" width) fits perfectly inside, its almost the exact dimensions of the footprint, with a few extra inches of tent space for length. Great lightweight sleeping pad for this tent.
Unanswered Question
Will you be getting the MSR Hubba in stock...
Will you be getting the MSR Hubba in stock anytime soon?
Love it!
Familiarity:

I've put it through the wringer
Bought this tent for backpacking. The big draw for me was the weight and the freedom of a freestanding tent. Packs perfect in a 2-3 day bag with pad, stove and sleeping bag. If you stake it out the ventilation is very good. Plenty of hoops inside for hanging and the vestibule is large enough for your boots and pack for the night. I'm 6' 1" and it fits fine with a pillow (my pack in my case). It's only been on one 3 day trek so far in the woods of Maine but I'm hoping to have many trips with this tent so we'll see if it holds up. Another trip next weekend - can't wait. This pic is at Horn's Pond on the Bigelow Range in Stratton, Maine. UPDATE: I also use this tent in the winter for an overnighter we do in early March. Fits the bill for that too. Has been on many trips now and it is still in great shape.