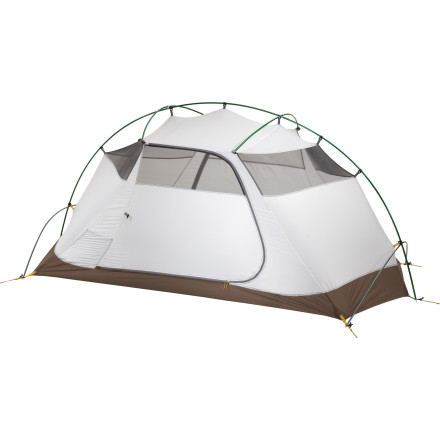 Detail Images
The MSR Hoop 2-Person 3-Season Tent is easy to set up for those times when you arrive at camp as the sun starts dipping below the horizon. The Hoop has room for two 25-inch sleeping pads and gear, and you can ditch two of the poles to make the tent lighter for longer trips when weight is a concern.
Two large vestibules, two gear loft pockets, and two internal mesh pockets leave tons of space for storage
DuraShield-coated fly, bathtub floor with taped seams, and rugged structural geometry that shrugs off light snow, wind, and whipping rain
Optional end poles can be used to create a freestanding structure or can be left at home to save weight
Mesh windows and fly vents provide excellent ventilation and minimize condensation
Hoop ridge pole creates large doors for easy entry and exit
Two entrances mean less stepping over people at night
Large floor plan fits two 25-inch camp pads and taller inhabitants
To what are they referring when they say...
To what are they referring when they say "footprint" included or not? Thanks for your help.
A footprint is designed to protect the floor of your tent. It's sort of like a tarp, except lighter weight (typically made out of the same or similar material to your tent floor) and cut to the specific dimensions of your tent floor. It is meant to help extend the life of your tent. They are included with some tents, but sold separately for others.
What Laura said... Also, the advantages to using the tent-specific footprint instead of just a tarp are...



1) Because it's sized specifically to the tent, there's no chance of it being too big and acting as a sink to trap water under the tent.



2) Many tents include "fast pitch" or similarly named options where you can pitch the tentFLY and the footprint--without using the tent itself. This saves on weight if you don't need the tent itself and just want rain protection.



3) In some cases, the "fast pitch" option allows you to create a quick shelter under which to erect your tent if it's raining when you are setting up camp (...because you are setting up your tent UNDER an already pitched rainfly, over a mostly dry footprint.)



Item 1, above, can be addressed by simply being careful with how big you size a sheet of plastic placed under your tent... but items 2 and 3 really required the "official" footprint for the tent so that it has the right loops and tie-ins for the pole structure.
Solid Purchase
Familiarity:

I've used it several times
My wife and I took this tent backpacking through Europe this past summer. We nicknamed it "the Hulk", because it survived everything that we threw at it. Its weight and packing size allowed me to carry it easily from train station to train station and to hike to our various campsites. We slept through a few torrential downpours and strong winds to wake up and find ourselves dry and comfortable. I also have gone on several backpacking/camping trips domestically as well. All told, we have used it more than 20 times in the past year without any major or minor issues to speak of (tent poles, ripped seams, leaks, etc)



More than worth the money.
Better 3 season then the new Hubba Hubba
Familiarity:

I've used it several times
I bought this over the new Hubba Hubba for a few reasons, one because I am 6'5" and it has a overall larger footprint and is longer than the Hubba Hubba. I have used this on overnight backpacking trips and general camping when I go climbing or kayaking. This thing works great, stayed warm at 30*, easy to set up light, and I liked it because it had more nylon, than mesh like the MSR's newer Hubba Hubba, I thought it kept it warmer and less drafty in colder temps. I suppose this could be a drawback in hotter temperatures, but it seemed just fine in 80*+ weather out in Tennessee on Memorial Day. Overall I couldn't be more pleased with the quality of this MSR tent.
The tent has everything a serious backpacker or camper is looking for. Ok it has everything that I was looking for in a new two person tent. Two doors, two vestibules, good inside height, relatively light weight, sturdy, and packs small. The MSR Hoop does all of those. I like a tent to have walls that aren't all mesh for camping in cooler climates and a little privacy if I have the fly off and mine's down. Another plus is with the extra poles that make it free standing, it also spreads the tent out better to increase room. I think for the weight of those two poles and what they accomplish they WILL be coming with me on future trips.



It also came with the MSR mini groundhog stakes instead of cheap stakes like most tents come with.
This item What is the same as the following...
This item What is the same as the following items?

http://www.amazon.com/MSR-05139-Hoop-Tent/dp/B00453OTRS/ref=sr_1_1?ie=UTF8&qid=1337850241&sr=8-1
Are you asking if this tent is the same as the tent in your link? --- YES
We've had our Hoop for about a year now and love it. It's a roomy two person tent and while not "ultralight," at about 4 lbs (w/o the optional free-standing poles) it's a very noticeable weight reduction from our 7.5 lb three person tent. It also packs a lot smaller. The sligtly longer and wider floor space is perfect for my large pad.

Obviously, there is less mesh than what most three season tents offer. This appealed to us for purposes of camping year-round in the South-East, and while I think it helps, I can't say with certainty that it actually holds more heat in the cold winter months.

The fly vents create very good cross ventilation and, as a result, we have experienced no condensation issues. I've been through at least half a dozen storms (some more substantial than others) in this tent with no issues.
How many vents does the fly have, one or...
How many vents does the fly have, one or two?
2 vents that use a little velcro prop to keep them open. It breathes pretty well.