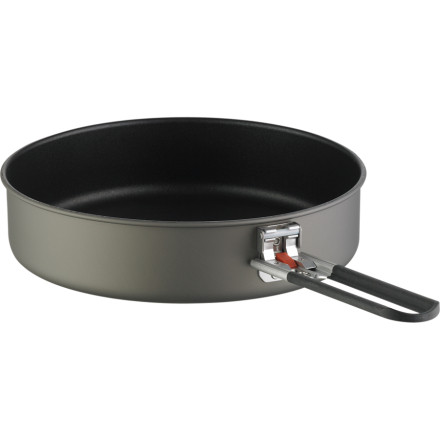 Community Images
Description
Flip fresh, fluffy flapjacks with the Flex Skillet.
Pull out the MSR Flex Skillet, and cook pancakes and eggs by morning, and stir fries and sautéed veggies by night. This DuraLite non-stick pan is made from hard-anodized aluminum for long-lasting durability, and it features a Talon pot grabber to help you keep hold of your grub.
It's Pantastic! Come on, that's funny.
Gender:

Female

Familiarity:

I've put it through the wringer
When the trail disappeared and my pack started to feel like a boat anchor, I'll admit, I questioned the wisdom of bringing a frying pan (also the squeeze butter, spatula, flour, and corn meal).

All such concerns melted away with the first bite of crispy skin and delicate, flaky trout. Worth every ounce!

I had some reservations about the MSR Flex Skillet; I thought the straight sides were a mistake, I questioned the durability of the pan, and the melt-ability of plastic attachment points.

After using the Flex Skillet all season, I'm no longer worried. The straight sides haven't been an issue. I've cooked sausages, pancakes, ham steaks, and glorious fresh trout with no issues.

My worries about durability have also been laid to rest. Our recent outing to the Mallard Larkins proved more challenging than expected - our bodies and our packs both took a beating. The MSR Flex Skillet rode near the bottom of my pack but didn't suffer any damage.

As to the plastic, well, I've used it over a Kovea Spider and a JetBoil MiniMo - the plastic parts don't even get warm over a canister stove.

The non-stick surface is amazing, cleanup has always been a breeze.

I probably won't always take my MSR Flex Skillet, after all, I'm pretty happy tucking into a Mountain House pouch at the end of the day. However, if there's a chance at fish or grouse, I think it's a worthy addition to your backpack.

Look at these beauties! When you catch perfect pan fish, you'd better have a pan.
Bring on the bacon!
Familiarity:

I've used it several times
This skillet is incredible. It's been used with 2 different MSR stoves and each time the results were perfect! The non-stick coating is truly non-stick. I've always trusted MSR to produce a high quality product.
On the most recent trip, not quite backpacking, we cooked 5 lbs of bacon in it (1lb at a time) and numerous other items. Everything came out perfect.
It's very light and easy to clean and will hold up to some abuse. My goal is to never use anything metal to stir in the pan and I think it will last me a long time!
The folding handle is convenient and sturdy, making packing it a breeze.
I highly recommend this pan! It'll cook whatever you have!
My favorite camping accessory
Familiarity:

I've put it through the wringer
No more ramen, and backing packing meals for me!

I love this thing, the non-stick surface makes it a breeze to clean, it cools down quick enough to double as a plate!
Practically perfect in every way.
Gender:

Female

Familiarity:

I've used it several times
This is a weird review because I want to discuss the shortcomings of the MSR Flex Skillet but I stand by my 5-star rating and unreservedly recommend it.

The Flex Skillet is no good at all for bludgeoning - terrible impromptu weapon. I ignored reviews that indicated the bottom of the pan would warp when heated. Low and behold, it warped a bit on the 2nd use. It's still stable on my Kovea Spider stove but I set it on my counter top and it isn't entirely flat any more. I'm going to be mindful of where I put it in my pack and I won't be whacking any bears with it - who wants to dent a $25-30 piece of cookware? My point being, it's closer to a badminton racket than Grandma's cast iron but, as Martha Stewart would say, "that's a good thing."

The side walls are vertical, probably for proper nesting with other MSR cookware. Curved walls would be better, flipping a frittata or anything that took up the whole bottom of the pan would be very difficult. I don't like frittata. I reckon it'll do for trout and huckleberry pancakes.

While not a deal-breaker, the straight walls mystify me. If you have an MSR pot SO similar in size to the Flex skillet that the walls have to be straight for nesting, just fry things in the bottom of the pot - why add 7oz? I'm using the Flex Skillet with an MSR Titan Kettle - nesting isn't a concern for my solo system but your mileage may vary.

The handle, oh the handle. It's light and well-designed, it folds in, it comes off completely, and it feels stable while using the pan. In theory you could save weight by taking multiple MSR pots and pans but only one handle however I'm skeptical about the ease of removing and attaching the handle while cooking.

The melty bits - both the handle and the attachment point on the Flex Skillet have non-metal, totally-susceptible-to-fire pieces. Seems like a strange design choice for cooking over FLAME. None of the aforementioned bits got hot when I used the Flex Skillet over my stove but it's a real concern when cooking over a camp fire. If you're going to use it over the fire, take the time to make a small bed of coals.

The MSR Flex Skillet fills a very specific niche and the compromises (walls, durability, resistance to melting) are unimportant to me but you definitely have to consider what you want out of a pan.

Did I mention it's non-stick? *fist pump*
One nifty pan the does it all!
Familiarity:

I've put it through the wringer
I shopped for pans for a few days lot of back and forth....I was looking at size and weight. most importantly weight.......I love the size of this pan too though. You will have plenty of room to warm food or cook for 2 or 3 people. Now I will tell you if all you need is a pan to cook on this is it look no further.. Unless you have a Jetboil they have a pan that is really good but will a normal backpacking stove it does not heat the whole pan.....just the center....you will need the adapter heat exchanger thing.... Okay if you need a pan and a bowl or pot. There are some good options out there.....here is a good one.....Optimus Terra Lite HE Cookset!
Stepping up my cooking game
Familiarity:

I've put it through the wringer
I decided it was time for something more than freeze dried meals in the back country, so I decided to start with something that can open my horizons. So far, this has been great for cooking meat, vegetables, raw tortillas, and pancakes. The pan is nice and slick so that even without cooking oil food will not stick very easily (although you must be very careful). I plan to cook much more with this bad boy.
Super Light and Affordable
Familiarity:

I've used it several times
Used this pan a couple times and it's a great and light weight non stick skillet. I highly suggest it.
Super light,great non-stick,cooks decent
Familiarity:

I've used it once or twice and have initial impressions
Pretty solid skillet, and great non stick. Questions about how well it distributes heat are valid, you have to pay attention when cooking, because there are some significant hot spots if the heat is too high, especially with stoves like the PocketRocket. Still a great skillet, and how light it is, and the great, easy to clean non stick make the dealing with the poor heat distribution worth it.
Non Stick
Familiarity:

I've used it once or twice and have initial impressions
Used this weekend for the first time and made a breakfast in my ice house fishing Walleye. Made breakfast in the morning and fried a couple fish that afternoon. Material was totally non stick it's awesome.
Great, and light weight
Familiarity:

I've used it once or twice and have initial impressions
This is a great, lightweight pan. Good size for cooking for multiple people or just yourself. Easy to clean
The detachment/attachment method for the handle is a bit dubious. It's this idea (that you need to twist the handle away from the axis...) that makes it clear you really can only detach the handle for packing the pan -- not on the fly when cooking.



The axle holding the handle has a slippery silicon-like cover on it -- and it is riveted in and therefore not replaceable. Bottom line this results in two conclusions:



-- This pan has limited utility on a fire... it's stove only option.



-- The handle attachment will eventually wear out and cannot be repaired.
When extended, the handle provides pretty good reach for the pan. Not super strong but seems strong enough to match the weight of the pan. (You will not be making something heavy in this pan now, will you?)



The red switch must be activated to fold the handle. It's made of plastic, so I suspect it will melt if you leave it in the fire.
Great Gift!
Familiarity:

I gave it as a gift but have feedback to share
2 different sets of friends requested this MSR skillet on their wedding registries. I've bought it twice now for wedding gifts. It's a really nice, durable, lightweight choice for camping. They also tell me that the pan is easy to clean.

Here's to many a long weekend spent enjoying nature and successful marriages!
It is lightweight and it doesn't take up much space. It is the nonstick coating which is the real gem of the skillet. Cleanup is a breeze. Just wipe it out.



The thin wall design does mean you need to pay attention to the heat and intensity you are using so you don't burn stuff or get any hotspots.



It is so thin it is able to be integrated into a few of MSR pot kits for easy packing.