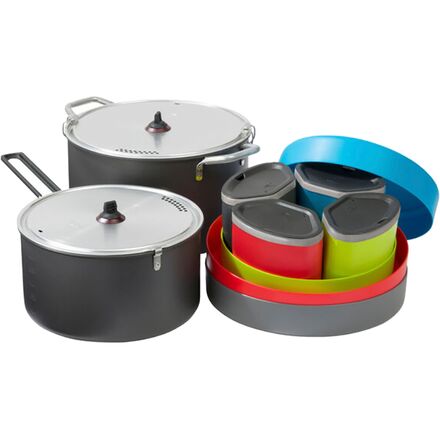 Colors

Detail Images

Videos
Big groups call for big backcountry meals, which is why MSR created the Flex 4 Cooking System. The chef can let his culinary creativity run wild with two nonstick aluminum pots and strainer lids while the whole crew will appreciate the four DeepDish plates and insulated mugs. Plus, the entire kit fits inside of the largest pot for easy packing.

Dual-handle 5.3-liter pot and 3.2-liter pot with a talon pot handle can easily cook up enough grub for four hikers
Hard-anodized aluminum pots have a nonstick surface for cooking versatility and easy cleaning
Strainer lids provide faster cooking times and allow you to strain off pasta and rice dishes without spilling the food
Four DeepDish plates hold everything from savory stews to freshly caught trout
Four insulated stainless steel mugs with splash-free lids allow you and your buddies to sip morning brew and evening spirits
Entire kit weighs just three and a half pounds and fits inside of the largest pot for compact packing
My first cooking set
Familiarity:

I've used it once or twice and have initial impressions
I bought these for an upcoming week long roadtrip/camping in Utah/Arizona so I started practicing with it. I tried cooking Risotto with the 5.3 liter pot on top of my MSR Dragon fly and everything worked well.

The next day I prepared Japanese Curry with the 3.2 liter pot and had the problem of the lid not fitting well. It appears that the pot is warped so when I place the lid over the pot, it doesn't lay flat/flush. When I press it down onto the pot, it will kinda snap into place but as soon as I let go, it pops back up. This was annoying because it took longer for my food to cook. When the pot is not in use and have the handle folded over, it will lock the lid in place but I didn't want to do that while cooking because I felt like the handle would have got hot, but I didn't test that theory out.

I ended up cooking a large batch of curry that was about 1inch from the rim of the pot so it was relatively heavy. When I picked it up with the handle it didn't feel 'solid'. I felt the need to support the bottom of the pot while carried it to transport it to the table, but it did hold.

Over all I was most disappointing that the closing lid of the 3.2 liter pot didn't sit flush (at all) and that I am not able to put the frying pan inside without removing at least one of the Grey/Red Plates. A minor problem may be not being able to cover the holes on the pot lids. I also notice that having the smaller pot handle folded over while inside leaves the potential for the larger pot to get scratches on the inside. I have not tried the cups yet.

I like how the system is compact and light. I would give it a 3.5 star rating if I could. This is my first kitchen set experience. I am going to order the Alpine Deluxe Kitchen set to see how well it pairs. I'll try to upload photos next time I cook on it.
Does the flex skillet fit in the flex 4 cooking system?
I just bought the set and tried fitting the skillet in the Deluxe Kitchen Set. It will not fit if you put the entire system together. The Grey/Red plate gets in the way. I wanted the entire system to fit with the skillet but it failed, so I didn't bother trying to removing those plates. Those plates are pretty much the same dimensions as the skillet.
MSR Flex 4 Cooking System
Best gift I've ever received!
Familiarity:

I've used it several times
I got this as a wedding gift and had the pleasure of using it on our camping trips this summer. I love to cook and being in the woods never stops me from getting after my gourmet side and this cooking system allows me to get after it.

Some stand out features:

rubber coating on handles and lid don't get hot and don't melt.

No need for clamps with the fold out handle on the pan

strainer lid

I don't know if I would take this backpacking with me(it's a little over kill for me in that department), but you could because if you wanted because it is super light weight.

All and all it's an awesome addition to our base camp/ car camping set up.
Climber Thanksgiving Dinner
Familiarity:

I've used it once or twice and have initial impressions
This is enough to cook for an entire army of climber rabble. I minimal space is wasted as everything pairs together very nicely. The skillet also pairs extremely well with the Flex 4 Cookset. I plan to use this for car camping and canoe touring. This is going to be an excellent tool to cook up a Dirtbag Thanksgiving whilst camping and climbing in St. George over the upcoming holidays.