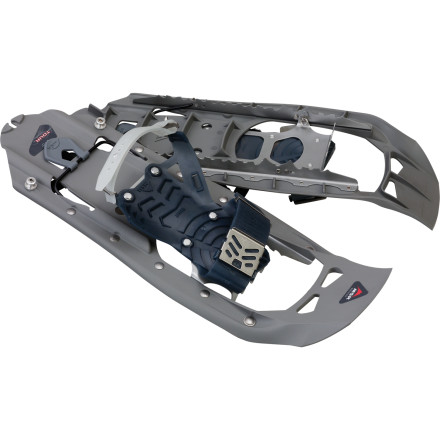 Detail Images

Videos
Why limit yourself to specific terrain types when you can step into the all-mountain MSR Evo Tour Snowshoe and experience full range of backcountry experiences. Designed with the MSR Unibody traction system, which features vertical steel traction rails and horizontal braking bars, the Evo Tour offers tremendous traction on everything from steep grades and sketchy traverses to mellow hills and crusty flats.
Glove-friendly SpeedLock binding adjustment system adjusts quickly and easily
Televator Heel Lifter Bar eases pressure and stress on calves for limited fatigue during extended use
Ice Pivot crampon digs into ice for maximum grip
The Ergo Televator heel lift system reduces calf fatigue, conserves energy, and improves traction on the steeps—the intuitive design engages in seconds with a simple flick of your pole
Optional Modular Flotation Tail allows you to custom-tailor your footprint size to match trail conditions—attach the connector piece when expecting powder, and leave it off for hardpack (sold separately)
I want to do some approach hiking for BC...
I want to do some approach hiking for BC snowboarding but splitboards are out of my price range... will my chicks' size 10 snowboard boots fit into these? I've heard the MSR's are the only ones that fit snowboard/ski boots...
They will indeed! I've been using the Evo Ascent for years, with a size 11 snowboard boot. The Tours take some time to set up for your boot size but but once they are set up you're good to go.

Be aware if you're going to be going through deep snow that you may want to get the "float tails" these are not very large shoes and do post-hole in light pow
First shoes and very happy!
Been looking into getting snowshoes for a while and finally pulled the trigger on these. They fit perfectly, with the main front strap being a little tough to adjust initially, but working well once it was all squared away. The adjustability of the other straps is excellent and this makes sizing the shoes really simple.



The traction from the rails and the front teeth is out of this world! I do a lot of off-trail shoeing, going up some rather steep hills and slopes. These shoes hold like there's no tomorrow! I WOULD recommend the tails for these if there's any decent amount of powder, as even without a pack I sink in a decent amount (I'm only 155 lbs). Consequently, tails are on the way!



Overall, I'm VERY happy with these shoes and would recommend them to anyone who's looking to get a pair of snowshoes!
These are great snowshoes!
Gender:

Female

Familiarity:

I've used it several times
I was a little hesitant to buy snowshoes that weren't "women specific," as I'm pretty small (5'6'', 115), but these are great! The bindings adjust to my feet perfectly, they are easy to get on and off, and they have great float in powder. I didn't buy the extra tails, and might look into that for serious backcountry snow shoeing, but for everyday taking the dog on a romp off trail, these are amazing!
Dear Customer Service: I'm interested in...
Dear Customer Service: I'm interested in the MSR EVO Tour snowshoes...are they all 22"? do you have to add extensions? I weigh 270 lbs. Please advise...Thank You...
Yes, they are all 22". You can add 6" extensions to make them a bit longer. There are other MSR shoes that go to 30". With your weight i would recommend at least the Evo with the tail if you are doing backcountry trekking. Hope this helps.
I have these and I like their toughness and versatility. The bindings allow you to put them on considerably quicker than others that require 3-4 bindings. I have heard that the complexity of other binding systems allow for a more snug fit, but I have not had any problems, especially since it comes with an optional third binding that you can detach. My only complaint is that you REALLY have to becareful that you don't lose the clip for the optional binding cause it get lost. I wish it had a better way to attach, however i guess that wouldn't make it an optional binding.
I want to get a pare of these but I herd...
I want to get a pare of these but I herd from a little birdy that the large binding strap on these is not comfortable or easy to adjust. Does anyone have experience along the same line, and does anyone know if MSR will switch out the bindings on these for a different pare or would that just turn them into the Evo Ascents.
Best Answer
I'm not sure that they will plan on changing these bindings anytime in the near future because they do have another binding on this same snowshoe in the evo ascents. If you don't like the tour bindings go with the ascents, they're designed to be a more secure binding for all day use, whereas the tours are designed for easy on and off, so you set the front strap at the desired length, and then just slide your foot in at an angle, straighten it out, adjust the backstrap, and secure the "optional" security strap across the middle of the foot. There's usually only a 20 or 30 dollar difference between the two bindings, so it depends on what type of use you're planning for them. For all day use i would recommend the evo ascents, while if there's the possibility of frequent on and off, or you desire an easy on/off feature over the added security, go with the evo tours.
The person that I am purchasing these...
The person that I am purchasing these snowshoes for are around 180 pounds, would this shoe still function properly? Or do I need to look for options that don't have this weight on the high end of the limit?
It all depends on the conditions. If you're looking at a lot of powder, 180 pounds will definitely push these to the limit (especially considering the person will likely also have a pack of some weight...). You can, however, get tails for these (for about $40) that you snap onto the back to create greater flotation. I have them and they work great. Overall, these are fantastic, bomber snowshoes. If you're really concerned, though, go with the Lightnings, which will add a bit more length.