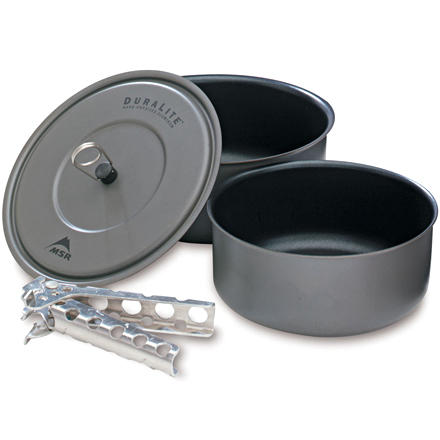 Share your thoughts
What do you think of the
MSR
DuraLite Mini Cookset
? Share a...
I think this is a better option than the very expensive titanium set . This is half the price and not much heavier . Cleans up easily and is good to pack gear inside .
Does the lining chip or scratch?
Does the lining chip or scratch?
One of the benefits of going with the MSR Duralite Cookware is the incredibly durable Telflon coatings. In fact there are three to be exact.This cookware is first machined from the best aluminum available, then hard anodized with an extremely durable anodization covering the entire pot, and then 3 separate layers of the most durable Teflon is applied. This cookware is made to last for many years.The only thing to take into consideration is the use of metal utensils on the teflon. Though as durable as you're going to find, teflon coatings don't lend well to metal utensil's tendency to scrape and gouge the surface. It's best to use Lexan or other heat-resistive plastics. Always line the bottom with the included towel when packing and you will get many moons of awesome outdoor meals from this cookware.
I heard that it clangs around alot in your...
I heard that it clangs around alot in your pack, is that true?
Not necessarily...It all depends on how you pack it. If you allow the two pots to nest without the included packtowel in between, you might get some clanging going on. However, I like to make sure either the towel is in place or a T-shirt or pair of socks, etc. are padding the inside pot. This will allow for a quite, less damaging-to-the-pot experience.
What more could you want?
Packs great weighs little cooks great, what more could you want?