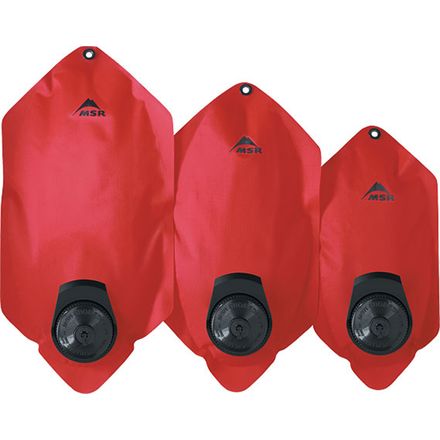 Colors

Community Images
Description
Keep the fluids flowin' with the re-designed MSR Dromlite Bags.
The MSR Dromlite Bags are a lighter, but equally tough, version of MSR's Dromedary Bags for the weight-conscious backpacker or camper. MSR Dromlite Bags take the hassle out of filling, carrying, and pouring water in the field. MSR designed their Dromlite Bags to withstand the most trying conditions. With a temperature threshold from freezing to boiling, and abrasion-resistant cordura construction, these sturdy Bags hold up to the most rigorous adventures. MSR added a low-profile handle making it easy to fill. MSR Dromlite Bags have added perimeter webbing allowing you to attach it to your pack or hang it up at the base camp. The bonus 3-in-1 cap ensures effortless filling, drinking, and pouring from the Dromlite Bags.
Mount Whitney Hike September 2015
Familiarity:

I've used it once or twice and have initial impressions
I bought the MSR Dromlite Bags for my Mount Whitney Hike. Even though I didn't backpack the bags with water in them on the hike, I did find it as nice extra water bag to fill up with water from the water sources near our camp sites. I used the extra water for cooking, cleaning up pots and cups, and refilling my hydration bag and water bottles for the continuing hikes.

Very handy and didn't take up a lot of room in my backpack when carried empty.

Could I hook up a hose and sawyer filter to the dromedary? Im looking to use this Dromlite as my dirty water container and gravity filter straight out of it.
Bueller?



I'm wondering if I need to buy the MSR hydration kit or If I can hook up another hose I have lying around
Yes, the MSR hydration kit would be the way to go.



The 3-in-1 cap that comes with the Dromlite & Dromedary bags has a medium opening that mates with the MSR Hydration kit.
I'm Erin and I have a drinking problem.
Sure I could 12-step it but buying an MSR Dromlite was a lot more fun.
The Platypus is Dead
Familiarity:

I've put it through the wringer
Used to have a Platypus. Needed to find a way to carry water without the big Nalgene. Platypus is super light, folds. Found that over time it breaks down, first few uses it was alright, then I started to worry. If I lose my water the day is over... Picked up one of these in a 2 L, so much more durable. Definitely my new go to. Plus the cap has a squirt feature which makes sure I dont go ahead and gulp the water too fast, ensuring pacing of the drinking. Awesome addition to my pack.
Not in the lake, in the bag. The MSR Dromlite kicks ass. I don't mind pumping water, it's peaceful and my right bicep looks great.

What gets my goat (HA!) however, is mowing down on some delicious camp chow, then reaching out for a drink only to come up EMPTY.

I'm less zen about pumping water with a gob of rehydrated lasagne lodged in my esophagus.

Enter the Dromlite - 6 liters of water. Add the MSR Spigot cap and this beauty will keep everyone in camp hydrated and happy.
Weights are Wrong
Familiarity:

I've used it several times
The weights listed on this page are wrong. The weights listed on both the packaging and the MSR website (http://www.cascadedesigns.com/msr/water/storage/dromlite-bags/product) are (2L) 4.6oz, (4L) 5.1oz, (6L) 5.7 oz.

Still a great product, but not as light as advertised. I only noticed it while shopping around for a lighter alternative to a different hydration bladder.
These helped me survive in the desert of Big Bend. Good stuff.
does the 4L fit in the hydration sleeve/back...
does the 4L fit in the hydration sleeve/back panel of osprey packs?
I think the biggest issue you are going to have is with the cap. If you don't fill it up all the way you might be able to get it in there. You might encounter some problems with the back panel with the 4L in there (it bulging out into your back)
do you put it in the main compartment? If so how does it carry/pack? i only have a 45L pack so not much space for it.
Holds a generous amount of water, but packs down to and weighs almost nothing. The interface with MSR water filters makes refilling in the field simple. The 3-in-1 cap has a variety of uses, and is well thought out.
The best bladder!
Familiarity:

I've put it through the wringer
I've had a 4L Dromlite for about 8 years and it's still going strong with nary a leak. I used to use Platypus bags but got tired of them eventually getting brittle and leaking at the corners. Not a problem with the Dromlite! For easier pouring, I highly recommend the Spigot Cap (CAS0051). I've attached some cordage to the grommet on my bag so I can just clove hitch it to a branch once I get to camp.
Hydration sack!
Familiarity:

I've put it through the wringer
I used the 6 liter Dromalite all summer last year as a wildland firefighter, and it stood up to the abuse! I was a bit concerned at first and thought I should get a dromedary but this thing killed it. with the hydration kit this thing was great. I still use it when I want to take extra water or I'll only put 2 or 3 liters in it at first and when I get to camp pump some water and fill it all the way up. I have loved having this. and it stood up to some real abuse
Great water bag
Familiarity:

I've put it through the wringer
I have the 6L bag and it is really big! I don't even use the whole thing. I just fill it up for a days worth and get all the air out of it. During the summer months it keeps water around or below room temperature without Ice and when its 90 degrees outside. I would personally suggest getting the 4L because it will fit in you pack better but it is all depends on what you are doing. If your going on long backpacking trips in the summer then go for the 6L or bigger, but if your only doing day trips and have no intention of long backpacking trips then I would suggest the 4L.

Everything on the water bag works outstandingly. I haven't had a problem with the cap it is actually very helpful. The little part on the cap posses no problem to leaking. The thin fabric is really lightweight and tough! I have put it down on sharp rocks and it shows no sign of ripping or weakness in the fabric. MSR really hit the nail on the head with this product, it is a must have! This is much more efficient than 6 water bottles. Now you bring this in the sleeve in you pack and a water bottle or two and your set for water!
Can't imagine what it used to be like before I started packing in one of these in addition to my hydration reservoir. I usually fill the hydration reservoir in my pack, pack in the Dromlite bag empty with a couple empty Nalgenes. Once I set up camp, I can walk down to the river and fill everything up with my filter. Easy to hang, and use as a dispenser at camp.
Backcountry Skiing Hydration
This is a killer tool to have in your pack to stay hydrated. I've dealt with my hose from my hydration reservoir freezing up one too many times and have since been turned onto the Drom set up by a few wise men out there. Doesn't freeze, packs wherever there is room(form fits to pack space available). Easy to fill and drink out of.
Best option there is for scrambling, climbing, and skiing. For years I struggled with camelback type bladders, waterbottles and nalgenes until I saw a partner using the Dromlite. It is lightweight, easy to fill from a stream, packs in a backpack easily, and when it is empty, it takes up almost no space! I have had other bladders leak but this one is rock solid. I don't worry about having it in a pack with climbing gear. As long as it is not packed between crampons it is fine!
Light, Right, and Bright
Gender:

Male

Familiarity:

I've used it several times
After futzing with frozen hoses every winter I took a page from a touring buddy and went with a drom. I've use the regular Drom bags in the summer for camping so I decided to lighten the load and use this for my water needs while backcountry skiing. Turns out its faster to pop off my pack and take a swig than it is to unzip my bladder sleeve, unlock the valve, drink, blow back the air, lock it, and put it away.



Hydration needs are HANDLED.
I have a platy 6L and a dromlite 4L and the platy is just superior in so many ways. This is light, has several pouring capabilities (little squirter, small pourer, wide filler), but otherwise is just an awkward bladder. It doesn't have a very good handle, though you can clip a 'biner to the eyelet on the end. And it won't stand or sit while the larger cap openings are utlized else the water will gush out.

I can probably be happy with one of each, since I've already got the Dromlite, but if I had to get another, I'd get a second platy.