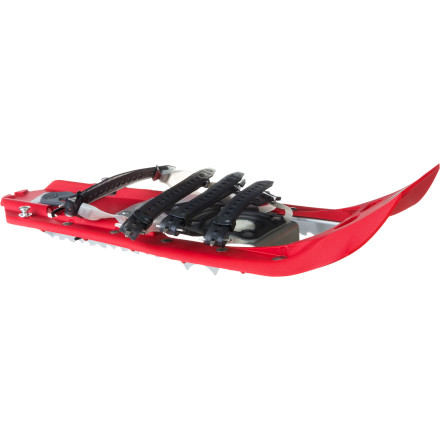 Detail Images

Videos

Community Images
When the going gets too steep and deep for a Rocky-Mountain sheep, strap on the MSR Evo Ascent Snowshoe and stay on top of winter alpine conditions. The Evo Ascent features an ultra-aggressive traction system that's designed for backcountry adventures over rugged, uneven terrain.
Integrated, side-mounted Unibody Traction Rails grip ice and provide stability over uneven ground—aggressive tooth cut provides more traction than MSR's other Evo models
Pivot Crampon shares a rotating hinge with your binding to provide secure traction regardless of your foot position or the angle of terrain
PosiLock AT bindings employ three foot straps and a heel strap to provide all-weather, glove-friendly stability while also accommodating a wide range of footwear
The Televator heel lift system reduces calf fatigue, conserves energy, and improves traction when traveling uphill—intuitive design engages in seconds with a simple flick of your pole
Optional modular Flotation Tail (5-inch connector piece) allows you to custom-tailor your footprint size to match trail conditions—attach it when expecting powder, or leave it off for hardpack (sold separately)
Share your thoughts
What do you think of the
MSR
Evo Ascent Snowshoe
? Share a...
Great for Snowboarding
Familiarity:

I've put it through the wringer
I love these! Great in slush, hard pack, and powder. The heel lift is awesome for going up steep slopes and they are lightweight for throwing on your pack on the way down. I've beaten them up pretty good and they have held their own. The plastic gets dinged up, but no cracks and the straps are very durable. They are still ready for another season.
hey, im thinking on getting the evo Ascent...
hey, im thinking on getting the evo Ascent and just want to make sure my boot will fit in the binding. i have the La Sportiva EVO GTX in size 45 1/2 or 11UK or 12USM if this helps
I don't think you'll have any problem at all...
Hi! Which would be better for backcountry...
Hi! Which would be better for backcountry snowboardtrips: Evo ascent, Lightning ascent og Lightning axis? We get all kinds of snow conditions where I live. I'm 100kg + snowboard and gear, and wear size 12 snowboard boots.
Best Answer
Bindings are the same on the EVO and the Lightning Ascent, so no real issue there. (This binding is superior... so I would not be interested in the Lightning Axis). Keeping just those two in mind...size is about the same. Ability to use tails is also available on both.

So what you're really comparing is the structure of the shoe itself. The EVO is plastic with just a little bit of metal crampon attachments. The Lightning is all metal around the entire frame--much less flexibly and more durable.

Also, I think the Lightning comes in sizes whereas the EVO apparently does not. If you weight all your gear and yourself, the Lightning will give you the chance to get just the right size with/without the extra float tails.

I own the lighting ascent shoes and was holding the evos in my hand this morning (a friends).

So... a long winded way of saying spring for the Lightning Ascents. Be happy and don't look back.
Any issues with snow flipping up from the...
Any issues with snow flipping up from the tails and sliding down your neck/back?
Best Answer
Hi Michael,
Since these snowshoes pivot while being used, that prevents the issue of the "snow flinging" you shouldn't have any issues with that.
I've used these quite a bit and have not had that issue. The bindings are on a pivot hinge system, so the platform doesn't spring back into place like some snowshoes that use a tension or twist system.
As mentioned, there is no spring to these so they will only flip if you break into a run. These aren't really built for running so it should be a non issue. I only did it clowning around.
The down side to the hinge system is you have to be more considerate when trying to back up or turn in certain terrain because the who will hang. This is a bit inconvenient when wearing the float extensions.
Has anyone used these along with Scarpa...
Has anyone used these along with Scarpa mountaineering boots? Specifically the Scarpa Phantom Guides or the Phantom 6000?
Best Answer
Jonp,

What specifically are you looking for in terms of compatibility with the Phantom Guides or Phantom 6000?

These bindings are identical to the MSR Lightning Ascent's. If you have a specific question about these bindings let me know. I've used these bindings with the following footwear:

Burton Snowboard Boots
Scarpa Inverno Mountaineering Boot
Merrell ???? GTX (Regular 3-Season Hiking Boots)

Let me know!

Jared D.
Gearhead
800.409.4502 ext 4055
Jared,

I just want to make sure that the boot will fit correctly in the bindings and that there are no issues with snagging on the built in gaiters on the phantom 6000. If it helps, my boot size is a 47.
Jonp,

That is totally worth asking, more than glad to help provide some ease of mind for you.

The Scarpa Phantom 6000 will work great with these bindings / shoes and you should have zero problems with snagging on the built in gators. I use a variety of footwear / gators / pants with my MSR Lighting Ascents (same bindings) and have zero troubles with snagging on any material or boot.

Jared D.
Gearhead
800.409.4502 ext 4055
Jared,

Thanks! I think that you helped me make up my mind. Looks like I'll be picking up these snowshoes soon.

Regards,
Jon
Very durable, great mtn hiking option
Love these. Light and easy to adjust with mittens on. Used them to climb Mt. Elbert over varied terrain, including some careful walking over short rocky sections where the snow had been scoured off by wind. Easy to strap to a pack and durable as heck. MSR Evos are my go-to snowshoe and have been for years.
Wonderful Snowshoes
Familiarity:

I've used it once or twice and have initial impressions
Used these snowshoes today on Mt. Rainier doing the Panorama Point trail. With the snow being very crunchy and icy, these shoes spiked right through giving lots of traction. Really liked the Televator heel lift system, worked very well on steep terrain. Look forward to using these again in the future.
Meant for Serious Mountaineering Ops
Gender:

Male

Familiarity:

I've put it through the wringer
I first used these snowshoes as a student at US Army Mountain Warfare School. I have since purchased my own and hiked many miles in them. These snowshoes are the standard mountaineering snowshoe in use today. More rugged than the lightnings or pretty much anything else out there. The built in crampons provide traction like nobody's business. You will be surprised how far you can go and what you can climb without swapping over to conventional crampons. Paired up with the televator heel, you can climb every peak in the Adirondacks in winter with these on. Only time I absolutely had to take them off was for the Colden Trap Dike, pre-2011 hurricane slide. Flotation isn't great when you are loaded up with your mountaineering pack in fresh lake effect snow, but that is what the tails are for. Some might complain about weight, but I say they just need stronger legs and hip flexors because these are damn near indestructible snowshoes. They are compatible with any kind of boot you own. The straps are really thick, hard rubber that hold well. I think you can buy spare parts but I've never needed any.
do the straps really hold well? Can I wear...
do the straps really hold well? Can I wear any hiking boot? or should I plan to have a rubber type boot like a Sorel
Yes... they hold really well. I don't have the Evos but I have the Lightning Ascents and it looks like they have exactly the same bindings . You can see some detail photos of the bindings I posted over here: http://www.backcountry.com/msr-lightning-ascent?rr=t

Bottom line is these bindings are just about the best available out there. The straps are stretchy, so you can get them snug around any type of boot--no rubber required.

Also, since there are three top straps, that means you can get a really secure fit AND you're not SOL should one of the straps break (which, btw, they won't).

No moving parts on the binding. No quick clips to break, etc. Just these rubber straps and some metal hooks. Foolproof.
lightweight!
Familiarity:

I've put it through the wringer
I love my ascents. they are light and provide awesome stability on my hikes though the pow. built right and don't slow you down like some other shoes i've owned.
I'm happy with them
Gender:

Male

Familiarity:

I've used it several times
I use it on a very soft snow (I sink 1m down in the soft snow) the snowshoes held up for miles.
I'm happy with them
The one star that I take out is for it look not bomb proof
Great snowshoes that are tough as nails. I have owned mine for years and they just keep going and going with zero issues. The tail extensions help with flotation when and where you need it. The heel lift is great for going up hills .
I noticed the Evo Ascent don't have a...
I noticed the Evo Ascent don't have a corresponding Women's snowshoe. Is the Evo Ascent good for both genders, then?
Yes, they only come in the one size and unisex.
The bindings make for easy adjustment, even down to a small foot/boot.

I was playing with ideas for keeping snowshoes together and attached to a pack, besides the obvious protruding tool-carry under the pack lid or A-frame, and came up with a prusik loop girth-hitched to a carabiner. I like this better than little velcro strips to fumble with gloved fingers plus you have an extra prusik and 'biner!
The attached image is a "front and back" side-by-side
I love these! They are light, have really good grip with the built in crampons and they are comfortable on my feet. I use them in Colorado for fairly steep hiking. The heel riser is an excellent touch. I shopped around a lot for snowshoes before I got these. I have no regrets.
Good Grip, but broke on first use (3.5 stars)
I like the Evo Ascents for winter mountaineering 14ers in Colorado because the crampons are excellent, the snowshoes are lightweight, and the heel-risers are a blessing for sore calves. The plastic is even pretty durable all around and can take a beating on snow covered talus. I rented these a few times before and then bought a pair, and the pair I bought broke the first time I used it. The small hinge connected the toe piece to the plastic broke off on one side, leaving me somewhat screwed on 7 miles of snowy ridgeline and steep descents to get back to the trailhead. Fortunately the other side held up even with the additional stress. The pin connecting the toe piece to the plastic does seem to be the weak point, and I would recommend purchasing a repair kit and bringing extra pins with you if you plan on tackling some rougher terrain. The pin broke for me when one side of the snowshoe clipped a snow-covered rock at a bad angle. Other than the small weak spot, these snowshoes are pretty good, especially considering the price and I felt very secure on steep angled windslap etc. Learned my lesson and will be bringing spare parts from now on.
Great snowshoes, very stable, solid bindings, light, though a bit noisy
While, at best, I'd call myself a moderately experienced snowshoer, I do have some good things to say about these shoes.

The bindings are solid, and very stable, not once did I feel like I was going to slip out of them, nor did I ever. They are relatively easy to adjust, even with gloves or cold hands. I think the most impressive thing about them is their traction while transversing a slope. Even on Sierra cement I felt very stable, and traction never gave way.

The ascenders are nice feature, particularly on predictably long uphill stretches. Setting them is a bit awkward, but that's unavoidable... as you have to kneel down to reach them. The large plastic tab for gripping them is marginally useful, its more frosting than anything. I usually just found myself slipping a finger underneath the bar and pulling it into position.

The only real downside to the shoes is how noisy they are compared to shoes that are made mostly of metal. The difference is significant, particularly on crust and ice. They make a hollow rattling sound when walking under such conditions. Its not a big deal, but on a beautiful day... when trying to enjoy the solitude, the noise can be a distraction. However, that's really picking nits. The Evo Ascents are bombproof. A couple folks on a recent trip had shoes breaking with rivets popping out or breaking altogether. These, like most anything made by MSR, are built to last... and, a great bonus, made in the US.