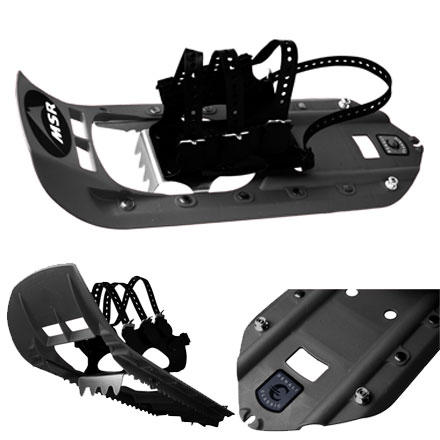 Community Images
I have had these shoes for almost 10 years...
I have had these shoes for almost 10 years - they are great. The heel strap on my red pair just snapped and wondered if there was a place to get a replacement pair. I have found some online for $5.50 but the shipping ends up being more than the straps... any thoughts out there? can I go to a local REI? Can't find them many places.
thx
JD
JD, you could get lucky and find them at a retailer but I doubt it. I think your best bet is to order them online. It sucks about the shipping but sometimes that is the best way.
the back of my snowshoes come off while...
the back of my snowshoes come off while hiking, is there a way to secure them in place or am I just putting them on wrong???
The thing I always tell folks using our snowshoes is that the straps need to be pulled tight, especially on the heal. If they are pulled tight (holes on the straps should look elongated) then they should stay on. If they are not pulled tight, the post will most likely come out without much effort. It's the strap tension that keeps the straps from coming off.

The straps that go over the toes and heel can be adjusted so they don't put too much tension over the top of the foot, but the heel is a different story. Pull it tight!
Classics with MSR Poles and Case
The MSRs are in the case. See how much trouble it is to carry the other ones?
do you need gators with msr classics?
do you need gators with msr classics?
It really depends on what kind of pants you plan on wearing and where you are going. All snowshoes are going to throw snow up at the back of your legs. If you wear ski pants then no, you don't need gaiters. Most already have them built in, plus they are water resistant. If you are not wearing ski pants, they would be a good idea, especially if you plan on trekking through some deep snow or fluffy pow.
I have had a pair of these Denali snowshoes for about 9 years and love them. I use them every winter and 2 days ago I used the floats for only the second time and they kept me up there!

Chuck
in AZ
My husband and I are both just getting into snowshoeing. For Christmas, I bought him the MSR Denali Classic snowhoe (My husband is 6'4'' and weighs 190) and then I bought myself a pair from another brand.

The first time we went out, his shoes performed very well on the packed trails and then we went off trail for a while. In the loose powder (about 24 inches on top of packed powder) his shoes did great--and mine did not. I slid and fell going up and down hills 3 or 4 times and his held steady. He said they were comfortable, he had no problems getting in or out of them, and he really liked them. I was so impressed with his that I'll be returning mine and switching to something from MSR.
Is this snow shoes are sold in 2pieces? In...
Is this snow shoes are sold in 2pieces?
In other worlds, is it consist of 2 shoes?
Yes, they are sold as a set. However, if you want tails, they are sold seperately. Tails are used to help make the snowshoe longer allowing the user to use these snowshoes in deeper snow. Most of the time (and depending on weight of the user and how much weight is carried) the tails are not needed.
Has anybody tried these things for hunting...
Has anybody tried these things for hunting yet?
Best Answer
These are great, classic, durable snowshoes. But even with the extra flotation tail, these still won't provide flotation like the old-school basket-type snowshoes (e.g., the old Army magnesium snow shoes) in really deep snow with heavy loads. If you're pulling a sled/pulk to haul the majority of your load, these would work. And if the snow isn't too deep, these should be fine as well. These are amazing snowshoes because of all the traction aids incorporated: rail-style crampon points and front claw points for packed snow and ice; ladder-style rideges molded into the plastic for extra traction on soft and moderate snow. I love these things! Used 'em both for work (Army in Alaska) and recreation.
they work well on squirrel and rabbits!
im totally new to snowshoes, will these...
im totally new to snowshoes, will these or any other snow shoes work with my snowboard boots?
, ☃bcs_badge_alumni_label☃
Best Answer
They will work just fine with Snowboard boots. The bindings have a wide range of adjustment to accomodate most any style of boot.
These are the best entry level snowshoes on the market. Very versatile and works with a wide range of footwear. Very popular with boarders. Get the flotation tails also.
What kind of boots work best with snowshoes?...
What kind of boots work best with snowshoes? Any recommendations or does it depend upon the particular snowshoe?
Any shoe will work with snowshoes, but your best option would be something (a) waterproof/water resistant and (b) with ankle support, not only for your ankles, but to help keep the snow out. I also prefer to use boots that are not very heavy.
I just love these shoes they are easy on and off, import when getting in and out of a snowcat and light weight. If you are going to buy tails I recommend the larger ones, with a pack I weight 230 and sink in with 4" tails. I like the traction. I have used some other ones and they just do not compare.
These are great snowshoes. They are light, hold well on firm pack, have aggresive crampons and are easy to put on. The only downside is that I think they are too short. I added the tails and am very happy.
Where can I acquire (buy) pins and spring...
Where can I acquire (buy) pins and spring holders for MSR Denali Classic Snoeshoes? I need replacement for heel area.
I'd try the MSR corporate site. Thanks, Mike, however anybody got MSR's web address (MSR.com doesn't work)?
Try this
http://www.msrgear.com/support/snowshoes.asp

Write your question here... Are these...
Write your question here... Are these snowshoes for men or women or doesn't it matter? I thought usually they are made for gender specific. Thanks, Beth
These here are MSR's basic do it all for all model. MSR also makes a women's Lightning snowshoe which are specifically designed for a woman's stride, lighter and narrower than the Denali.
Got these snowshoes this year and love them!They fit my size 13 snowboard boot great and the added support keeps them flat on uneven terrain.(Not so good with regular soft snow boots) With the 8" attachment I was able to charge through 36"+ soft fresh snow and I weigh 207lbs. They break down easily and fit nicely on my pack making them great even on tight tree assualts. Way better then trying to ride with a 30 strapped to your back making them perfect for the bigger riders out there. These snowshoes will get you there leaving the rest up to you!
I have never snowshoed and received Denali...
I have never snowshoed and received Denali Evo Ascent snowshoes at Christmas. What kind of boots are best to wear when using these snowshoes? I am 5 feet tall and weigh 130 lbs. Thanks.
Best Answer
Congratulations! They are amazing snowshoes...As far as boots go, it all depends how quickly your feet get cold. When I snowshoe, I generally take a pair of Gore-tex or eVent uninsulated hiking boots (the gore-tex or eVent keeps the melting snow from entering the boot) and a pair of thick Merino Wool socks. My favorites are the Kayland Vertigo Boots and Bridgedale Summit Socks. This is all the warmth I need even when the temps dip down to the 0 degree F mark because while snowshoeing, your working hard enough to keep your body warm (the hands are the only things that get cold on me). However, if your feet are always cold, I would recommend a 200gr Thinsulate insulated boot like the Sorel Timberwolf Women's Boot. I also like a full leather boot (the Timberwolfs are plenty stiff) because they generally are structurally stiffer and thus accommodate the pressure applied by the snowshoes straps.
Write your question here...Is there a...
Write your question here...Is there a recommended weight for the Denali Classic? I am 165lbs. and would like the option of adding a possible 45lb. pack. Should I be considering other options? Are the tail add ons sufficient to compensate the additional weight?Thank you.
I would highly recommend this shoe. It does take common sense to use it (unlike some of the reviews below) and the binding is actually incredibly stable and shouldn't let your foot move at all. IF USED CORRECTLY you shouldn't have any migration of your feet and large boots should fit as well. The best usage of these shoes is in rough terrain (ie. traversing, intermittent snow and rocks/dirt, etc.). Also it should be realized that the suspension system is contained in the actual flexing of the shoe, not in the pivot. This is a huge advantage.I weigh 175lbs. and often carry a 30lb pack. If I take tails, they will only be the 4 inch. The float on these shoes is more than adequate and the maneuverability is really were these shine. There is a reason why so many people dig this shoe. Of course there will be a few who don't understand it or have issues with how it's to be put on, but those who can figure it out really see the benefits.
Superior Snow Shoe (Say that 5 times fast)
my buddy has used his for several years now, and urged me to buy a pair. I did a month ago, and have shoed all over the tahoe basin this winter. THESE SHOES RULE! I am 6' - 0", 207 lbs, and have no trouble in deep pow. They are bulletproof, and easy to adjust and use. ***TIP*** Spray a little WD40 on the metal to prevent sticking snow!
I got these a few weeks ago thinking that they would be ideal for both trails and backcountry with the addition of the tail fins, but it was definitely a case of 'too good to be true'. First off, these snowshoes are NOT designed for bigger people to use. I am 6'3" 210lbs and wear a size 14 boot. Even with the 8" tail fins, these are nowhere close to an off-trail snowshoe. On about 10 inches of dense, recently rained on snow, I was almost sinking to the ground and when I took the tail fin off, there was very little difference in floatation. So basically, this became a trail-only snowshoe, where it encountered a new set of problems.

The bindings proved to be quite frustrating. They were barely large enough to fit my winter boot and even then, the snowshoe itself wasn't really big enough to accomodate someone of my size. Because the binding is made from a soft material rather than a harder moulded plastic, it is easy for your boot to slide on the snowshoe. When combined with the fact that the binding is attached to the deck on a fixed bar rather than a suspension system, the back of your boot will slide off to the sides on uneven ground. The bindings, while durable and easily repairable, compared to a brand like atlas, are quite difficult to put on and get comfortable in. There were several occasions where I had to stop, take my gloves off and adjust the straps to get a comfortable fit.

Overall, the Denali does have some redeeming features. It is definitely the most durable snowshoe on the market, it has excellent grip and it is easy to repair, but it is not a very pleasant snowshoe to walk on. If you are over 190lbs and looking to go off-trail - FORGET IT! If you are looking for a comfortable snowshoe to take on trails - FORGET IT!

I upgraded to a pair of 10x36 GV Winter Trails and they are head and shoulders above the Denalis for comfort and functionality.