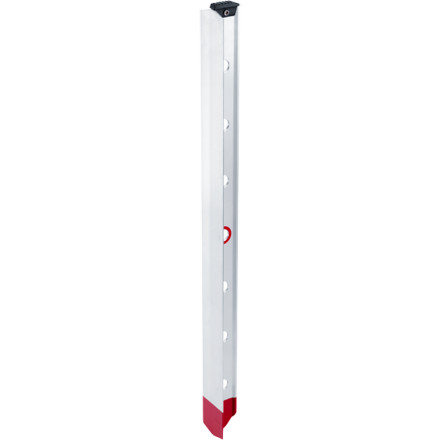 Colors

Community Images
On glacier routes or snowy summit attempts, the MSR Coyote Snow Picket provides a lightweight, reliable anchor that can plunge vertically or work horizontally as a buried deadman anchor for extra protection. Its aircraft-grade aluminum doesn't weigh down your expedition pack, and the picket comes in two sizes to match your mountaineering needs.
Super-strong, lightweight 6000-series aluminum provides strength and durability
T-Shaped design with a reinforced spine yields a super-strong anchor for people and gear
Tapered end plunges through hard snow and ice and top strike plate extends the life of the anchor
Attachment points every three inches allow various applications so you can adapt to your environment
Does what it's intended for
Familiarity:

I've used it several times
I got the 90cm and cut it in half to be practical to actually carry. 45cm's is plenty to build an adequate snow anchor. Otherwise, if you want something that is easier to rig than a pair of skis, more secure than a big stick and still cheap enough to get rid of in a situation that demands it, the picket will do the job. Don't find myself using it too frequently, but when I do, it does the job.
packable and practical.
Familiarity:

I've used it several times
This is your standard picket. its aluminum so its super light yet strong. Bought a 60cm which is a perfect length to jab into a good amount of snow but not so long its not going to hold. anything bigger would be cumbersome and anything smaller wouldn't work well. packable and practical.
Much lighter than SMC's snow picket.
I was going to go with SMC snow pickets until I grabbed both, then held them together and compared the weight.



In the 60cm it was really noticeable and then even more so when you are going to carry two.



The SMC's are like $23 dollars and the MSR's are $30. Plus, the MSR's have the nice rubber nubbin on top to wack at.



I think if anyone compared the weight it is a pretty easy choice of which one to get.



The websites I found say that the SMC 60cm is 13.6 oz and this page says the MSR is 14 oz.. No way in hell. I held them side by side and the SMC's are much heavier.
Unanswered Question
So the pickets I've used in the past were only 45CM and this one is 90CM. Should I cut them in half or what's the use for such a large picket? When I led a route, I used 4x45 CM pickets - 2 as anchors and 2 to secure my snow seat at the top of the route.
IT's an anchor. a piece of metal
Familiarity:

I've used it several times
It goes into the snow, and you don't go for a tumble. Hammer it into the ground or dig a pit and bury it.

There are a lot of attachment holes which makes for flexibility. You don't necessarily have to bury it completely to get a secure anchor.



I think it costs a lot though. Seems as though these could be manufactured and sold for a lot less thna the asking price.
perfect for
Familiarity:

I've put it through the wringer
If you need a 3' picket, theres something sketch going on, and the snow probably doesn't need to be messed with. But a 2' picket, that is a true work of art. Easy to place, and strong in almost all directions. Use an older (but not too old) sling girth hitched, and you have an anchor to deploy anytime. Especially good for quick belays and steep skiing when you just need to make it down a really steep section.
Never without my picket
Familiarity:

I've put it through the wringer
Its a very simple design, its not that heavy for the use of it. I would have went maybe with the longer version. Its very solid, its been hammered on with an ice axe many many times. I would add a little bit of colors to make it more visible but ductape does the job ;)
Does the job
Familiarity:

I've used it several times
These things are bomber when placed correctly. They're essential in any steep, snowy terrain. Easy to carry on the pack, and the new head is very nice.
Pretty straightforward piece of gear.
Gender:

Male

Familiarity:

I've used it once or twice and have initial impressions
It's light and strong, but the shape makes it somewhat unweildly to rack, since they don't nest together that well. That being said, I'd rather deal with that than use a simple angled picket. I also love that it has a "head" to hammer on now. That's a big improvement over the previous model.
simple, smart picket
Gender:

Male

Familiarity:

I've used it several times
Great size for both snow anchors and emergency ice or rock anchors. I like the little added extras that don't really add to weight. Pretty straight forward to rack. I would recommend this picket.
Classic design w/ upgrade
The Coyote picket is a classic multi-option snow picket, to be set as a vertical top-clip, vertical mid-clip, or horizontal mid-clip. Pickets in general can be awkward to rack on a harness to be used as running protection in steep snow but in my opinion are easier to place and less awkward than a fluke. These newer pickets have a plastic abrasion guard to prevent the metal from bending and getting sharp when hammered into firm snow. Also, it reminds you which side is the designated side to be hammered. And to make it a completely no-brainer, MSR highlighted the middle clip with red.