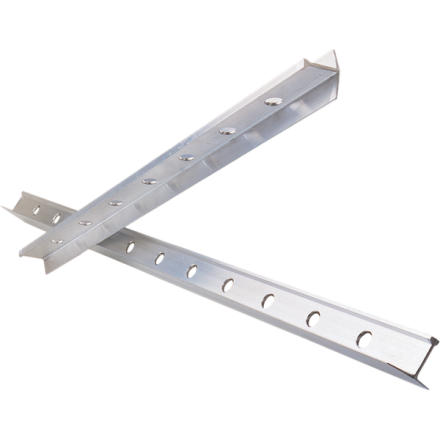 Slam your MSR Coyote Snow Picket into the hard-packed snow when you need an additional anchor. Holes are spaced at three inch intervals to give you flexibility, so you can anchor quickly and securely whether you've driven your Coyote straight into the snow or buried it for even more security. The T-shaped cross-section adds strength and surface area for solid support. The extruded, aircraft-grade, heat-treated aluminum gives you heavy-duty strength without much weight, so you get a hardcore anchor that is easy to pack.
Buy the 24 inch version
Familiarity:

I've used it once or twice and have initial impressions
This is a good picket, but do yourself a favor and buy the 24" version. These might hold better in lighter snow, but you might want to think twice about avalanche conditions if you really need a three foot picket on terrain steep enough to require fixed protection. These are just too long for the pack.
Must have for glacier travel
These are kind of a pain to pack around, but when you need one there isn't much that you can do to use instead. These work great, though I haven't actually had to use it to hold weight yet. Reasonably light and plenty of holes to keep the weight down and give you options for clipping.
A light and solid snow protection for steep snow routes. Easy to use. 2 feet pickets do not tangle around being hanged on your harness or backpack hip-belt gear loops.
This is the classic picket that all your friends wish they had. The standard is 2' – 3' is cumbersome and not needed, unless you plan to saw them in half for 1.5' pickets.
Mandatory on glacier hikes
Great picket, lightweight, reliable and gets the job done!
fantastic piece of gear,but go for the small one as it is more "packable" and great to use
great, but get the short one.
It's very light and a good product. However, make sure you get the shorter one as the longer one is very cumbersome. I couldn't get mine to fit in my luggage and had to pick up the short one at my destination.
I don't really know of any other options so I can't give it 5 stars, however the picket was lighter than I expected even despite the listed 13oz.
How many stakes does this come with?
How many stakes does this come with?
It's a single anchor with multiple connection points. Much better than the Petzl.
This is meant as an anchor for glacier and snow travel. Much better than skis or ice axes, and absolutely necessary for crevasse rescue. This item does not need stakes, but is, itself, a type of stake. Hope that clears things up...
Pound it in when you get wigged out on the sketchy snow slope.
essential for glacier travel. great for crevasse rescue, building anchors, or a running belay. The 2 foot is substantially more manageable then the 3 foot sections, and I would really recommend only getting the 2 foot sections.