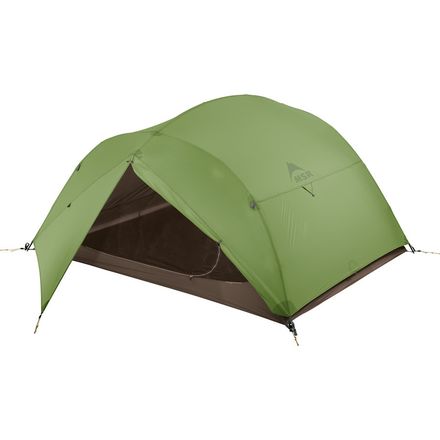 Detail Images

Community Images
Description
Get under the stars with someone special ... and a friend who might wake up in one of the two vestibules.
For cool or hot weather, the MSR Carbon Reflex 3-Person Tent is versatile, lightweight, and spacious enough to fit in a third-wheel. This true 3-season tent weighs in at just over four pounds and is ideal when you want to head far into the backcountry. And, of course, the third wheel can carry it.
Freestanding double-wall design provides superior stability, and three-season construction is ideal for trekking, climbing, and fast-packing applications
Floor and fly seam sealed to prevent water from sneaking in through the fabric joints
Large doors and two vestibules make entry, exit, and gear storage simple
Lightweight, three-pole design keeps weight down without sacrificing structural integrity
Strong Easton Custom Carbon 6.3 poles blend uncompromising stability with tremendous weight savings
Fast-pitch option lets you carry just the poles, fly, and footprint for a lighter-weight rig (footprint sold separately)
Unanswered Question
Which model Footprint for MSR Carbon Reflex 3 Tent: 3-Person 3-Season
floor dimensions? the 2 and 3 person...
floor dimensions? the 2 and 3 person versions both say 84x46 in....
Best Answer
Hey Derek,



The dimensions for the Carbon Reflex 3 are 88x68".



I keep meaning to write another five-star review on this tent. It's amazing and worth every cent. Huge interior volume that really works for 3 people, but light enough to where it's easily justifiable to carry it when it's just 2. This is by far my favorite tent. The only few things I want to point out are that it only comes with 8 stakes and you need 14 to completely guy it out, you'll also need to provide some of your own guy lines, and you definitely want the footprint. With the stakes, the Mini Groundhogs are a good choice, but the lighter version of the DAC aluminum stakes that come with it are best matched with the Kelty j-stakes (item# KEL0777).



Really, get this tent.
Here's full specs that break down the individual component weights:



Add 11oz for the footprint.



Packed Weight 4 lbs 9 oz / 2084 g

Fly with Footprint Weight 3 lbs / 1374 g

Body weight 1 lbs 13 oz / 830 g

Fly weight 1 lbs 8 oz / 676 g

Frame weight 14 oz / 398 g

Floor Area 41.5 sq. ft / 3.8 sq. m

Vestibule Area 20 (10 + 10) sq. ft / 1.85 sq. m

Tent Volume 124 cu. ft / 3530 liters

Vestibule Volume 20 cu. ft / 566 liters

Interior Peak Height 46 in / 117 cm

Packed Size 20 x 7 in / 51 x 17 cm

Number of Doors 2

Freestanding yes

Number of Poles 3 Easton Carbon FX

Number of Stakes 8

Fly Fabric 20D ripstop nylon 1000mm DurashieldTM polyurethane & silicone

Mesh Type 20D nylon no-see-um mesh

Floor Fabric 40D ripstop nylon 3000mm DuraShield TM polyurethane & DWR

Country of Origin Made in Taiwan
This tent is LIGHT!!!! I picked one up off Geartrade for a steal and now that I own it and have used it, I would go back and spend full price for this tent if I had to. I could set up the tent in 3 minutes by myself on my second time ever setting it up, its that simple! It is only semi-freestanding... The corners creep in when they are not staked out, so you definitely want to have the tent staked out to use it. That is my only small complaint. It is bombproof and despite its light weight this tent is a tank. The room is unbelievably! Though I havent tried it I can see how 3 grown adults could sleep in this one tent in moderate comfort. When using it with two people theres still plenty of room for gear in the tent, a dog, AND theres room left over to cook inside if its too windy or cold out. The double doors is a great feature and is very useful. No more getting crawled over when my girlfriend has to go #1 in the middle of the night! If you can afford this tent BUY it. Look no further, this tent is as good as a double wall 3 season tent can get!The mini stakes are a great detail too. High quality, you truly get what you pay for!
I havent really put the boots to this tent.

Ive used it quite a bit through Wyoming and Montana.

Has it seen a category 5 hurricane, 6 feet of snow, or an f 11 tornado?

No it hasn't.

Through regular weather and use, Its held up very well.

I was scared at first it really does feel too light. I thought a stiff breeze would put this tent down and out. 15 or 20 days of use later no breaks or tears.

My only complaint is that it is only semi free standing. It will stand on its own but needs to be staked out immediately to prevent the corners from creeping in .

The Carbon Reflex 1 tent is the lightest, double-wall solo tent we've ever made, crossing the barrier from ultralight to hyperlight. Utilizing the latest fabrics and cutting edge carbon fiber poles, we've engineered a tent that's ideal for any ultralight, 3-season adventure you're ready to take on—from bike touring through Central America to lightweight weekends. The best thing about the Carbon Reflex series tents, however, is what we didn't take out—livability. Packing over 7 ft. (2.2 m) of length, plenty of room to sit up in and a roomy vestibule, we're continuing to prove our philosophy that traveling ultralight should increase your comfort—not compromise it.
True 3-man tent, remarkable capacity-to-weight ratio
I've owned mine for a bit over a year now and have had it out in all conditions, from camping on snow to high-winds in the mountains to sunny and clear- it's a pretty fantastic tent system.
Since the weight is nest + poles/stakes + fly + footprint, you can split the weight out in your party such that each will be carrying minimal weight- and you can leave behind the nest or the footprint, depending on how you intend to use it.

Typically, the "3-man tent" is so often a term of fiction that we mostly understand it to mean "two close friends and possibly a chihuahua could fit", but the CR3 is an honest-to-goodness 3-man tent you can actually sleep 3 full-sized adults + gear in, without everybody being elbows and ankles in each others' space. When it comes to sleeping, spooning is an option, not a requirement- unless you try to stuff 4 people in there, which would be doable if you're willing to be as friendly as some tent makers seem to think we all are. My wife, 2 kids, and I can fit comfortably, with room for a lot of extra stuff.

Most of the floor space is usable up to a sitting adult's height. Each corner in the nest features a stow pocket for glasses, headlamps, or what-have you. There are also eyelets from which to hang sundries on the inside of the nest.

Space in the vestibules is generous, and each vestibule is accessible from both inside and outside. I can fit two large packs in a single vestibule and still have room for my stove, fuel canisters, and a couple pairs of boots. Vestibule doors can be rolled up out of the way (to be secured with a simple button/hook thingy), and nest doors roll up and to the side for similar stowing). There are guy points at all corners of the fly, plus velcro loops on the inside of the fly to secure the tent poles in place. (pro tip: without these secured, the tent is flexible indeed- so be sure to do these up even when the weather 'looks like it'll be fine'.)

Ventilation in this tent is glorious. Condensation is just not a problem at all.

Properly staked/guyed out, this tent stands up well to wind and weather- it flexes, but has stood through some significant storms (50+knot gusts) on my watch. I am routinely surprised at the conditions it withstands, actually- It doesn't make sense that such a light, flexible set of poles and fabric should be so strong and resilient.

With 3 poles, pitching is a simple one-man job, takes 3 minutes- a few more than that to properly guy out and secure all points. Taking it down is similarly simple- and unlike most tents I've owned, I am able to get everything back into the stuff sack without any extraordinary effort.

Basically, it's a bigger, lighter, roomier, more comfortable tent than anything your friends have.
The only downsides: it's pretty expensive, and you need a big enough spot to pitch the thing. Oh, and your friends will insist on using your tent, instead of theirs.
at the Col di Pra campground in the Italian Dolomites
Does this tent have access to both vestibules...
Does this tent have access to both vestibules from the outside, through the fly?
Yes, the fly is symmetrical so that it has a zipper for each vestibule.
Fly Camping! Yes FLYING To Camp!
Freaking awesome tent! The weight with stakes and the bags for poles is 4 lbs 11 oz. With the footprint it is 5 lbs 6 oz. Now you know the actual weights as you always wonder what they do and don't weigh. I didn't like that they make you cut your own guylines. Did a crappy job of it in the mountains after pulling the tent out for the first time. A bit flopsy in the wind but if you stake it down really well it does nicely. You can close the doors one handed but it takes 2 hands to open them. I love the vestibules, one side held my XL K2 paraglider unfolded, just stuffed openly, and had plenty of room left. You can't beat the real estate for the weight and the tent is just marvy supreme. Coolest tent ever. Don't be a cheapskate, just buy the best the first time and be done with it. This one is the ticket!!
I was looking for a spacious 2-person tent for Europe travel, so we could be ready for camping in some cases, but I wanted to be able to pack camping gear without having to pay for an extra bag. This tent is amazingly light, simple to set up, and extremely roomy and comfortable to live in, and is really the ticket.

The poles are amazing, carbon fiber and weigh almost nothing, and even the tent stakes are an impressive bit of ultra light engineering which you can't help but appreciate aesthetically.

It's supposed to be a 3 person tent, and it seems very large for 2 (not always the case in my experience with "3-man"), which is nice if you are really staying in it with clothing, etc for a while.) It has nice head room in the center, and feels very large inside. While we were unable to bring the puppy on this trip, it will be a perfect size for 2 humans plus dog in the states. I especially like that each person has an identical side door with a vestibule. This makes it nice for both easy in/out at night, and also for eating in the vestibule on rainy days.

We have experienced some serious all-night rain, and have stayed overall very dry, with just a couple instances of light misting when the rain has saturated all surfaces and continued to pound for over 48 hours. Which I'd say is pretty good. Staking out the 2 sides of the fly is very easy, and helps with the tent's water-repelling system because it pulls the fly tight and keeps it from contacting the tent surface.

I've lived in a lot of tents, and this is my current favorite.
Plenty of ventilation, so no dew build up, but you must stake the rain fly or it will contact the tent causing water on your gear/floor. Very easy setup and take down. Get the footprint too, it's very light weight and has saved me from cleaning the tent several times.