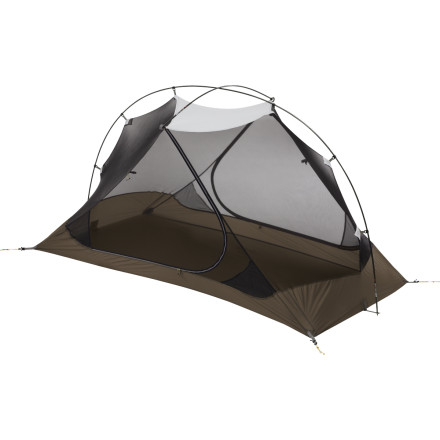 Detail Images
You hit the trail as a party of two, and you're already hauling heavy packs, so the last thing you want are cramped sleeping quarters or a heavy tent. Reach for the feathery-light, dual-vestibule MSR Carbon Reflex 2-Person 3-Season Tent. With only two poles, both made from carbon, this lightweight tent sets up in a flash and offers a generous 40 inches of headroom.
Lightweight body material keeps this tent light enough for backpacking, without sacrificing durability
Rain and precipitation easily slide off the waterproof coating on the outside of the lightweight fly
Two-pole, quick-clip tent-and-pole interface makes for fast, easy setup even if you're tired and it's late
Dual vestibules and two-door design means separate access for each camper and plenty of storage for both parties' gear
Pitch this tent with just the fly and footprint (footprint sold separately) and shave some weight with the fast-and-light configuration option
great little package
Familiarity:

I've put it through the wringer




Only used for about 10 night out so far but defiantly a fan. great little tent and i do mean little. If my wife wasent 5' and 104lbs I dont think we would fit. its the exact size of 2 regular thermarests sided by side with a touch more in the length. The 2 vestibules are a good usable size and fits all the gear we take on a long weekend backpacking trip. once you figure out how to stake it down it dosent feel like an ultra light tent and are no compromises from any other tent.



And on our last trip out in Death Canyon in Teton NP it rained all night and all day. when it came to take down it was nice being able to take down the inner tent separate from the fly and ground cloth so to keep it dry for the next set up. very clever and very well made...


Great Tent - Crazy Light.
This tent is insanely light. Has held up to pretty serious rain in the high Unitas with no issues. Its a bit tight for 2 people, but not too bad. Large vestibules on both sides. I wish it did have double doors.
Good in the summer, great in the winter!
Gender:

Male

Familiarity:

I've put it through the wringer
Just got back from a very cold winter outing. The carbon fiber poles handle the cold well - my buddy had to use his stove to warm up his AL poles before taking them apart. I also used a silver reflective emergency blanket between the tent and the rainfly to keep the inside a little more toasty. My only gripe about the tent is that it is difficult to ventilate if it is raining. MSR recommends opening the door from the top and placing the pole shim in the opening to help ventilate, but that doesn't help if it is raining. I haven't tried it yet, but I considered, after the fact, staking out each door individually so that the doors overlap for rain protection but don't zip (allowing more ventilation).

For me, 5'10" 200lbs, this tent is a very roomy one person tent, but it would be very uncomfortable to have anyone else but my wife in the tent with me. The weight allows me to carry all the tent materials without feeling like I took too much stuff. It also packs small enough that I can stow it in the hatch of my Carolina 12 kayak and have PLENTY of room for sleeping bag, food, stove, booze, etc. all in the same hatch. It comes with good stakes etc, but I got some extra stakes and glow cord to really tack it down in case of high winds.

Definitely go with the 2012 version with the two doors - in the 2011 version, the opening to access your rear vestibule from inside the tent, is just poorly designed. -The vertical zipper barely allows anything but your fist to pass through. Otherwise, this is a fantastic tent!



Oh also, my cross pole (on the 2011 version) snapped square in the middle (the contact point with the main(long) pole)! MSR replaced it at no cost and explained that the replacement (native to the 2012 version and later) has a slight curve in the middle section to allow for more flex against the downward tension on it.
In the Guru Photo above, the dimensions...
In the Guru Photo above, the dimensions depicts both vestibules as the same size. I just received the tent and the graphics on the tag (the round cardboard "sales" info) on the tent show the rear is smaller. Is this just left over from the 2011 model or, is the rear vestibule actually smaller?
Best Answer
It is 2012 inventory. The hangtag may be an old tag that was from the 2011 printing. But if you set it up it should have equal vestibules.
It depends what you paid for it. Backcountry.com has two tents listed, the 2011 version of the Carbon Reflex 2 and the 2012 version. If you purchased the tent at 30% off retail, then you most likely got the 2011 version which has one door, one large vestibule and one smaller vestibule in the back of the tent. If you paid $499, then you got the latest version which has two doors and two vestibules. You can see the 2011 version here: http://www.backcountry.com/msr-carbon-reflex-2-tent-2-person-3-season-cas0527.
It seems there are many confused on exactly what you're getting with the 2012 Carbon Reflex 2 Tent. For starters, this is the 2012 version which has two doors and two vestibules, similar to the MSR Hubba Hubba. This is the lightest weight 2-man tent MSR currently sells. The 2011 version has 1 door and 1 vestibule and is a few ounces lighter.

The other point of confusion has to do with the brand new carbon fiber poles designed with Easton and that are exclusive to MSR. Anyone who thinks these can't take the abuse of wind, rain, and even a bit of snow has no idea what they are talking about. I find it comical that someone would deem them susceptible to breakage just by setting the tent up in their back yard, or worse, by simply pulling them out of the bag. I can assure you that both MSR and Easton has tested these poles way beyond what most people would put them through. There is no way MSR would include a pole section that would 'break over time'. It's not going to happen. These poles are significantly stronger than their aluminum pole equivalents and you can be assured that they will work as promised.

The materials are absolutely the best available! The fly is comprised of a 20 denier, 330 threadcount nylon. It has tremendous tensile strength for a super taught pitch (the tighter the pitch the more wind and weather resistant it is) and all of the guyout points are reinforced with a laminated patch of nylon. The fly can be pitched separately when you use the Carbon Reflex 2 footprint. The floor is a 40 denier, 3,000mm DuraShield polyurethane coated floor, substantial when compared to other sub 3lb tents on the market. The DuraShield coating is superior to any other tent coatings available. If properly stored, this coating will last for many years without any concern of delimitation no matter whether it's stuffed in or folded (the tent must be stored dry). The main body is a 20 denier no-see-um black mesh that disappears when it gets dark. It really feels like you're sleeping under the stars, but with complete bug protection. The details are also worth mentioning. You simply get the best stakes available in any tent. They are MSR Mini Groundhog stakes made from extruded aluminum, super lite (10 grams per stake), Y-shaped, and red anodized. They are nearly indestructible and retail for $3 per stake. The tent, pole, and stake bags are also finished complete with taped seams to keep them from fraying. MSR has included NiteEyz cord locks on each of these bags to insure they don't slip, thus the stake, pole, and the tent bags don't lose their contents. The details are an example of the quality and attention MSR puts into everything they do.

This is intended for those who want livability in a sub 3 lb tent and demand the best quality available. Are there lighter tents? Of course, but not in a double wall tent that includes 2 doors and 2 vestibules, and with the amount of room that the Carbon Reflex 2 has! This is a true 2-man tent (the way MSR determines this is if it can fit two regular size Thermarest mattresses (20in wide X 72in long) side by side with out overlapping the other). It also has enough room for at least 2 people to sit in without touching the walls. You can actually change your clothes in it!

I've included the dimensions and specs.
For the weight this is a great tent. I have slept several night in this tent with me (200lb and my wife 120lbs). For 3 lbs you get to 2 vestibules, 2 doors a pretty roomy tent. It is not free standing, but has great head room when sitting up. Most none free standing tents have terrible headroom. The fly material is super high quality. There are reinforcement patches on on all the stake out points, and wear points to keep the fly in great shape for many years of use. The only gripe I have is I wish there was just a little more head room right where you head is while you are sleeping. However, for all the room, features and weight I think that it is easy to over look this.

The Carbon Reflex 1 tent is the lightest, double-wall solo tent we've ever made, crossing the barrier from ultralight to hyperlight. Utilizing the latest fabrics and cutting edge carbon fiber poles, we've engineered a tent that's ideal for any ultralight, 3-season adventure you're ready to take on—from bike touring through Central America to lightweight weekends. The best thing about the Carbon Reflex series tents, however, is what we didn't take out—livability. Packing over 7 ft. (2.2 m) of length, plenty of room to sit up in and a roomy vestibule, we're continuing to prove our philosophy that traveling ultralight should increase your comfort—not compromise it.