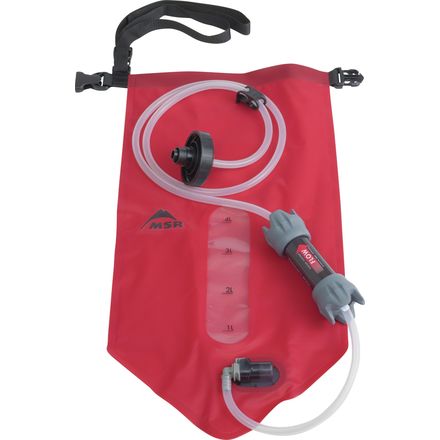 Detail Images

Videos
Collect, filter, and store your water in the backcountry with the quick and convenient MSR Autoflow Gravity Filter. This field-cleanable filter lets gravity do the work and cleans nearly two liters of water per minute. The four-liter reservoir holds enough wet stuff for your whole group, and the adapter end piece fits onto most standard water bottles and reservoirs. It's field cleanable, too, so you can remove all the bacteria, protozoa, and sediment that's been filtered out and have a filter that's good as new in minutes.

Hollow fiber filter
4L reservoir
Universal bottle adapter
Field cleanable
Gravity powered
Never pump again
Familiarity:

I've used it several times
Packs up small and lightweight, filters water super fast. Almost zero effort involved in getting 4 liters of clean water. Just fill up the dirty reservoir, connect the filter element and whatever you need to fill up, and let it go!
How to Backflush: MSR AutoFlow
Step Up from Pumps
Familiarity:

I've used it several times
Using gravity instead of muscle is a great improvement. The fill bag is large and the tubing and filter are simple to assemble. As with anything new you have to get in the rhythm of two filter fills to one backwash cycle. As others have said, clearing small bubbles is critical. Went to Yosemite high country and filtered water for group of seven. All were converts at the end of the trip. The only time we got the advertised flow was the first time we used it. It slowly clogged with the lake water we used and had to be backwashed religiously with filtered water to increase the flow again.
Awesome!
Familiarity:

I've put it through the wringer
I used to hate having to go back to a river from camp just to refill my nalgene. No more! I can get multiple refills from camp. It's super easy to use and compact. The cap on the fill end is perfect for keeping contaminants out.
Consider me a convert
Familiarity:

I've put it through the wringer
I just completed three days on the Timberline Trail on Mt. Hood in Oregon. The Autoflow kept my 3 hiking companions and I stocked with fresh filtered water with no problems the entire trip. The flow rates were much better than expected and easily met the 2 L /PM as advertised. We each were able to fill our 3L hydration packs in the time we'd watch other hikers take to fill a single 1L Nalgene. Be sure to hang the bag high to eliminate any air bubbles and let gravity do the work. The bag is bombproof and the included mesh storage bag makes stowing and accessing the filter very easy. I will never pump water again.
Won't ever use a pump
Familiarity:

I've used it several times
Easy to set up, easy to use. As others have noted, it's amazingly fast and the bag is awesome. I've not used in murky water yet, but mountain stream water was crystal clear and tasted great. I still carry backup MSR Aquatabs as others have noted, but ultimately felt super comfortable with this. Highly recommended.
Rocks with a bit of effort
Familiarity:

I've put it through the wringer
Amazingly fast if you take time to completely clear air from filter (shake filter to help release trapped air) and tube, otherwise more or less average flow. Worth the time to get flowing right if you'll filter several liters of water.

Keep an eye on bottles\containers or you'll end up with water everywhere. I've overfilled many when I underestimate the flow from this filter.

Has pre-filter in bag which strains all but fine particles. To clean pre-filter flip the source bag inside out and swish in source water.

Make sure source bag is full, hang high so tube goes straight down, and leave clean side adapter a little loose to allow air to escape as water fills for best performance. If air can't escape as container is filled air will compress and ultimately slow/stop the flow of water, you shouldn't have a release of air when adapter is removed.

Use included clamp to stop water flow while switching bottles to avoid a big wet mess.

Pack source bag with snow and hang from pack or otherwise place in sun to melt and save some fuel.

Includes screw on cap to protect clean side adapter when not attached to bottle or other clean container

After using this I won't go back to pump filtering.

Always carry a backup option, I keep MSR Aquatabs in my first aid kit.
A vast improvement over pumping. So nice to focus on other tasks while you filter an enormous amount of water. Filter rates of 1 L a minute though are highly optimistic. The biggest issue seem to be air bubbles which get lodged in the filter medium. These can be removed by backflushing after you filtered a half liter of water or so but still the filter rate was never close to what was claimed. Maybe in a crystal clear Alpine stream but I was working with murky desert water.

The dirty water bag seems bomber compared to the competition and dromedary bags are still the best. Filter seems a bit fragile but is easily replaced.

Recommended.