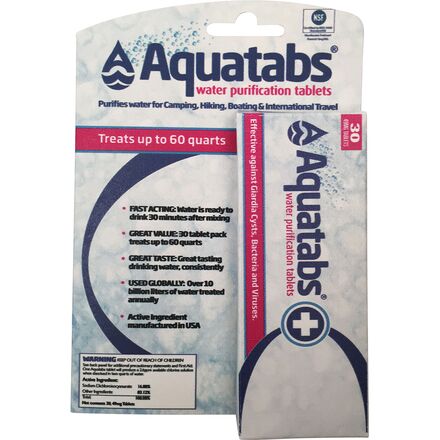 Colors
Stow MSR's Aquatabs Purification Tablets safely in your pack or ammo can before embarking on an extended backcountry trip or travels to the far corners of the globe. Water is always a priority, but if improperly treated it can quickly become your enemy. The Aquatabs Purification Tablets help keep you safe even in the most remote locations.
Meets EPA purifier standard for the neutralization of viruses, protozoa, bacteria and giardia cysts
Each tablet treats one liter of water, and treated water may be used to disinfect items like toothbrushes
Short treatment time of 30 minutes means you're hydrated in no time
Comes with 30 tablets
Share your thoughts
What do you think of the
MSR
Aquatabs Purification Tablets
? Share a...
Great for treating drinking water
Always in my pack as a backup to my Steripen. Check out the product page and FAQs:

http://www.globalhydration.com/product-info/aquatabs-water-purification-tablets-49-mg-usa-pack
This is a must have in any survival kit. Plain & simple
Awesome
Familiarity:

I've used it once or twice and have initial impressions
MSR tabs, I pretty much love them. My husband and I just returned from a trip in the Wenaha/Tucannan wilderness. Every few miles we were able to find a spring that had the most beautiful crystal clear water and I just wanted drink right from them but to be safe we added these tabs and to my surprise it taste like we were drinking right from the spring. It was brilliant. We've been using the PotableAqua Tabs only becasue we have a seemingly endless supply of them, but they have this light but always noticeable after taste/smell that just takes the allure out of drinking mountain spring water. I'll never go back. Even if we go someplace that we have to use the pump filter first, I'll still drop one of these in.
You never know....
Familiarity:

I've used it once or twice and have initial impressions
Its better to be safe then sorry (or dead). I bring these along in case something weird happens. Low on weight high on life saving ability.
Great to have as a backup
Familiarity:

I've used it once or twice and have initial impressions
I haven't had to use them yet, but it is good piece of mind know I have them available
Great backup Plan
Familiarity:

I've used it several times
Just like the other reviews say- these tabs make a killer water purification back up plan. Tiny tablets are easy to throw in any first aid kit. Kind of a funny taste ( what do you expect?), but better than getting sick!
Good safety plan
Familiarity:

I've used it several times
I gave some of these to my parents who were heading to Asia for a month. They had a filter but I liked the comfort these gave me, knowing they had a backup plan just in case. They seem to do the job as advertised. Not a bad item to have in an emergency kit or in food storage for those times when, you know, zombies are everywhere...
Great Backup plan
Familiarity:

I've used it several times
All around its better to have at least one backup plan when it comes to water on the trail. The tablets work great. My only complaint is the harsh chemical taste in the water after use.
Ultra-light Insurance Plan
Familiarity:

I've put it through the wringer
For primary purification, I carry either a steripen or a squeeze filter for speed and ease of use. But it's always nice to have a super lightweight backup plan that weighs nothing and takes up no space. Always keep 6 or 8 of these in the emergency kit just in case.
Scary stuff!
Familiarity:

I returned this product before using it
I purchased these tablets to save on some weight, so I could leave my filter at home. After reading the full multi-paragraph warning/poison/side affect section on the back, I knew there was no way I was going to ingest this. They recommend when handling these tablets you wear safety goggles & facemask!! It is harmful if swallowed, touched to skin/clothing, & can cause irreversible eye damage. Also Poisonous to aquatic life.

Sodium Dichloroisocyanurate is NOT meant to be ingested...
Do these tablets have an expiry date?
Do these tablets have an expiry date?
Best Answer
The MSR Aquatabs Purification Tablets have a five year shelf life.
Anyone know how treatment time scales with...
Anyone know how treatment time scales with temperature.. I know the colder the water, the longer.. but at what temp do I need to start worrying about this? I lost my destructions.
Back of the package says the water temp may be as low as 40deg F. So I imagine below that you need to get it warmer somehow (maybe put it in your sleeping bag).
I have a water filter pump and a steripen but when it comes to water quality I take as little risk as possible and having a third backup when you're out there, especially with the responsibility of others, is not only the right thing to do but also the ethical thing. Lack of potable water is a life or death situation.
Easy Way to Safe Water
Familiarity:

I've used it several times
These tablets are truly an easy, great way to make your water safe. Whether traveling abroad or backpacking in the backcountry these are easy to carry along (they come in sheets with pills about the size of a baby aspirin), fairly quick to treat water, and actually taste good. Would recommend taking some along if you are headed to an area with water concerns.
Easy and effective
Familiarity:

I've used it several times
Used on a 10 day trip as extra protection with a pump. MSR also states that these are ok for long term use while many are not (called tech support). Slight chlorine taste but totally acceptable. Not even sure if i could tell in a blind taste test or if it was just mental
Great Product
Familiarity:

I've used it several times
Used on a 5 day trip. Much more convenient than pumping. No off flavors, just tastes lightly chlorinated. I loved how I could just drop a tab, and 30 min later have drinkable water. I will be leaving my pump at home.
iodine or chlorine dioxide?
iodine or chlorine dioxide?
They're sodium dichloroisocyanurate.