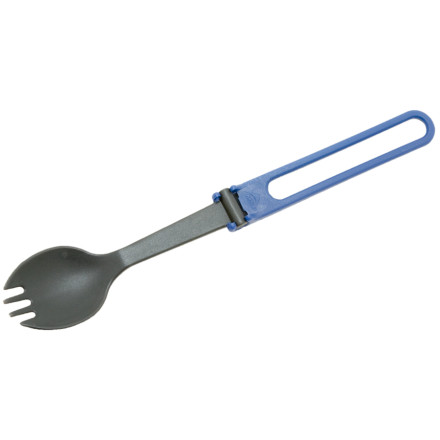 Detail Images

Community Images
Maintain your ultralight ethic without eating like a caveman thanks to the MSR Spork. This collapsible combo utensil stabs pasta, scoops soup, and spread peanut butter like nobody's business, all for less than a single ounce.
Unusable...on sale for a reason.
On Sale for a reason.

As others have noted the plastic is too brittle and will break. I returned 3 or 4 each one breaking the first time I opened it.

A serious blunder by MSR.
Basically a no good POS!!!!
Gender:

Male

Familiarity:

I've used it once or twice and have initial impressions
When I was camping in Grand Teton National Park, two of these broke on us that were BRAND NEW!!!!!!!!!! I was taken care of, so no problems in the end. The swivel part broke on us & exchange the spork for a Jet-Boil utensil set that slides out.
I dont know if this was a defect in just this one case, because i bought two and the other one is fine. After the first one broke, i folded and unfolded the second one a couple dozen times to see how it would hold up and it did just fine. I will return it, and get a new one and see how that holds up.
I don't know about this product yet!
I bought two of these sporks one red and one gray, the gray one broke immediately after the first opening. I played around with the red one to see if it would break. I opened and closed it a couple dozen times. And it is completely fine. So this might just be a defect in this one. I'm not sure yet. I will have to send it back and get a new one and see that one does. If it is fine I will definitely recommend this product and keep them. If the next one breaks. I will return both and find another utensil for backcountry use. I will update my review when I get the other one.
Took it right out the package, opened it once, closed it, and the hinge broke. I think I'm going for a metal spork.
Beautiful in it's simplicity
This spork does exactly what it is supposed to do. Its light. Short enough when closed for packing. Long enough when opened for those harder to reach meals. Locks tight without collapsing. The plastic doesn't harm my cookware. I am interested to see how durable the plastic is, as well as how well the locking mechanism holds up, after many uses. But the price is right and it does its job perfectly. You won't regret picking this spork up.
Works great. The handles are nice and long. It's easy to reach in a freeze dried bag. My only complaint is the price. It's just a fancy piece of plastic. Why did the Flex 4 system not come with these by default? Drop the price or include them and I'd give this spork 4 stars.
Wow do I love this spork. The things that I like: It is very light, it is longer than any other backpacking utensil that I have owned, it folds up to fit into my cooking pot, the locking mechanism is bomber and holds tightly. The things that I don't like: nothing, I have no idea how they could make this spork better. The price is great too, I highly recommend it.
When I bought this folding spork I was a little bummed about the length. The minimalist in me said that I could still eat with this spork if I just broke off the folding part.

It was a little later that the I realized this length is there for a very good reason. This length is a must for digging into mountain house meals or any other kind of bagged food that requires a utensil.

I also like the fact that is plastic. I have a non-stick coated mess kit, so in the event that I am eating directly out of the pot I don't have to worry about scratching up the coating.
Puts food in my mouth, like the long handle for digging tuna from a pouch, locks into place without collapsing
Nice design: nice size for packing, length is good and it snaps firmly in place when unfolded. It's cheap. The only downside is that it's plastic and could break.
how long folded and un folded is this...
how long folded and un folded is this spork
closed it is about 4.5 inches or 11.5 cm. unfolded it is about 8.5 inches or 21 cm
The exact answer is given by dti, but I wanted to add that this is a great length for digging into those deep mountain house bags, while still folding down to a good size to throw in a mess kit with your stove and canister.
This was a great purchase. This spork worked great with the dehydrated meals. The extra length allowed me to eat my meals without getting my hands or gloves covered in food from the dehydrated food containers.
Anybody try to get this past TSA?
Anybody try to get this past TSA?
I don't see sporks on the TSA's prohibited items list and I doubt this is much sharper than your average butter knife (which are allowed). I think you'll be ok.
I would agree with Geoff, if its not specifically on their list, its probably ok--though ultimately its up to the Agents checking your carry-ons.

Hypothetically, note I am not recommending this :D -- you could just stick it in your pocket and walk through the metal detector. This has no metal in it, and as long as you aren't wearing skinny jeans, they would never know the difference.