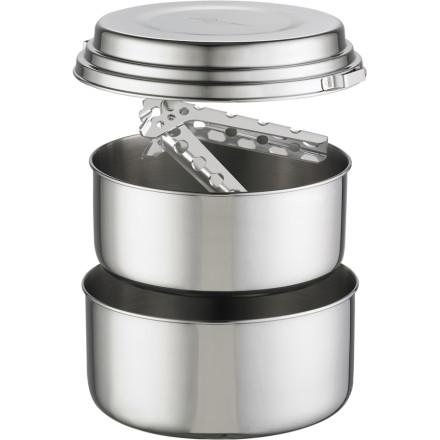 Community Images
Description
Durable cookware for remote locales.
In base camp or on longer expeditions and multi-day backpacking trips, the MSR Alpine 2 Stainless Steel Pot Set gives you durable cookware for two or more people. This kit features two pots, a lid that works for both, a pot grabber, and a storage sack.
These have been around forever
I grew up using these pots. My set must be over 20 years old at this point. These days, there are lighter-weight options, but none more durable. These are still the pots I grab when kayaking or canoeing, when weight is not as much of an issue. I particularly appreciate that the lid can be used as a frying pan. I suspect these pots will always have a place in my gear box.
This pot set is great. It's exactly as described. I ended up returning mine because it wasn't exactly what I was looking for though. The lid was shaped to fit as a lid for both pots so it wasn't going to be good for doubling as a pan. If all you're making is an egg or something small like that. I for one think that just because we like romp around the woods and "rough it" doesn't mean we have to eat like cavemen. There's lots of great low weight recipes out there and I'd rather carry a little extra gear to make a really great meal. More to the point, if you're looking for a lightweight two pot set that'll be great for boiling water, soups, etc. then look no further. These pots really are great. Also, the pots to snap together but there is a bag that comes with it. Just pack it tight so there isn't a bunch of jingling.
Pretty good cookset!
Familiarity:

I've used it once or twice and have initial impressions
This is a pretty good cook set to use with many backpacking stoves. I have used it a few times with my whisperlite stove and can say it does a great job of cooking and serving up meals. The lid is ok for cooking some things but I would recommend getting a different pan if you are looking to cook anything serious!
Tough Cookset
Familiarity:

I've used it once or twice and have initial impressions
Got this cookset to go with my Whisperlite Universal and they are awesome. Tough and durable without taking up a lot of space in my pack. They let my stove nest inside so I have one small setup and its all together in my pack.
Versatile Cookset
Familiarity:

I've used it several times
A few friends and I used this on a trip to the City of Rocks.



Our cook set up was an MSR Pocket Rocket for the stove and then the MSR Alpine 2 Stainless Pot Set (This Set).



Multiple Pieces:

These pots nest nicely with plenty of room for the pot grabber, a stove (depending on size) and other goodies.



Pot Grabber:

It's just two pieces, it's light weight and simple. But the major draw back is that it's not spring loaded. Some of the time I was a little worried about dumping the hot food while cooking but the pot grabber was fairly good at grabbing the pot.



Stainless Steel:

It's fairly light weight. I wouldn't be taking this backpacking. But since we were car camping while climbing, there was nothing wrong with this weight. When we cooked on this, my friend managed to burn the food to the bottom of the pot even though he was constantly stirring the food. Kind of a disappointment to see it marr up the bottom of the pot.



Lid:

Depending on what you're cooking, you can cook some food in it... say eggs or bacon.



Over all this is a decent set.





Jared D.

Gearhead

800.409.4502 ext 4055
Used this kit backpacking with Boy Scouts for 10 years, decided to get one of my own. It's the best 2-pot set I've tried. Super durable! I love that my MSR whisperlite stove fits inside the pots so everything packs up into a little package.



I used the lid as a frying pan on my Whisperlite and can confirm that this is not the best idea as the metal is too thin (the food got burned up pretty quickly)
Great Set
Familiarity:

I've put it through the wringer
I've hade this set for two years now and it takes a beating. I added the alpine fry pan and a GSI Kettle, and there is nothing I can't cook. Flipping the lid upside down makes it into a double boiler, so five pieces of cookware effectively function as a whole kitchen. I have used it for up to four people and have never seen it be insufficient. Over fires, stoves, even solar cookers: best set I have ever used, hands down.
jack of all trades cook set
I bought this set after using a family members. It is just what I need for backpacking. Like others mentioned you could just take and use the larger pot. I am able to put a tin coffee cup into it with lighter and dish rag...and I like that packability. I don't see myself owning something else besides this set.
Nothing special here besides the fact they last forever. A bit heavy but I prefer it to Aluminum. I've used these from the backcountry to the kitchen stove and they're great no matter what you're cooking.
I've had this set for over twenty years. The outside of both pots are absolutely coated with carbon that will never, ever come out, and I like that - call it a patina.

One of the best features is the lid: Not only does it fit both pots, but it can be turned upside down to act as a double-boiler - great for reheating without getting a big pot dirty. I often use it to warm up a Clif bar in cold weather while boiling water for oatmeal or coffee.

I usually only take the large pot and the lid with me. My MSR Rapidfire, inclusive of the windscreen and pot grabber, fit nicely inside the pot.
These are great pans that will last for years. I can fit one fuel can and my pocket rocket inside, throw it in my pack and I'm set to go. Definitely worth buying.
Ive had this set for 10+ years and it has been all over the world. Everything I need fits in the 1.5 L pot and I secure it with a wrap so nothing creeps out. Excellent, do everything, basic cookset.
Could the lid possibly be used as a frying...
Could the lid possibly be used as a frying pan? Also what are the dimensions of this set in inches?
I do see where it was answered that it can be, but then it was stated that it cant be. I also forgot to mention that im using an MSR pocket rocket and sometimes over a fire.
Sure you can, but not really for proteins (fish, eggs, meat,) unless you have plenty of fat (lard, butter, oil) and are able to regulate the flame, or adjust the pan to the distance from it. So, for your pocket rocket, less likely. But if you can regulate the heat over a flame by moving it further/closer to the fire, sure. One way to use the lid, as well, is as a double boiler. Put plenty of water in one of the pots, and instead of putting the lid on like you normally would, turn it upside down. You'll get plenty of heat to slowly cook some proteins (small fish, and eggs) without burning them. As for the diameter, The lid and large pot, 7.5", the small pot, 6.5".
Best Answer
No, it cannot be used as a fry pan as the metal is way too thin. I tried and it immediately oil-canned from the heat even though my stove was set to simmer. Makes a great lid and plate though. If you want a lid to fry in, try the Primus stainless steel pot set. It has a much thicker bottom with a layer of aluminum sandwiched inside. Of course that makes it a little heavier to carry. The pics are the Primus fry pan.
The apes will really appreciate these when they finally take over.
Bought mine from a neighbors garage sale for five bucks. Silly mistake. I am told they are older than me. I've had these completely blackened from dirty cedar wood fire and they cleaned up like new while at camp. Fantastic on a stove. Good size for a pack of 4 travelers if you cook smartly. Mine came with webbing and a buckle to secure everything - highly recommended if not stock. Weight penalty perhaps but theyll be eating what's left of humanity out of these things when the time comes.
these are a classic for a reason
Not sure why the majority of these reviews are 4/5 stars; sure, this pot set isn't made out of anodized unobtanium, but it is just about indestructible, and less than half the price of comparable sized and function titanium kits. Both pots pour very well. The lid/frying pan seats very well on both pots. It works fine for frying too, although that depends somewhat on your stove and a lot on your patience- no different than any other lid-frypan over a backpacking stove. This is an excellent, very durable 2-4 person heavy backpacking stove. It particularly shines on trips where weight and size are not at a premium- my set gets the most use during the winter (throw it in the pulk), car camping, and canoeing. Not so great for 1-2 person summer backpacking, but that's what the foster's can pot is for.
The obvious question is what is the capacity...
The obvious question is what is the capacity of each pot?
Real versatile cook set. Been using mine for about 8 years now and it is still functional to last a few more.
Good to have around the campsite
This is a great set to have for boiling water for groups up to four or five, I use this to boil water whenever I go camping to make tea, instant stuff, whatever, and the stainless steel is nice and easy to clean...the handle is cool too!
Will this work for a group of 5-6 or should...
Will this work for a group of 5-6 or should I get another pot?
It really depends on what you're cooking. If you're only boiling water, you should be fine. If you'll be cooking meals in them, I find these two to be a little small. They're just about right for 4 people, but with 6, you'd want something else to supplement it; maybe another 1.5 or 2 liter pot. Going with MSR would allow you to use the same lid/heat radiator/ and any other size specific accessories - but this is of course not necessary.
Best Answer
Unless you're committed to stainless steel, another thought would be something like the hard anodized aluminum MSR Flex 4 set (item# CAS0545) with a 3.2L and 5.3L pots. You get a good usable volume and versatility, whether you want to just boil water or cook a meal for that many people at once. As Knanier says, the difference in what you have planned makes a huge difference.