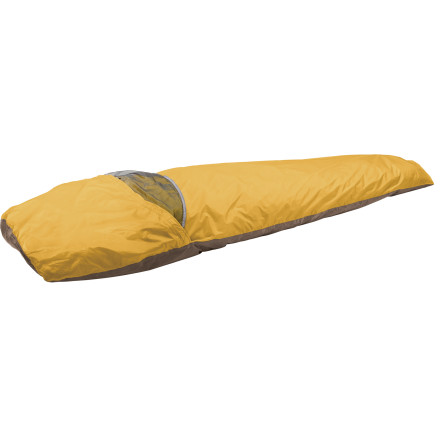 Community Images
No matter what the season, some prefer to go it alone in the mountains. And for minimalists of that mindset, MSR created the all-weather AC Bivy and outfitted it with a waterproof breathable top and a DuraShield-coated floor. Top and bottom protection from rain, sleet, snow, and wind is vital, but all is lost if you sweat to death during the first five minutes inside. To this end, the AC uses a zippered mesh closure that helps to vent some of that hot air out and away. Slide your sleeping bag inside this simple one-pound sack, and stay dry while you sleep off a long day of pounding trail or pulling rock.
Single-wall bivy design saves weight by eliminating the need for a tent canopy, poles, and fly; ideal for climbing and trekking applications
Top panel made with waterproof breathable fabric to repel wet weather and reduce condensation
DuraShield-coated floor provides advanced protection against wet surfaces
Taped seams prevent water from sneaking in through the cracks
Front mesh window keeps bugs away and improves ventilation
Ultra-small, lightweight design won't weigh down your pack and packs up super small
Is the overall length 88in, including the...
Is the overall length 88in, including the head portion for storing your pack? If this is the case, about how far from the feet is the mesh panel?
I tested this bivy out on a cold, dry night in the desert and woke up in the morning covered, i mean completely covered, in frozen condensation. I did not even have my head all the way in the bivy. I returned the bivy soon after. I recently returned an msr tent for the same reason. I don't think the materials that msr uses for their tents are up to par as far as breathability is concerned.
In terms of images and reviews, it seems...
In terms of images and reviews, it seems that the information on this Bivy is rather limited. I understand that in terms of the materials used, this is "waterproof." However, the only single image that I can find online shows the exposed mesh area towards the shoulder area. I am looking for a four season (or at least fall winter spring) bivy that can handle all weather conditions. Does this feature allow water to pour right in, making it rather useless without a rain fly as the image suggests, or is there some sort of cover for the mesh area?
Best Answer
I haven't had mine in the rain yet, but the mesh portion is not really facing upwards... the waterproof fabric comes down over the mesh, and up from below, so that if the meshed section were the letter Z the top and bottom would be the waterproof part, and the slant section would be the mesh.

I'm not so sure I would stay bone dry in a hard storm in this thing, but I think should do well enough.
This thing's Bigger than my Apartment!
4 Season
16 ounces
Durable Floor
Bright Yellow
Reflective Lettering
HUMONGOUS!

Just a few things to love about this guy! Those of you looking for a solid 4 season bivy, consider this one. No poles, no crazy zipper designs, no stakes...just throw your crap in there and go to sleep. It's so simple a Caveman could do it! Why bother with setting up tents or tarps after a long day of adventure?

This thing is extremely spacious! Watch out, your sleeping pad may slide around on you (even though the floor is slightly grippy to prevent this). I've chosen to slide my pad inside my sleeping bag to fix this. On the other hand, you have room to put everything inside. I use my pack as my foot rest during the summer because I have a 1/2 length pad. There's one item out of the elements. As for everything else, you can slide it in along the sides and sleep soundly knowing you're not going to wake up and have to pack soaking wet items into your pack.

As for condensation, it's not bad...It's actually average for most bivys...Therefore when the weather is clear, sleep ontop of it unless you need the wind protection.

5 Stars...It's well designed, relatively light, simple and tough as nails.