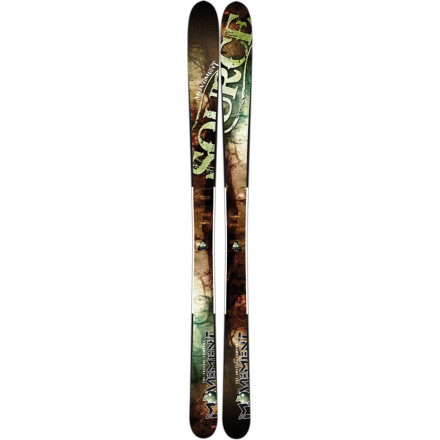 When you stare at a line and say, 'Crikey! How does all that snow stick to something so steep?' it's time to break out the nimble, powder-hungry Movement Source Ski. Tough sandwich construction creates a stable platform for fast, open faces, and choppy chutes suddenly go smooth thanks to vibration absorption above the core. Make short work of deep stashes thanks to the long, tapered nose profile, and use the short-radius sidecut to carve your way back to the tram.
CTS sidewall design provides durability and uses multi-angle fiberglass construction to eliminate torsional flex and maintain edge-hold
Traditional camber underfoot provides stability at high speeds
VA-Tech uses a rubber plate between the wood core and the binding retention plate to absorb vibration and chop in manky, beat-up conditions
Tri-axial stringers stretch from tip to tail to give you snappy response for quick edge-to-edge turns
What do you think about this product?
Have questions about this product?
The name correspond the ski qualities
The name says about the ski. Close to perfect, if don't go too fast. If you want to be accurate in your turns. Real pleasure to ski my Source. I use Jesters Schizo. Perfect combination. Really difficult to find a replacement, if you want just one ski. Length in this case is an important factor. Have had Goliath (still keep and will) Sluff (sold). But they all are the same family. IMHO, Goliath is one of the best ski all the time. It is like Stöckli GS, but wide. Extremely forgiving for it's purpose and intelligent/versatile ski. Only problem, the design. Absolutely trash, for all Goliath family. Good thing, that design is in contradiction with skis' abilities. I am sure they will be back. Reasonably progressive soft nose with reliable tain is unbeatable and the only one construction for any seriously interested in skiing.
I am 195cm (6ft 4) 97kg (215lbs) Would...
I am 195cm (6ft 4) 97kg (215lbs)

Would like to get the source ski but not sure what size. Will most likely be used 80% in the back country in the Alps. Not sure if I should go with the 185 or 193...
Definitely want the 193 length. They ski shorter than their length so don't fear the 193.
Unanswered Question
I looking to use this ski for tele. I want...
I looking to use this ski for tele. I want to be able to ski everything, but mostly woods and moguls. I am 5'6" and weigh 140lbs. What size should I get? Would the 177 be too big? Thanks