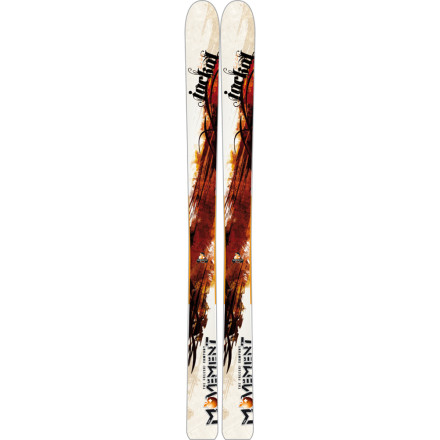 Wait out the storm in the parking lot, then take the mid-fat Movement Jackal Ski out to feast on the freshly fallen deepness with agility. A smooth-flexing Karuba wood core stops for nothing as it plows forward through freshies. Multi-angle fiberglass and carbon fiber stringers give the Jackal the stability to ride out of big drops and the snap to flick turns amongst tight trees. Despite its voracious appetite the Jackal maintains a nimble personality that's happy to head into the backcountry when the avy danger subsides.
Karuba wood core keeps the ski light for quick uphill ascents
Traditional camber provides reliable edge control in the no fall zones
CTS sidewall design provides durability and uses multi-angle fiberglass construction to eliminate torsional flex and maintain edge-hold
VA-Tech uses a rubber plate between the wood core and the binding retention plate to absorb vibration and chop in manky conditions
A CTS light sidewall drives power to the edges for the occasional icy death turns back to the tram
What do you think about this product?
Have questions about this product?
I am hoping you can help me determine boot...
I am hoping you can help me determine boot center on a pair of movement goliaths 191 cm - green top sheets. there is a not a prominent arrow or slashes near serial number (like on others I have had)there is the 6 digit serial number, seems like a dark mark over the 3rd digit. there is also the + sign in the apple says cts, or there is a faint white slash a few centiimetrs back from the apple and serial number. which do i use and is there a way i can check by measuring off tip and tail? thanks
Paul, with questions like this you're going to get the best answer directly from movement at info@movementskis.com. Email them and they will get back to you within a day or two.

Here's what another user on a different forum has to say on the same topic:

Posted: Thu Oct 27, 2011 3:07 pm Post subject:
GTL,
I don't have the skis in front of me since I'm at work. If my memory is right, on my Trusts and Tattoos the mark is on the topsheet near the apple on the left side (tip forward) with the serial number a slash an arrow (boot center mark) a second slash then a "3.5 Ø" (mark for drill diamerter) and reminder to use 3.5 mm drill bits since these are all-wood cores.

Something like:

432523 /↑ /3.5 Ø

I have had good luck on several different pair of Movement Skis (Thunder, Freeheel, Black Rose, Sluff) mounting my tele bindings boot center on the alpine mark. I will do the same on my new Trusts and Tattoos. I will be mounting NTNs using binding freedom inserts.