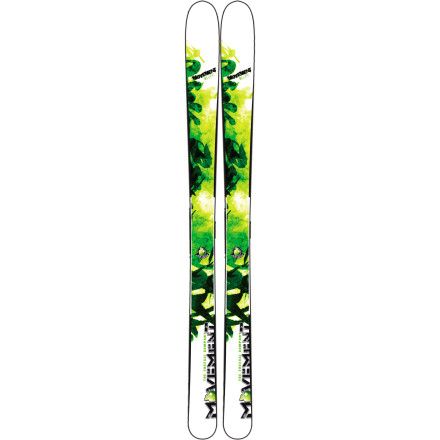 Detail Images
Let the Movement Sluff Ski loose to flow down the mountain, but grab some bandages first because the composite wood core will, without doubt, light your ass on fire. Snappy okume poplar comprises the bulk of the core, and rock-solid beech composite PowerRails run down the inside of each edge for extra responsiveness and power. A 99mm waist stomps out landings in the deep and remains nimble enough to carve up bumps, choppy crud, and crusty hardpack.
CTS sidewall design provides durability and uses multi-angle fiberglass construction to eliminate torsional flex and maintain edge-hold
Tri-axial stringers stretch from tip to tail to give you snappy responsiveness for quickly flicking turns from edge to edge
A CTS PowerRail sidewall drives power to the edges for the occasional icy death turns back to the tram
What do you think about this product?
Have questions about this product?
Never wanted to say this, but I like it stiff!
These are my new goTo ski for everything. I only wander through the grooms to get to A and B, and when I do I'm in GS mode. They handle big lines on ice like a longer GS ski. As far as what I ski-- they rock-- wide enough for pow, and stiff enough for aggressive steeps and medium drops (up to 12 feet). I don't really hit anything larger. Anyway, they are so nimble with this turn radius that even hitting moguls is a joy. I love the quick transfers for the trees too. I really love them and am so happy to have done the research before adding them to my quiver. Movement makes a real quality ski. If you like big lines, then go Goliath (even though these work well here too). If you are looking for a pow only then hit the flyswatter, but for an everything all ski, this is my new favorite!
Unanswered Question
did anything change for this year's ski...
did anything change for this year's ski (sluff)
aside from the cosmetic?
Considering getting a pair but unsure about...
Considering getting a pair but unsure about length. Currently skiing tele on Atomic Snoop Daddys (122-88-109), 163 cm. I'm 5'7", 165 lb. I ski on and off piste, moderately difficult stuff, bumps, not terribly aggressive but planning to ski harder stuff with time. My skis, though fun, feel a tad short, so I was considering increasing length to about 175 cm, but see several skiers settling on the Sluff in 184 cm as standard and the 174 cm as "for the girls." Any suggestions?
My son and I both demo'd the Movement skis in Aosta in December 2010. His 169cm, mine 177cm. I am 5'10" an expert skier and ski everywhere. Our 7 magical days of powder where punctuated by these amazing skis although, I would not have wanted any longer and my son elevated his abilities to keep pace with me. If I can find 177's I will definitely add them to my quiver! Good luck!
If you are aggressive, and want added speed and longer turns, then the 184 is more to your billing. From what I'm reading, because you aren't terribly aggressive (and because of your size), the 174 sounds like the better option. 174 isn't for the girls, it's a size geared for you. I'm 5'10 and heavier- 175lbs, and I ski the 184, but debated on the Goliaths for the extra length. I'm very happy with my pair, but then again I am an aggressive skier.