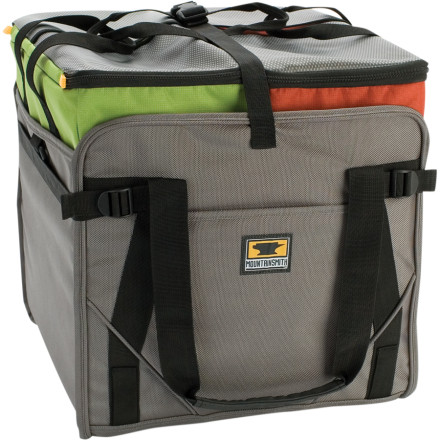 Community Images
If the back of your truck or car looks like a gear bomb went off, pick up the Mountainsmith Modular Hauler System Plus and keep your camping, climbing, and ski gear neatly organized. This bin-style system features separate organizer cubes that fit into a large main compartment. Each cube has a zip-top opening and tote handles for easy transport. Each cube is color coded and has an ID sleeve so you can label the contents. The external structure has two reinforced haul handles for when you need to unload at camp, and tie down loops keep the Hauler System secured to your vehicle.
This is a great system for a family of 4. Each of us got a cube, and they can be easily identified due to the color coding. Plenty of space for a weekend's camping, even including bike helmets, bike shoes, etc.
Life Saver Camping Storage (4-cube)
I do a lot of car camping. I had 3 or 4 different rubbermaid containers and random bags storing everything I needed to camp. This Modular Hauler System is AMAZING. I was able to fit everything into all four compartments and it was organized! It fit into my trunk with no shoving and stores all of my gear in one place in my garage. I would recommend this storage system to anyone who is short on space and to those who just want to be more organized. It's a camping miracle!
huge hauler



cube was just too big for car storage - to the point that it i couldn't fit anything else in the trunk if it wasn't going into the hauler. I traded the 4 cube for the 3, the 3 cube is more manageable (weight-wise), especially if you are going to carry it as one unit - as opposed to individual cubes.
Great hauler/car storage system
Gender:

Male

Familiarity:

I've put it through the wringer
I have the 3 cube version of this, and my girlfriend uses it every day. She does on premise sales, and it's invaluable for hauling around a lot of heavy stuff, and great since it's modular. I'm probably going to get another one of these to store/carry random camping stuff as well.
Unanswered Question
What is the difference between the plus...
What is the difference between the plus and the normal modular hauler system?
Go ahead...buy it now, you won't regret it.
Ahhh..Finally! I am now more organized in what my girlfriends like to call my "studio apartment" (my minivan). I live in my van at times; my bike (helmet, shoes, etc), skates, cooler, clothes, maps, etc. I ordered the organizer with 2 cubes.
It fits perfectly alongside my cooler and allows space for several bikes. I often have to take the organizer in or out of the van and it is easy to move because it has handles and is relatively light. I can secure it to the inside of the van as it has straps to hook a cord through. There are some pockets that allow quick and easy access to a few things; one on the exterior of the base and one on the top of each cube itself...very handy for certain items. As some reviewer mentioned, the cubes are flimsy, but my cubes are filled enough that this is not an issue. I can't believe I waited this long to purchase this product - it has most certainly made life easier for me...in my van.
As a member of a SAR unit, I'm always battling the overflow gear that goes with me on every callout. These bags (I have the 4 cube version) looked to be the solution. Unfortunately, I've been sewing them back together since I got them. Not sure if I just got a bad batch, but they keep splitting at the handle attachment points and the seams near the top of the bag. I thought maybe it was due to heavy gear (my technical rescue gear bag tore first), but then a bag with lighter gear failed. Since then my overflow clothing bag also needed repair. Love the system, not so happy with the execution.
Has anyone used the 4 cube hauler as checked...
Has anyone used the 4 cube hauler as checked luggage on a plane?
I haven't checked it on a plane, but I would be hesitant to do so because it doesn't zip closed and essentially you would have five pieces. I don't know if an airline would charge it that way, but with the way they are in this economy they just might.
I'd also be hesitant using it as checked luggage, one because it's multiple pieces and you may be charges as such, and two because it's multiple pieces and the baggage handlers throw so much stuff around you'd probably arrive at your destination with half of the cubes missing.
These are great for car camping. My wife likes packing like items into the same bag in general, these make that easier and also provide convenient color coding, if you remember which color is which. They do allow for labeling as well. They seem sturdy. The definitely helped keep things in their place throughout the trip.
Can the cubes and the hauler be purchased...
Can the cubes and the hauler be purchased separately? I'd like to use a cooler cube in addition to a few standard cubes for dry goods. What's the best way to obtain this configuration? Should I purchase a 3-mod hauler and switch our for a cooler cube that I purchase separately?
Best Answer
That sounds like your best option, to go with the 3-mod and buy a seperate cooler. Both are on sale right now, so it would still be a great deal. Then you could turn around and sell the other basic cube on ebay if you didn't need it.
These are great totes by themselves and the ability to carry three or four together is great. Color coordination is an easy habit to start and these totes making gear-heads stop spinning so much trying to locate gear. Buy an extra set, I'm sure you will end up using it or help a family member find a little organization.
How many cubes do you have???
My wife thinks I'm weird because I have EIGHT cubes. I love them! I hate it when my gear is not organized. I have two for canyoneering, one for climbing another for fly fishing. I could go on and on about my cubes. They are a great organization piece to for any gear slut.