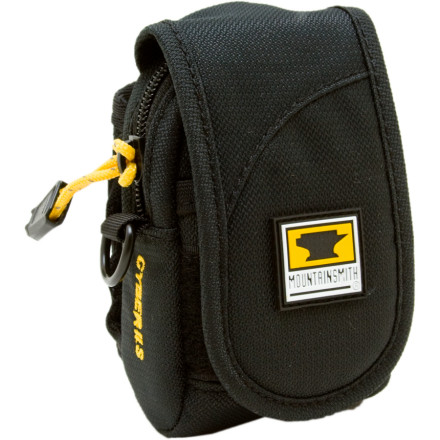 Detail Images

Community Images
If preserving memories is as important as preserving the planet, get the Mountainsmith Cyber II Compact Camera Case before you head out on Earthy adventures.
ReDura fabric is 100% recycled, so you can feel good as you hike through the woods with it
Main zippered compartment is padded to protect your camera
Shoulder strap detaches when you want to carry case on your belt
Quick-draw hook-and-loop opening help you nail candid wildlife shots
Side sleeve stores extra memory cards
I love this case, it fits on every pack I have with simple velcro around the shoulder straps. Only on the thickly padded straps of my Osprey Argon was it a stretch.

It may not be waterproof but it doesn't allow water inside.

Holds memory cards or batters in a small pocket inside.

so far I've used sony cybershot, olympus tough series, contour roam, htc sensation.
I needed a decent case to protect my Contour and the small works great. The little pockets work well for the battery and memory cards.
bcr,
No, I think the XS Cyber II Compact Camera Case is too short for an iPhone.
Unanswered Question
I'm looking for a case for my Nikon P7000...
I'm looking for a case for my Nikon P7000 whose dimensions are
3.1" x 4.5" x 1.8". Which case size would be right for this camera?
At least for my camera, had to return it, bummed because I love Mountain Smith's stuff, great brand, great bag, you know they make a bunch of their stuff from recycled water bottles, pretty cool!
I purchased this camera case for camera earlier this year. It is not too big or too small and can be semi easily attached to a bag strap or a belt. I would buy this camera case again if I needed another camera case.
Write your question here...How do the...
Write your question here...How do the straps go across your body? On your back similar to a backpack or diagionally ? Do any straps go around the waist? I have an issue with the regular backpacks pulling on my shoulders and I'm trying to distribute the weight of the camara along with getting to it with out the fuss.
It is a cross body strap, like a shoulder bag. The waist strap is on the Zoom but that is for a larger camera body. Hope this helps.
Is it waterproof? Does it attach to a pack...
Is it waterproof? Does it attach to a pack or camel back shuolder strap?
Best Answer
Not "waterproof", but you won't have to worry about it soaking through under all but the worst conditions, and even then, it's so small that you can just stash it in your pocket or pack if you think you need to. It'll also fit on a wide variety of different shoulder and other straps on your pack, or even your belt, as it connects with a really solid set of adjustable velcro tabs that fold over and hold well. We've got a few of these that we've had for years, and they've been great little camera pouches. Haven't lost a camera yet.