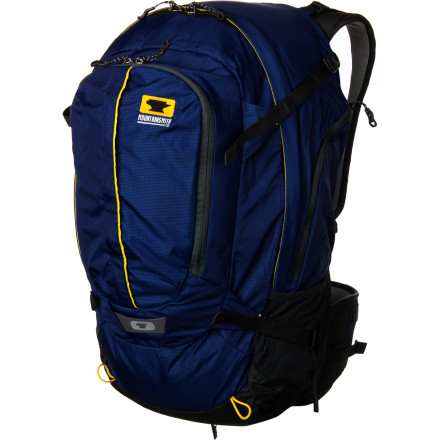 Whether it's a minimalist overnight excursion, a long day at the crag, or a weekend trip out of the state, load up the Mountainsmith Approach 50 Backpack. The Anvil Airway Perspiration Control System keeps your back ventilated and comfortable everywhere from steep switchbacks to stuffy airport terminals while the ICS Cup hipbelt transfers the load to your hips for a comfortable carry.
Single aluminum stay and a PE framesheet provides enough support to comfortably carry up to 50 pounds
Suspension best fits torsos between 17 and 22 inches
Anvil Airway Perspiration Control System features twin elevated foam pads with an open spinal column for ventilation and moisture control
Lumbar Control Point utilizes a pronounced padded area to lock the pack onto the lumbar region of the spine for improved load transfer and a better fit
ICS (illiac crest shelf) Cup hipbelt has an exaggerated curve that allows you to pull the pack load onto and over your hips for improved load transfer and a more comfortable carry
Dual-density shoulder straps won't dig in
Panel loading design allows you to easily pack for travel and the trail
Front panel pocket is ideal for a puffy or rain jacket
Waist-belt can be removed or tucked away when you're using the pack for travel
Trekking pole carry securely stows your poles when not in use
What do you think about this product?
Have questions about this product?
Mountainsmith Approach 50 Backpack
Extremely versatile panel loader for minimalist weekends in the backcountry, gear intensive day hikes or extended travel to far off lands.
Mountainsmith Approach Backpack
The Approach 40 & 50 backpacks are the quintessential, do it all packs. The convenient panel load style and carry on size make this the perfect travel piece for weekend get aways while the backcountry features and technical suspension allow this backpack to shine on gear intensive day hikes and fast overnights. The 40L size is best suited for small to medium torso length users, and the 50L size is best suited for medium and large torso users. The innovative ICS Cup (Illiac Crest Shelf) hipbelt transfers and locks the pack load onto the hips, the Delta Wing Compression system pulls the load into the lumbar region and focuses on the Lumbar Control Point pad on the lower backpanel to fully secure the pack load against the user's major weight bearing point, the lumbar/sacrum region. All this while the Anvil Airway backpanel keeps you cool on the longest trail day.
Is this really carry on size? It seems...
Is this really carry on size? It seems bigger than the FAA size- 45'' vs 46''. I am looking for a 40L-45L panel loader backpack that can do double duty as hiking and carry on travel pack (2-3 days). I would have bought the Approach 40 already except for the fact that my torso length is 19.5''
Best Answer
Mountainsmith is claiming that the Approach 50 is FAA approved carry on size, but I do see your point. The general FAA standard is 45 linear inches and most major airlines have dimensional restrictions of about 22"x14"x9". The Approach 50 on the other hand has a claimed 46 linear inches, and is technically 1" outside the FAA standard. However, I am willing to bet that Mountainsmith takes their dimensional measurements with a full-to-the-brim pack. If you make sure you approach 50 isn't overpacked when flying I think it will be just fine as a carry on.