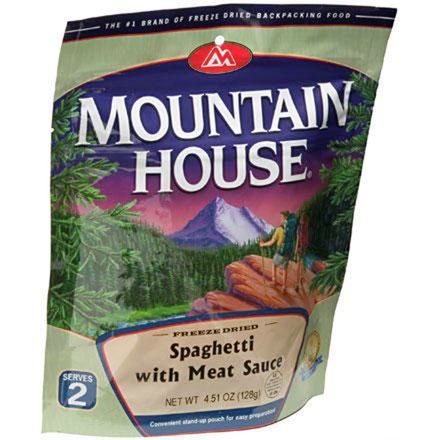 Community Images
Description
Thats a one a spicy meatball.
Ahh, the pleasure of a fine Italian diner after a week on the trail. Well, maybe not the wine but at least the great food. Mountain House's Freeze Dried Spaghetti with Meat Sauce meal for two is lightweight, easy to make, and best of all, tastes great. It comes in a foil package that stands up on its own for easy eatin' and cookin'.
yummy!
Familiarity:

I've put it through the wringer
i love the more simple MH meals, and this is one of my favorites.
Taste great and easy to make. I take a couple of these on every trip I go one, and a couple lasagna too.
I repackage my meals at home before I go out. Sure the MH packaging makes a great bowl to eat out of, but they take up too much space for my liking. I put my meals in ziplock bags and dump the meal in my jetboil cup of boiling water and let it sit for a while.
DELISH. Top mountain House meal
Familiarity:

I've put it through the wringer
Beef stroganoff used to be my go to favorite, but now it shares that role with the spaghetti with meat sauce. Great meal, I usually do two bags for 2-3 hikers after a day on the trail. Last time I brought some parmesan cheese to sprinkle on top after hiking through the fjords of Norway.
One of the Greats
Familiarity:

I've put it through the wringer
This is my personal favorite kind of mountain house. Even though it comes out kind like a soup it still is good. It taste a lot like spaghetti O's maybe that is why i like it so much.
decent
Familiarity:

I've used it once or twice and have initial impressions
To me the spaghetti tasted like Spaghetti-O's, it was good and was one of the better mountain house meals I have had.
Home away from home
Familiarity:

I've used it several times
Spaghetti is a comfort food for me, and having this when I'm away is perfect. Out of all of the Mountain House meals this one tastes the most like "home". It's super tasty; however, I do prefer the Beef Stroganoff out of their line if dehydrated meals.
Way better than expected!
Familiarity:

I've used it several times
You can only expect so much from a dehydrated meal but this one really surprised me! Tasted very similar to the real made at home Spaghetti... just different...

Overall a great meal, I wouldn't label it 'gourmet' or 'amazing'... but very good!
One of my favorites!
Familiarity:

I've used it several times
Super tasty! This is probably one of my favorite Mountain House meals! Perfect for backpacking, it's lightweight and super easy to make! Perfect amount for two people, I would highly recommend this one!


Nothing better.
Familiarity:

I've put it through the wringer
I look forward to eating when I'm packed with Mountain House. Very tasty, quite hardy, plenty of food. Light weight, cooks within minutes.
Best. Dehydrated Meal. Ever.
Most dehydrated meals are lacking in flavor or gut-filling capability. This meal has both. If you're a fan of Spaghetti-O's (and what 10 year old trapped in a 25 year old's body isn't!?) then you'll love the flavor of this meal. If filled me up and tasted incredible after a long day.



Photo shows 1 serving in the GSI Infinity Bowl (There are 2 servings in this bag)
One of the better mountain house meals in my opinion! When you have a lot to pack, meals like this save a lot of weight.
Delicious!
Gender:

Male

Familiarity:

I've used it several times
Great lightweight food for my long hiking trips.I?m sold on freeze dried food on long hikes or food storage. Very tasty and filling.
This is a another delicious meal by mountain house. This is not enough for two, and its to runny if you use the whole two cups. I would recommend using 4 or 5 ounces less than the instructions say. Other than that this is a great delicious meal. I would recommend it to anyone.
Easy, fast, packable and tasty. Super convenient to just pour boiling water into the bag, pack up my cooking supplies, and be ready to eat in 10 minutes.
This stuff is great for backpacking. They are light weight and easy to prepare for the amount of food they have. They say they are two servings, but I'm a lean guy and can easily scarf one down by myself, especially on a trip when I'm hiking long distances.
As most of you know, almost anything tastes good in the mountains.. so that being said, these things are alright, a good variation if youre burnt out on ramen noodles.. but if you eat them at home, you will not be impressed
I hiked Lone Peak in late August and was STARVING for a good meal when I reached the top. This was WAY more than I was expecting from freeze dried food. Tasted so good that I wish I hadn't needed to share with my husband because I know I could have eaten the entire thing myself. I even thought about buying some to make at home for an easy dinner...that may be going too far:)
After a long hike, this stuff is pretty good. Reminds me of Chef Boyardee. Very tasty. Easy to make, just add two cups boiling water. I prefer the Lasagna & Beef Stroganoff , but this is pretty good too.
Delicious meal with great flavor. I use this as single serving after a long day of hiking and I typically add less water than called for to keep it thick and hearty. This is definitely a staple in the backpacking menu.
My first freeze dried meal. It's not exactly fine dining, but it's not bad. It's about Chef Boyardee quality. Pretty good after a long hike.