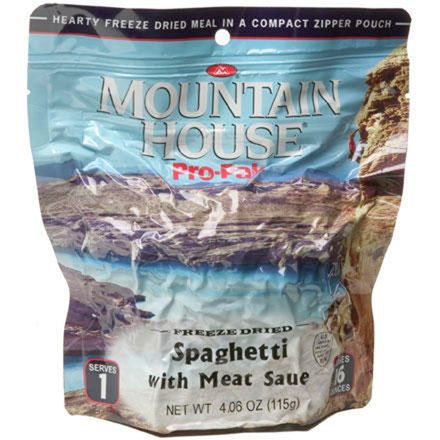 Community Images
Description
Real Italian food when you're on the trail.
Ahh, the pleasure of a fine Italian diner after a week on the trail. Well, maybe not the wine but at least the great food. Mountain House's Freeze Dried Spaghetti with Meat Sauce meal for one is light, easy to make, and best of all, tastes great. It comes in a foil package that stands up on its own for easy eatin' and cookin'.
Yummmm
Familiarity:

I've put it through the wringer
Tasty on the trail and easy to prepare - I usually give dishes like these (the ones with noodles or pasta) an extra couple of minutes - same with this one. and it turned out great. Since this is a one-serving dish, I recommend supplementing it with other snacks or dessert because on the trail it's just not quite enough calories. I also find that while on the trail I'm drinking so much water that the higher sodium content doesn't really bother me. If you're packing into a bear container, you can cut the excess packaging off to save space and cram it all in there.
Yum Yum Yum
Familiarity:

I've put it through the wringer
Who doesn't like Spaghetti and meat sauce? I don't know how I went so long without these Mountain house meals. They are a MUST have on all my camping trips now.
The best
Familiarity:

I've put it through the wringer
Of all brands, and of all flavors this one is my go to fave. The taste is perfect, no need for hot sauce or pepper etc. However, keep in mind that I never get any of the flavors with mushrooms. Of course, it doesn't exactly taste homemade, rather it's more like a refined, much improved chef boyardee type flavor. Tough to describe, but it definitely tastes great.



Plus it fuels you up, and sits easy. I've never had an issue eating the spaghetti. This is the only flavor that I could literally eat everyday and not really get bored with it.
Excellent fuel source
Familiarity:

I've used it several times
All of Mountain House's products are delicious. They all taste great. Remember, these are the guys who started the whole thing with MREs for the military decades ago. But backpackers can cook theirs and enjoy much tastier options!

The nice thing about the spagetti is that the meat maintains a desirable consistency (e.g., not chalky) and the dehydrated meat sauce blends beautifully with water to become a sauce again!
Delicious!
Familiarity:

I've put it through the wringer
I'm a backcountry guide in Yosemite, and I do a lot of personal backpacking and climbing trips. Sadly, I eat a lot of these meals. I'm incredibly familiar with almost all of them.



Since this is a ProPak be sure to break up the hockey puck of food inside. If you just pull out the silica packet and add water and wait you will have a wet ball of food with a dry center. Not delicious. Breaking it up makes it a little like baby food, but its still delicious after a long day.



I usually plan my meals out for low mileage, easy days... and then long climbs. This is my meal of choice for a really long day when I'm getting to camp on fumes and I know I want a lot of food.
Tastes like...Spaghetti
Familiarity:

I've used it several times
Who woulda guessed that this tasted so much like Spaghetti? I have to say that I was skeptical when I originally got it, expecting a Chef Boyardee rip-off and was surprised when it tasted even better than my childhood favorite canned meal! All it needs is a little salt, pepper and garlic and you've got a very tasty backpacking meal!
Hard to go wrong with spaghetti
This is another quality, good tasting meal from MH. It's nothing special, but I mean it's spaghetti! Pretty hard to mess it up. Taste is good, and not overly watery like some pasta meals.
Derricious Spaghetti w/Meat Sauce
Familiarity:

I've used it once or twice and have initial impressions
As far as dehydrated foods go this Mountain House spaghetti with meat sauce is top notch. It's the bees knees. I have considered buying this to eat even when i'm not camping.
This was not only appetizing but was suprisingly filling after a long first day hike.
Favorite Mountain House Meal
Originally thought that all MH meals would have to taste terrible. Quickly found that I was way wrong.

The Spaghetti is the best tasting - and easiest on my stomach. Consistency of Spaghetti-O's, but with a better taste. Chili Mac comes in as a close second, though. I also really like the new tighter packaging - makes it much more convenient to pack and store.
I ate this meal at sea on a trip where we were not really cooking on the boat. The single generous serving eaten straight from the pouch was perfect, and the meal tasted great.
A solid meal with almost 500 calories and 29 grams of protein. You can eat out of the package and it is a single serving package. I don't add as much water as they recommend, about 2 ounces less, you can always add more if needed.
A good hot meal and the new bigger size is enough to fill you up. I like to use a bit less water to thicken it up a bit. Just dont open it up too soon and it will be tender.
Great meal as far as freeze dried goes. Pro pack is lighter and easier to squeeze into a small pocket for a quick overnight. Good Stuff.
Great taste in a small package! Not watery at all and tastes like it is home fresh!
My kids who are not hard to please when it comes to spaghetti thought it was terrible. They only took a couple of bites, then they were through. I had heard it was really good, so I tried it. It was just ok. I could eat it if I had to,but have tasted better entrees.
Great carb and protein replenishment.
Best of Mountain House Meals
If you love pasta with meat sauce then you'll love this meal. It cooks in its own resealable pouch which means no mess after the meal and the taste is every bit as good as the lasagna meal plus it is much easier to clean your utensils after the spaghetti vs. the lasagna (the lasagna cheese sticks wickedly tight to utensils).
it was good but im going to take the real stuff from now on. tired of the entrees.