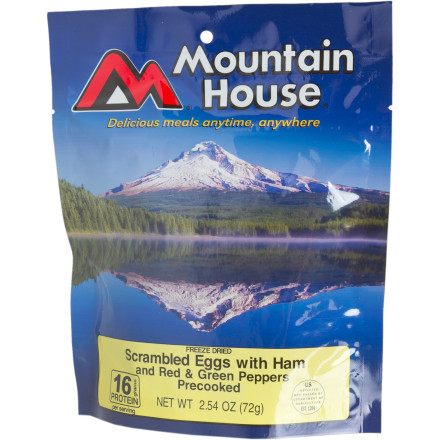 Detail Images
Description
Trail fuel you actually want to eat.
Before a big day on the trail, the Mountain House Scrambled Eggs with Ham fuels you up without slowing you down in the morning or taking up space in your pack. Enjoy a fast, full breakfast in the wilderness thanks to this 2.5-ounce freeze-dried entree, which features eggs and ham, as well as green and red peppers.
Add boiling water directly into this bag, reseal it, and wait for your meal to cook to perfection
Compact vacuum pack won't take up much room in your pack or expand at high elevations
Contains protein and carbohydrates to keep you going in the backcountry
Check the tech specs (on right of page) for complete list of ingredients and nutrition facts
I liked it, let it steep a little longer
Familiarity:

I've used it once or twice and have initial impressions
Tried it recently and really liked it. It has a little too much liquid after the prescribed time, so next use I'll add a little less water and steep it a little longer.
Eggs
Familiarity:

I've used it once or twice and have initial impressions
The eggs were a bit eh. Preferred the taste of the MH breakfast skillet as it had a lot better flavor.
My favorite breakfast.
Familiarity:

I've used it several times
Ham and Eggs are my favorite breakfast. You just add one cup of hot water and wait 5 min, you have breakfast. I am diabetic and cannot eat the standard carbohydrate meals (i.e. free continental breakfast) at a regular hotel. It works whenever I travel, not just camping or backpacking. I do eat the whole bag (2 servings--400 KCal) by myself. My plan is to take to the coming trip to Grand Canyon, Bryce and Zion. This summer, I would also take them to Australia. Wish I took more with me when I was in New Zealand. It's my staple. The service has been great! Thank you, Backcountry.com!
Good breakfast
Familiarity:

I've put it through the wringer
First, you gotta have the right expectations. Is it going to be like Virg's (Tooele, UT) or Wakin Bacon in NOLA or whatever your local breakfast bistro is? No.



Is it freeze dried eggs, ham and green peppers? Yes.



Go with that. And, for that, its pretty rad.



It would get five stars, but my only beef with Mountain House is that they over package their meals. They could trim the fat a bit and slim down the packaging so it takes less room in your pack.
Definitely not my favorite...
Familiarity:

I've used it once or twice and have initial impressions
I personally thought the eggs tasted horrible & it wasn't really an enjoyable experience. I love Mtn. House meals but just not this one. I would rather pack in eggs & make my own...
It works, not awesome
Gender:

Male

Familiarity:

I've put it through the wringer
Like any freeze-dried breakfast I've tried this is mediocre. It's nice to have a hot breakfast on the trail, but wouldn't say it tastes good. Things like salt, pepper, and ketchup would help loads if you can carry that with you. I also stuffed it in tortillas which tricked me into enjoying it a little more. I'll still buy it since it's as good as freeze dried eggs can get, just don't get your hopes to high.
Probably the best that can be done with eggs. I'll order more but wouldn't make it a staple
I love this product. A little salty, but I like my salt. The texture is just what you would expect from a freeze dried food. I would take this on any adventure!


Prefer this over the bacon version
Pretty darn good for freeze-dried eggs. A lot more flavor than the bacon version. Make sure you drain the extra water. Very good when paired with the granola w/blueberries and milk.
Taste was good, texture was just weird, bring salt and pepper and cheese and some tobasco and you got yourself a good meal. make sure you leave this one a little longer in the pouch to mix etc. would get again, but granola is my go to in morning, but cold mornings it is good to have something warm going.
Rather than write a small review for each individual item I recently purchased I thought I would share it all in one concise review. (Note with most Mountain House I add 2-3 oz less than it recommends)

Recommend:

Breakfast:
Backpacker's Pantry Granola with Blueberries and Milk – Favorite :) (serve warm)
AlpineAire Strawberry Honey Granola With Milk – healthy and good! (serve warm)
Backpacker's Pantry Denver Omelet (needs pan) – best quick eggs I have tried.

Lunch/Dinner:
Mountain House Chicken Ala King – Favorite :)
Backpacker's Pantry Katmandu Curry - Yum
Mountain House Macaroni And Cheese – Oh to be a kid again!
AlpineAire Chicken Gumbo – Delicious

Sides/Deserts:
Mountain House Potatoes And Cheddar With Broccoli – Favorite :)
Mary Janes Farm Organic Garlic Pesto Fry Bread – I love bread! (bring oil)
Mountain House Peas – Eat your veggies! Add 1-2 oz less water
Mountain House Corn – Favorite, Add 1-2 oz less water :)
Mountain House Green Beans – Add 1-2 oz less water
Mary Janes Farm Organic Brownies – Yes really good!
Mountain House Ice Cream Sandwich – Don't get the Neapolitan, this is much better.
Mountain House Blueberry Cheesecake – Nice size berries, make in a bowl NOT the package. (Note it will NOT keep
Overnight).

Pass:
Backpacker's Pantry Garlic Herb Mashed Potatoes – The Mountain House Potatoes and Cheddar with Broccoli are MUCH
better even the resident mouse in our cave didn't like it.
Mountain House Scrambled Eggs With Bacon - Backpacker's Pantry Denver Omelet is much better IMO but requires a
pan.
Mountain House Scrambled Eggs With Ham - Backpacker's Pantry Denver Omelet is much better IMO but requires a pan.

Neutral:
Mary Janes Farm Organic Couscous And Lentil Curry – Not bad but I like my curry with more curry!
Mary Janes Farm Organic Black Bean Corn Bread – Not bad but NOT cornbread just a bread with some cornmeal in it.
Mountain House Noodles And Chicken – Yet to try will update
Mountain House Pasta Primavera – Yet to try will update
Mountain House Mexican Chicken With Rice – Yet to try will update
Mary Janes Farm Organic Alfredo Pasta – Yet to try will update
Backpacker's Pantry Chana Masala – Yet to try will update